Australia's energy problems have been a long time in the making and will need bipartisan discipline to overcome, writes Stephen Walters GAICD.
Some mischievous commentators describe Australia's energy market calamities as a product of "market failure". For some, this justifies another round of clunky policy intervention, however well intentioned, layering upon its predecessor. Rather than market failure, the embarrassing energy mess in which we find ourselves is more a collective failure of national governance. Australia has gone from having the world's cheapest energy to among the world's most expensive — despite abundant energy resources.
The list of embarrassing failures is long: a lack of transparency, too much market concentration, particularly in electricity, public policy inconsistency and reversals, abundant domestic gas being diverted to lucrative export markets, the appearance of price gouging by the suppliers, over-investment, under-investment — the list goes on.
The policy inconsistency was at its worst in setting and then removing a price on carbon. First we had a carbon price, then we didn't. Culpable state governments substantially overinvested by gold-plating networks and dropping the ball on reliability, which also contributed to unexpected price spikes. For politicians, short-term fixes have proved more appealing than development of durable but expensive long-term solutions. The latest ploy is "demand management", which includes begging households to run their air-conditioners at half-speed at the height of summer.
Rather than market failure, the embarrassing energy mess in which we find ourselves is more a collective failure of national governance.
The blame game
Not all the blame is aimed at governments. The regulators are copping their share, as are large energy users. Meanwhile, the power providers, accused of making excessive profits while shutting down ageing capacity, are defying government pleas for delays. In some cases, the private sector has stepped in with solutions where government has failed — for example, Elon Musk's giant lithium ion battery in South Australia.
However, for all its obvious faults, in most respects Australia's energy market is functioning largely as it should. Market forces, albeit curbed by the policy interventions and clunky regulation imposed over the years, and distorted by the intermittent nature of most new energy sources, are pushing up energy prices in response to surges in demand and/or disruptions to supply. This is the way a market is supposed to work, although things are far from perfect.
The policy interventions — imposing demanding renewable energy targets, for example, then offering short-term compensation for soaring prices — and the shutting down of base load fossil-fuel energy sources before reliable and affordable alternatives are available, has made price rises steeper than they would otherwise have been.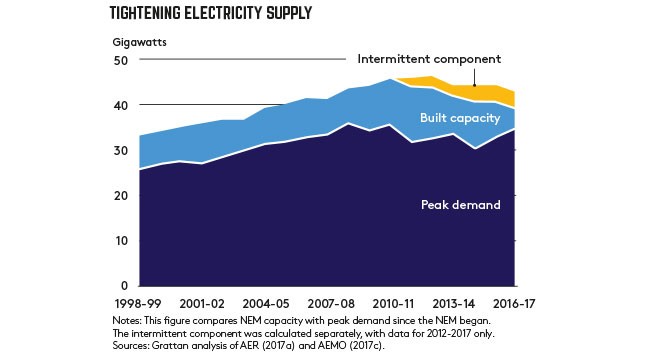 Few of these interventionist forays have sufficiently mitigated crippling cost increases for many users. Energy-intensive manufacturing businesses have closed, no longer able to absorb additional costs or pass them on to customers. Households are facing sharp rises in energy costs at a time when budgets are already under stress.
The onset of the so-called "energy crisis" certainly has concentrated minds. Directors responding to the AICD's Director Sentiment Index last November, for example, said that rising energy prices should be the no.1 priority for the Federal Government. Directors also said that doing something about fixing the energy policy mess should be second-highest priority, ahead of infrastructure shortfalls, a perennial favourite.
The light-bulb moment (literally) came when the power went out in Adelaide in September 2016, an unexpected storm damaging vulnerable transmission infrastructure to plunge the city into darkness. Suddenly, an energy policy train wreck was upon us. In a Third World solution, diesel fuel generators will be available in Adelaide this summer to prevent a repeat performance.
Populist but ineffective band-aid solutions have been applied, but the slowly evolving nature of the problem means the remedies necessarily will be long-term. More than a decade of policy convolutions and investment uncertainty led us here and easy answers were never really going to suffice.
After a flurry of breathless policy responses following the Adelaide outage, 2017 evolved into a year of reviews and reports. First, the Independent Review into the Future Security of the National Electricity Market: Blueprint for the Future, chaired by Chief Scientist Dr Alan Finkel AO, made dozens of recommendations, all of which the Government adopted, except for the clean energy target. Then, there was the report by the national regulator, which built on the findings of Finkel. And, of course, there has been no shortage of advice offered by commentators.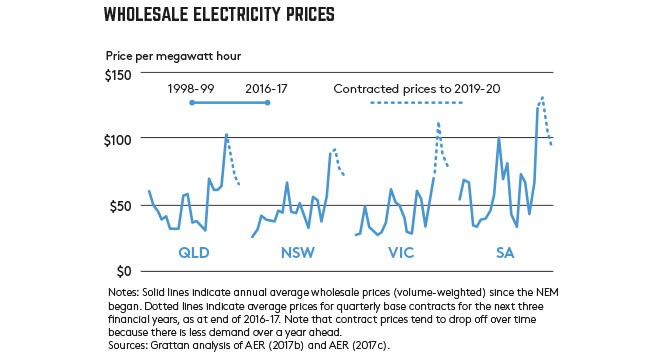 No quick fix
The Federal Government eventually devised an energy policy that attempts to guarantee reliable and affordable energy, while also complying with Australia's 2030 global emissions targets. The policy is said to be technology agnostic, with an emphasis on providing "dispatchable" energy (a power plant that can be turned on or off according to demand). The so-called National Energy Guarantee still needs to navigate the shoals of the fraught COAG Energy Council process, a big ask given the competing demands of state and Federal governments, some confronting looming elections.
An important part of the solution should be the commissioning of new energy capacity — base load and renewables — but this will take years to complete. To this end, the government plans to spend up to $4.5 billion on Snowy 2.0, upscaling the iconic Snowy Mountains hydro scheme. The plan is for pumped water to be released intermittently as back-up energy when there are base load supply disruptions — but completion is not due until 2024! Meanwhile, energy prices will stay high and may even continue to rise.
There are deep divisions about the best way forward. For now, politics and ideology stand in the way of a price again being placed on carbon — which industry and investors crave. Without it, all other possible solutions risk falling short. A lasting national fix on energy would be simpler, of course, if politics was removed from the equation. But there is simply too much political capital to be gained by attributing blame.
Power Points
AEMA Australian Energy Market Agreement (as amended December 2013) sets out the legislative and regulatory framework for Australia's energy markets. It provides for national legislation implemented in each participating state and territory.
AEMC Australian Energy Market Commission makes the rules that govern the electricity and natural gas markets, including the retail elements of those markets.
AEMO Australian Energy Market Operator controls the National Energy Market, which connects the power systems of Queensland, New South Wales, Australian Capital Territory, Victoria, South Australia and Tasmania.
AER Australian Energy Regulator regulates wholesale electricity and gas markets in Australia. Part of the Australian Competition and Consumer Commission, it enforces rules established by the Australian Energy Market Commission.
CET Clean Energy Target
DER Distributed energy resources
DNSP Distribution network service provider
EIS Emissions Intensity Scheme
ESB Energy Security Board
NEG National Energy Guarantee aims to support the provision of reliable, secure and affordable electricity and is designed to encourage new investment in clean and low-emission technologies. To deliver this, NEG requires retailers to contract with or invest in generators to meet a minimum level of dispatchable on-demand electricity. Retailers must also keep their emissions below an agreed level. Energy and emissions targets are reflected in a single energy price.
NEL National Electricity Law
NEM National Energy Market
RET Renewable Energy Target
TNSP Transmission network service provider
VRE Variable renewable electricity
This is of of your complimentary pieces of content
Already a member?
Login to view this content