A growing number of startup hubs in Australia are working on new ways to draw in like-minded innovators to boost creativity.
In the world of startup hubs, "collisions" are king. Unlike good highway design, a startup space is all about encouraging entrepreneurs to run into each other. Whether it's via a devilishly confusing coffee machine without instructions, thus encouraging a group effort, or the siting of a floor's single printer at the end of a long hallway, a good startup space generates collisions.
"You want people bumping into each other and having conversations, overhearing other people's conversations and then starting new ones," says Alex McCauley, CEO of national body StartupAUS. "It's also about ensuring those collisions are meaningful and people are continually learning."
With more than 100 million innovation economy employees globally, cities around the world are actively fermenting innovation spaces where these early-career entrepreneurs can gather, and collide. Not only with those in the building but with institutions, corporations, bureaucracies and the public. Whether it's the 17,000m2 Sydney Startup Hub, the mooted 23,500m2 Lot Fourteen precinct in Adelaide or Tasmania's Fermentasmania regional cluster of agri-tech startups, "innovation spaces are now being designed to reflect the increasingly collaborative and cross-sector nature of innovation", says the Brookings Institution's innovation district expert, Julie Wagner.
Directors should note there are a number of different terms that are widely used to describe similar spaces. According to the NSW Innovation and Productivity Council NSW Innovation Precincts report, the term "innovation precinct" is widely used in Australia, while "innovation district", "hub", or "cluster" are more commonly used internationally. "Innovation precincts can take a variety of forms — from an agglomeration of innovative activity around a significant research-intensive hospital or university, to a single building that hosts a density of startups, entrepreneurs and investors," says the report.
You want people bumping into each other and having conversations, overhearing other people's conversations and then starting new ones.
Value of the shared knowledge
While there are few settled metrics to determine the exact value of a precinct, the report also notes, "In Australia, this collaboration is associated with a 70 per cent increase in the likelihood of new-to-world innovation and a 32 per cent increase in the likelihood of new-to-Australia innovation. The clustering of industries facilitates the exchange of ideas and information (knowledge spillovers) between businesses, which is shown to play a critical role in increasing levels of innovation, particularly for new ventures". PWC Australia believes in the next 15 years, "a thriving innovation ecosystem has the potential for a $136 billion increase" and the creation of 540,000 new jobs.
In Australia, the innovation hot spots are unsurprisingly bunched into the major state capitals (see breakout below). Not only is it a function of the larger populations, but it's also a question of locating a hub near major transport links, close to education institutions and amenities such as cafes and restaurants. According to Wagner's 12 Principles Guiding Innovation Districts, "the experience of proximity — or a physical concentration of firms, workers, and activities — is what differentiates a 'buzzing' district from a boring one". There are, however, emerging regional startup centres as well as virtual networks paired with a physical centre.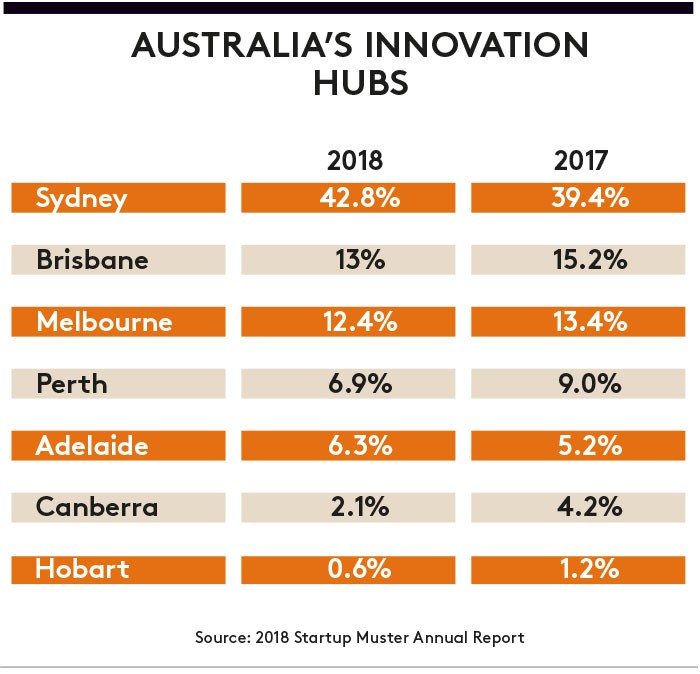 Murray Hurps, director of entrepreneurship at the University of Technology Sydney, says developing and maintaining a "critical mass" within a startup hub builds its own momentum. "If a building, for example, has 200 highly scalable, early-stage tech startups, it becomes a place that attracts similar startups," says Hurps. "It also attracts investors, customers looking for those solutions and talent looking for that sort of work. If you concentrate enough of those companies, and the hub is well understood and communicated enough, that gravity sucks in more and more interesting work. At the end of the day, people are going there because of what they expect to find."
However, while startup hubs rely on affordable rent in an area with high density and good public transport access, the cost of floor space in Australian capital cities has meant governments have had to step in to help make that possible for startups. One possible option, as the Brookings Institute noted, is to retool the networks and focus of tertiary institutions. "One of Australia's first moves should be to transform its R&D-laden universities to become hyper-compact, connected and collaborative locales of spiking innovative growth."
The 200ha, $5b Gold Coast Health and Knowledge Precinct (GCHKP) is a global business location for high-tech industry development, research collaboration and Asia-Pacific's emerging health and innovation hub.
As with all startup hubs, co-location of key partners and infrastructure with a shared long-term vision is crucial, says Di Dixon GAICD, project director at GCHKP. "In the case of the GCHKP, we've had a strong vision from the City of Gold Coast for more than 15 years, shared by Griffith University and Gold Coast Health, together with the Queensland Government."
Unlike many precincts, GCHKP is unashamedly sector-focused. "We don't try to be something to everyone," says Dixon. "We're clear on our niche areas of genuine global strength, including advanced design and prototyping with new materials and drug and vaccine development."
The GCHKP also draws on its partners to attract the right companies and skills. "There are very strong connections between academics and clinicians with a lot of joint research appointments and activities," says Dixon. "Equally, we leverage the commercial connections of researchers. For example, we've attracted the world's leading 3D printing pioneer, Materialise, to base its Australian operations in the Precinct on the strength of the R&D links in medtech. We also work carefully to ensure we have a graduate pipeline."
Virtual hubs are also starting to emerge, according to Pandora Shelley, CEO of Fishburners, a Sydney co-working space designed for startups.
"As much as I would love to open co-working spaces all over the country, it's very expensive and hard to reach a critical mass in some areas," she says. "We've just started a virtual membership option, taking everything Fishburners does except for the desks and providing it online. We're also working with regional hubs to offer resources you wouldn't normally have in a regional co-working space, to help them grow at scale."
Directors need to look at what organisations are out there, and what fits with their organisation and innovation goals. The more they get involved, the more they will get out of it.
How to engage with startups
Even though startup hubs are designed with collaboration in mind, it's often not immediately obvious how those outside the hub can become involved. One question in the 2018 Startup Muster Annual Report bore that out. Of the 1098 survey participants asked to list all the large companies they had as a customer and would recommend, no company was named more than 10 times. "What that says to me is Australian companies are not good at being customers for Australian startups," says Hurps.
"It might not look like the most sensible thing to be the first customer of a startup, but potentially that first customer is the first to realise the competitive edge, and can help shape the solution to better suit their needs."
Some companies have also started setting KPIs for their C-Suite executives in innovation engagement: the number of small companies they've talked with, number of startup events attended, and partnerships they've set up with new Australian startups.
"While managing risk remains a concern for directors in this arena, the real risk lies in maintaining the status quo," says Hurps. "For modern businesses, the risk of eventual disruption and replacement of business as usual from not engaging with startups is enormous."
Attending an event is not just about ticking that box and moving on. Director interest needs to be part of their ongoing innovation strategy.
"The corporates that tend to get the best deals are the ones actually involved in the startup ecosystem because they're already known and have a level of trust with the startups," says Shelley.
"Directors need to look at what organisations are out there, and what fits with their organisation and innovation goals. The more they get involved, the more they'll get out of it."
Australian Startup Stars
New South Wales
Sydney Startup Hub Launched in early 2018, the $35m Sydney Startup Hub is the largest in the Southern Hemisphere and a global-scale precinct. It has 2500 startup seats across 11 floors, plus corporate innovation labs and a public drop-in space. It houses key startup residents such as incubator pioneers Fishburners and Stone & Chalk. The Studio is a media-tech and creative-tech incubator and Tank Stream Labs attracts technology entrepreneurs. Corporate partners include Microsoft, Caltex and Optus, plus Innovation NSW.
Liverpool Health, Education, Research & Innovation Precinct This Sydney hub already has more than 15,000 health and knowledge workers. By 2036, it will contain around 30,000, almost 25 per cent of the sector workforce.
Queensland
The Precinct The Queensland government's innovation hub is one of the largest and most dynamic in the country. It is part of the $650m Advance Queensland initiative that aims to foster/support innovation businesses.Key tenants include the CSIRO's Data61, River City Labs, eHealth Queensland, Softbank Technologies from Japan, emerging tech startups and the Office of the Queensland Chief Entrepreneur. Along with co-working and meeting spaces, there are also links with investors and venture capital firms as well as an international "soft landing" space, allowing overseas companies efficient access to the local market.
The Capital Launched in October 2016 with a $5m grant from the City of Brisbane, the 200-desk hub is underpinned by foundation tenants Fishburners and local startup Little Tokyo Two. The space gives access to a 700-strong member network, events and dedicated talent pool.
The Gold Coast Health & Knowledge Precinct The GCHKP is based around the 2018 Commonwealth Games Athletes Village on the Gold Coast, near Griffith University and two major hospitals. EY has predicted the health innovation hub will ultimately employ more than 26,000 people, 11 per cent of Gold Coast jobs.
Western Australia
Spacecubed Spacecubed started in Perth in 2014 and now operates two co-working sites in the Perth CBD: Riff and FLUX. It houses CORE, the resources sector innovation hub, runs Plus Eight, an annual accelerator program, and two pre-accelerators leading into it. Spacecubed also holds a Startup Weekend annually, as well as Friday drinks, weekly community lunches, panel talks and guest speakers every fortnight. Among the companies they host are Google's Cloud Team, Service Now and BHP.
Victoria
Victorian Innovation Hub This multi-sector innovation hub brings together tech and cybersecurity specialists, including Stone & Chalk, agritech accelerator SproutX, medtech accelerator The Actuator, technology accelerator Startmate and the CSIRO's Data61. The hub also includes the Blockchain Centre providing specific help to the emerging blockchain community.
YBF Ventures Set up in 2011 and primarily focused on fintech startups, with partners including Qantas, IBM, EY, AON, Mirvac and IBM. It recently launched YBF Mesh, a world-first hub focused solely on Web 3.0 startups, including decentralised technology systems.
Melbourne Connect Melbourne University in partnership with Lendlease will launch this new precinct housed in the former Royal Women's Hospital. Slated to open in 2020, it's envisioned the hub will attract industry, government, research and startup entrepreneurs. In addition to the Melbourne hubs, Alex McCauley says the city has been successful in attracting Asia-Pacific or Australian headquarters of large, global tech companies. "Stripe, Square and Slack, for example, have made a base here," he says. "That has been helpful in building a sense of globalism around the Melbourne tech scene."
South Australia
Lot Fourteen Set over seven hectares, this is a key urban renewal project. Sited on the former Royal Adelaide Hospital, when the precinct opens later this year, over 1000 workers are expected in emerging industries such as artificial intelligence, cybersecurity, smart sensor networks, robotics and big data, along with media and creative industries. The new Australian Space Agency is also a key tenant. The hub will include coworking spaces, scale-up offices, partnerships with national and multinational industry leaders, and dedicated R&D facilities.
Australian Capital Territory
Canberra Innovation Network This network was established five years ago with the ANU, CSIRO, Canberra Institute of Technology, Data61, UNSW Canberra and the University of Canberra as its foundation members. It houses the Griffin Accelerator, KILN Incubator and hosts events and workshops.
Regional Australia
NSW Local Innovation Network Seven hubs share a $2.1m state government investment. Linked with the Sydney Startup Hub, regional centres such as Wagga Wagga, Bathurst, Byron Bay and Armidale learn about financing new projects, skills development and retention, and are given access to larger entrepreneurial networks.
LaunchVic This independent agency, set up by the state government, was allocated $2.4m last July to support 15 projects across 26 local government areas. The funding covers bootcamps, mentoring, hackathons and workshops.
Runway Geelong This startup accelerator, with a new outpost in Ballarat, received $1.3m in the 2018 state budget. Runway CEO Peter Dotsis noted that outside Melbourne, Geelong is "probably the fastest-growing startup region" in the state.
Some companies mentioned in this feature have advertised in Company Director, but have had no involvement in or influence on actual editorial content.
This is of of your complimentary pieces of content
Already a member?
Login to view this content