Using nanosatellites that orbit the earth, Myriota is changing the game of data distribution, making data easily accessible for all Australians.
Adelaide-based startup Myriota is burning through cash. It's burning through it as fast as it can because in the global space race, it could lose out to a company that moves even faster. Rather than dissuade potential investors, it has them knocking at the door.
"We had to develop a form letter for people who want to invest," says CEO and founder Dr Alex Grant.
Myriota spun out of the University of South Australia (UniSA) in November 2015 with $2m in funding from Canada-based data services company exactEarth. In March 2018, it closed a US$15m series A funding round with venture capital firms, having also secured a $1.3m grant from the South Australian government's Future Jobs Fund.
The company provides low-cost, low-power, secure direct-to-orbit satellite connectivity for the Internet of Things (IoT — internet-connected devices embedded in everyday objects enabling them to send and receive data). It designs systems that collect data in remote, even hostile, environments, then beam it up in an encrypted form using the UHF or VHF spectrum to a satellite. The satellite, in turn, pings it on to a terrestrial data centre. From there, the data can be analysed and sent to people who can use it in their work or research — all within an hour or two of the measurement being taken. Once the technology is deployed, it costs one cent to transmit each message.
This technology could be used by farmers to measure water tank levels over a large property — meaning they would only need to visit a cattle trough when the water level is low. Or a research scientist could receive data about ocean currents, water temperatures and barometric pressure from Myriota sensors located on marine drifters.
The Australian Defence Force is working with the company to develop a system that uses sensors scattered through an area to scan for chemical traces before committing troops. In the future, vibration and acoustic sensors may be added to provide further crucial information to the armed forces before soldiers are sent in.
Planning with purpose
From day one as director of the Institute for Telecommunications Research at UniSA, Grant knew he wanted to develop intellectual property that had a commercial purpose. "We ran a three-year research program in the university as a startup," he says.
By the time Myriota was up and running, it had 10 patents and four researchers joining it from the institute. Three years on, it now has 20 patents, along with a growing client base and 26 staff, many who have come from UniSA. "That institute has been something of a factory for highly skilled researchers," says Grant.
UniSA's strategic approach to commercialisation should be a model for other universities, according to Grant. The focus is on research impact rather than having a "semi-delusional idea" focused on financial gain and seizing control.
"This stuff has to go out into the wide world and succeed on its own merits," he says. "You need a certain level of maturity to see what is needed. It will vary case to case, but as soon as you get too tangled up and fearful of potential loss of future benefits, that is where problems occur — around ownership and control. You just want the stuff to succeed and be of benefit. After all, this comes out of public-funded research and, to a degree, it belongs to all of society."
Two rounds of venture capital funding — including a $19.4m series A capital injection courtesy of Boeing's HorizonX Ventures arm, as well as Blue Sky Ventures, CSIRO innovation fund Main Sequence Ventures, Right Click Capital and Singaporean fund Singtel Innov8 — mean that UniSA's stake in Myriota has been diluted over time. However, it remains a key partner in the company with another round of funding on the drawing board.
Myriota's technology was piloted with prospective customers in 2016. Now it has paying customers joining the network and scaling up. Third-party products — which build Myriota's technology into their own devices — are also emerging. Earlier this year, Amazon Web Services announced Myriota would be the first Australian company to secure general access to its AWS Ground Station satellite control system, which eliminates the need for customers to build or lease ground antennas to communicate with satellites. This opens the door for rapid international expansion.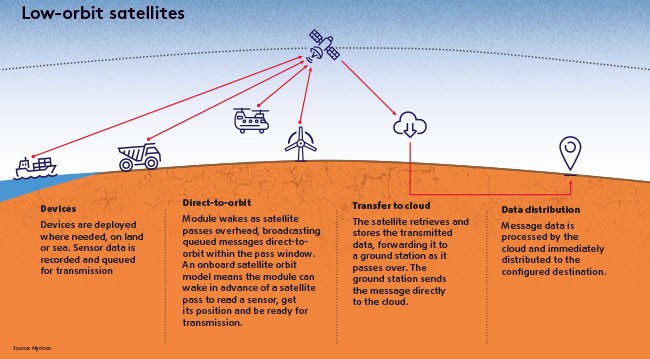 Spinning off startups
Myriota isn't the first spin-off that Grant has been involved with. He was also on the team from UniSA that fledged Cohda Wireless, which develops technology for connected autonomous vehicles.
"We learned a few things there that informed what we did with Myriota," he says. "The realisation that large chunks of research funding — with the right team and sufficient will — can be viewed as pre-seed investment to work on a problem to produce a prototype and put you in a good position to seek investment to commercialise.
"Beginning with user requirements, identifying the market gap, know what it is you are aiming to produce and understand the technical roadblocks. The research you do can be directed to solve some roadblock problems and alongside that, be very strategic about building an IP (intellectual property) portfolio... that can be packaged and put in front of investors."
It's a more strategic modus operandi than what Grant describes as the "floor sweeping" approach to commercialisation, in which universities scour research teams for IP and try to figure out what to do with it.
"Commercialising research is hard enough without not being strategic about it," says Grant. However, his approach demands that researchers are upfront with the university about their long-term intent. "Those were conversations we had at the beginning of the research with the highest levels of the university; it was built into the research program itself. Even before the funding was assigned, we made clear what the plan was."
As IP was developed, it was clearly identified, patents were filed and agreements in the research program gave a clear line of sight with respect to ownership of the IP so that it wasn't cross-contaminated with IP that might remain with UniSA.
"This did not happen by accident," says Grant. "This was done from first principles to make sure we had a clean foundation, with the right licensing regime for the IP with a trigger that would assign the ownership of it, which is now the property of the company."
Grant warns against cookie-cutter commercialisation approaches, saying a deliberate strategy needs to be conceived for each case. Some projects may lend themselves to third-party licensing to liberate royalties, while others may need a fully-fledged startup that raises millions of dollars in venture capital to bring a product to market.
Building a board
Typically for a VC-backed business, Myriota's board comprises the two founders — Grant and Myriota chief technology officer Dr David Haley — and nominees from the larger investors: Martin Duursma (CSIRO's Main Sequence Ventures), Adrian Smith (UniSA) and Mark Watson (Blue Sky Ventures). The chair is Peter Mabson, president of exactEarth, which operates the three low-earth orbit satellites Myriota initially used to deliver the service.
The goals of the founders and venture capital-appointed directors are broadly aligned, both groups wanting the business to scale and succeed. "We've been fortunate to have good investors to add a lot of value strategically in decision making and governance of the company," says Grant.
He also wants to broaden the board's horizons. In February, Myriota brought on a non-executive director from outside the venture capital gene pool. Pamela Melroy GAICD is a former NASA astronaut and deputy director of the tactical technology office at the US Defense Advanced Research Projects Agency. She is the first woman on the Myriota board.
"Pamela is an independent voice at the table who is well connected globally and in research. It also gives me confidence that someone is there who is not super-vested in terms of investment," says Grant of the one-time test pilot and Space Shuttle commander. "The quality of doors that are being opened — and the frequency with which they are being opened — has risen."
Small wonders
As satellites have downsized, launching them into space has never been more economically viable, bringing big benefits for business.
Global research and advisory firm Gartner forecasts that 14.2 billion connected things will be in use in 2019, soaring to 25 billion by 2021. Getting the data from IoT sensors requires it to be sent over a communications network. This could be a relatively low-cost, earthbound LoRa (long range) wireless network, or 5G mobile networks such as those being rolled out across Australia, through to Low Earth Orbit (LEO) networks, which rely on satellites orbiting 200km–1000km above the Earth's surface that can collect information from anywhere on land or at sea.
Satellites have reduced in scale during the past two decades, and lightweight nanosatellites weigh between 1kg and 10kg — smaller CubeSats weigh around 1kg — meaning multiple devices can be launched economically from a single rocket. There are about 1100 nanosatellites and 1000 CubeSats currently orbiting the Earth.
Myriota's service started with three exact Earth satellites, and the company launched a fourth on SpaceQuest's BRIO satellite in December 2018. Each satellite covers every location on Earth at least four times a day and in the future the coverage will be far greater.
The company plans to have a further three satellites operational by the end of 2019. Its ambition is to create a constellation of 50 nanosatellites and, ultimately, a real-time communications capability.
This is of of your complimentary pieces of content
Already a member?
Login to view this content