It was a quiet week on the data front with only a couple of releases. The Westpac-Melbourne Institute Index of Consumer Sentiment Index rose almost two per cent in February to be up more than 14 per cent on the same time last year. And the NAB Business Survey reported business confidence rose in January to levels well above the series' long-run average, although business conditions retreated somewhat following extremely strong readings in November and December.
Last Friday's release of retail sales data reported that turnover fell over the month to December but was still up strongly in annual terms.  Full-year numbers show how Australians' spending patterns have changed in response to the pandemic.  The RBA's new forecasts, as presented in February's Statement on Monetary Policy, are more upbeat on growth and employment but still foresee little wage growth or inflationary pressure.  In the global economy, a combination of Q4:2020 GDP releases, alternative data and global PMI reports paint a mixed picture of economic activity around the turn of the year with signs of a loss of momentum due to a resurgent virus and renewed lockdowns.
The relative dearth of Australian data releases means that the weekly reading roundup is a bit longer than usual this time. This week's readings include RBA testimony, the Productivity Commission on National Water Reform, the latest state of the states, an update on Australia's fiscal position, low interest rates and magical thinking, the debate over Biden's fiscal policy, the economics of minimum wages, what went wrong with the UK's pandemic response, more findings on the economic impact of COVID-19 and some advice on making the world add up.
What I've been following in Australia:
What happened:
The Westpac-Melbourne Institute Index of Consumer Sentiment increased (pdf) 1.9 per cent in February 2021, rising to an index level of 109.1 which put it more than 14 per cent up on the February 2020 reading.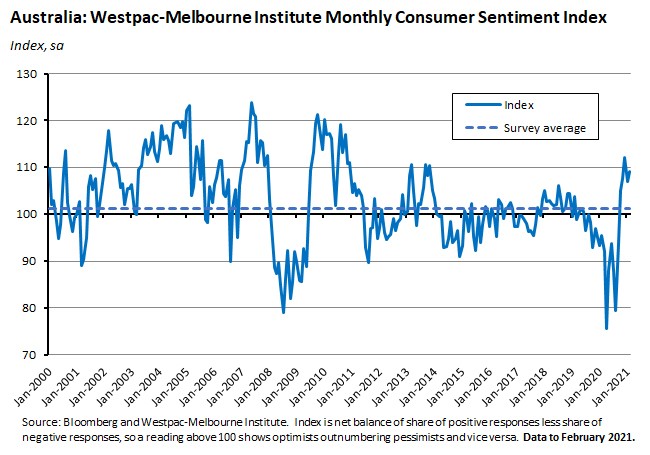 By state, there were strong results for Victoria and New South Wales but declines in sentiment for Queensland and Western Australia.
In terms of the detail, four of the five index components increased this month.  'Economic conditions, next 12 months' jumped by 6.9 per cent while there was a much more modest gain of just 0.5 per cent for 'economic conditions, next five years.'  'Family finances next 12 months' rose 2.6 per cent while 'finances vs a year ago' was down 0.6 per cent.  Finally, 'time to buy a major household item' rose 0.4 per cent. 
Other results showed a 6.5 per cent rise in the house price expectations index (now at a seven year high) and a 3.1 per cent drop in the 'time to buy a dwelling index', which are both consistent with the story of housing market strength told by last week's set of data releases, but which also suggests that perceptions of affordability may be starting to adjust in response.
Finally, the unemployment expectations index fell 3.8 per cent over the month to be down 15 per cent over the year, indicating that households' fears about unemployment are still receding.
Why it matters:
Remember, the monthly index of consumer sentiment had hit a ten-year high of 112 in December last year before falling to 107 in January 2021.  That fall had followed the emergence of virus clusters in NSW and the resumption of state border closures.  Given that context, this month's reading represents a return to confidence, particularly in NSW and Victoria. 
The overall level of consumer sentiment is still comfortably above the survey average, indicating that households remain upbeat about economic and financial conditions.  While there are some differences with the ANZ-Roy Morgan weekly survey results discussed in the next story, the overall pattern of a strong rebound in confidence from last year's pandemic-induced lows is consistent across both indicators.
What happened:
The ANZ Roy Morgan Weekly Index of Consumer Confidence fell 0.6 per cent over the week to 6/7 February 2021. 
The slight decline in the overall index reflected a softening in households' assessment of financial conditions.  In contrast, views on economic conditions improved a little, reversing last week's decline.
Why it matters:
There was little change in confidence over the past week, with the slight move still leaving the index close to its long-run average.
What happened:
According to NAB, business confidence rose (pdf) in January 2021 to ten index points, up from five in December 2020.   In contrast, business conditions fell from 16 index points in December last year to seven points in January.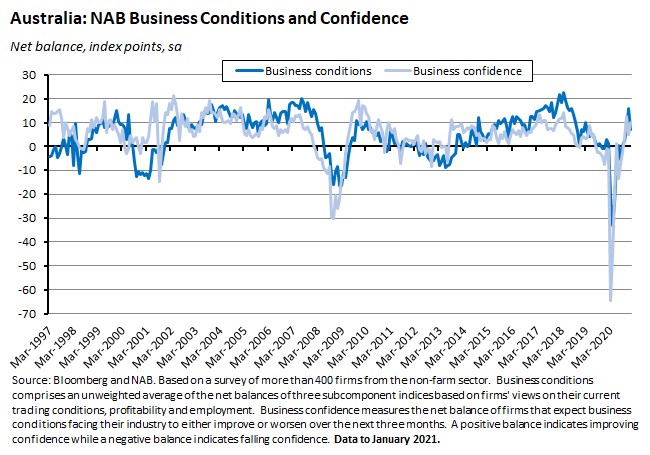 The decline in business conditions last month was driven by falls in all three sub-components of the conditions index, with declines in trading, profitability and employment.  All three – like the conditions index itself – remained in positive territory, however.
January also brought mixed messages from two leading indicators: while capacity utilisation edged higher over the month and is now back at its long-run average (and above pre-COVID levels), the forward orders index fell for a second consecutive month.
Why it matters:
The decline in business conditions last month likely reflects some payback following very strong results in November and December last year.  NAB notes that a decline in trading conditions, which drove much January's drop, reflects businesses reporting that trading conditions had pulled back to around long-run average levels after two good months. Meanwhile, the improvement in business confidence suggests grounds for confidence about future activity despite the mixed messages from capacity utilisation and forward orders.
What happened:
Last Friday, the ABS released December 2020 retail turnover data along with retail volumes for the fourth quarter.  Retail turnover in December 2020 fell 4.1 per cent month-on-month (seasonally adjusted) but was still 9.6 per cent above the December 2019 result.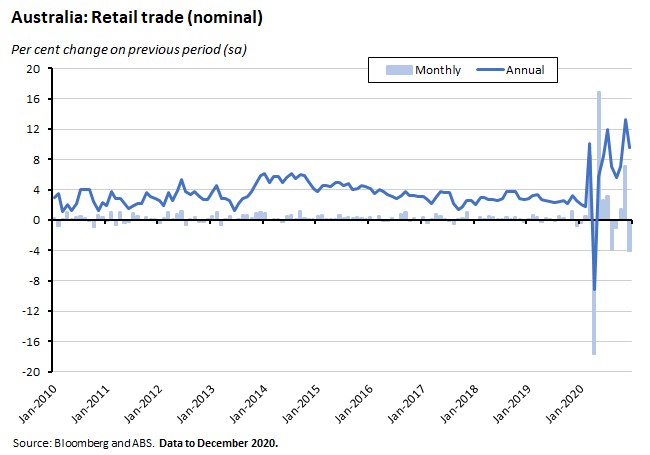 Five of the six retail industries suffered declines in turnover across the month, with drops for  household goods retailing (down 8.3 per cent), clothing, footwear and personal accessory retailing (down 9.4 per cent), department stores (down 12.5 per cent), food retailing (down 1.7 per cent), and other retailing (down 4.4 per cent).   Cafes, restaurants and takeaway food services enjoyed a 3.2 per cent increase in turnover, however.
Across 2020 overall, retail turnover rose by around $21.9 billion, or 6.6 per cent above 2019's total.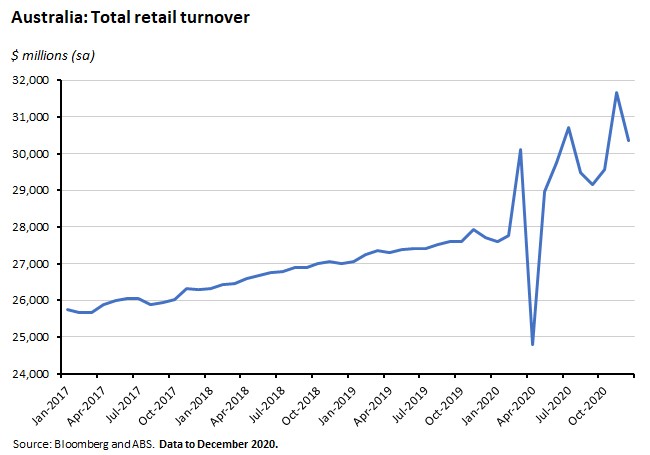 The bulk of that increase was driven by a $16.1 billion rise in turnover for food retailing, with turnover for the year as a whole up almost 12 per cent on its 2019 value.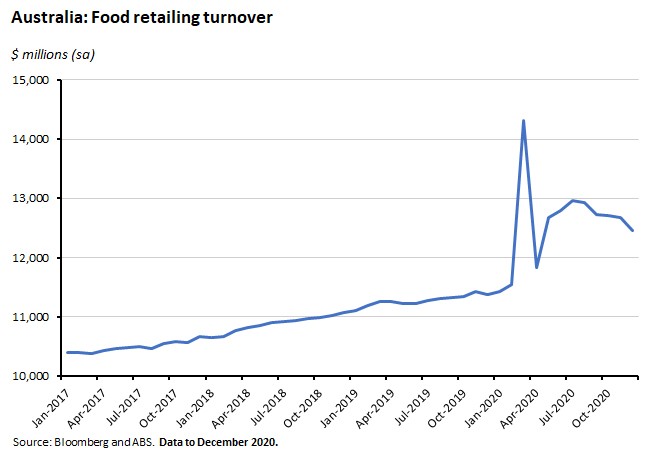 Other industries to enjoy strong growth in 2020 were household goods and other retailing (which includes newspapers and books, pharmaceuticals and other recreational goods).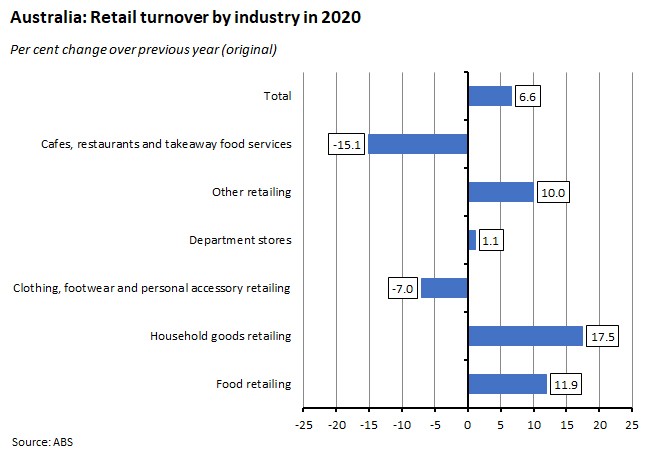 In contrast, but unsurprisingly, it was a bad year for the clothing, footwear and personal accessory sector and in particular for cafes, restaurants and takeaway food services, where – despite a recovery in activity over recent months – turnover dropped more than 15 per cent last year to be down about $7.1 billion relative to 2019.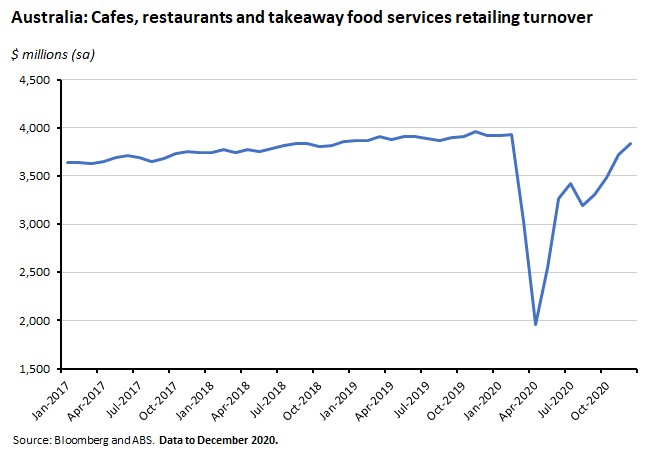 By state, turnover in December last year fell relative to November everywhere except the Northern Territory, with the largest declines seen in Victoria and New South Wales.
Over 2020 as a whole, turnover was up in all states, with the increase ranging from just 0.8 per cent in Victoria to 12 per cent in Western Australia.

Turning to the quarterly data on volumes, turnover was up 2.5 per cent in Q4:2020 relative to the previous quarter (seasonally adjusted).  The pace of annual growth was 6.4 per cent.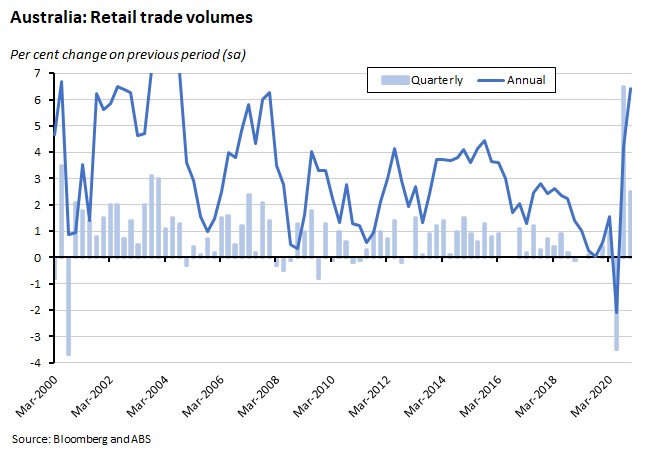 By industry, quarterly growth was positive for clothing, footwear and personal accessory retailing (up 18.1 per cent over the quarter), cafes, restaurants and takeaway food services (up 10.4 per cent), and also for department stores and other retailing.  But volumes declined in food retailing (down 2.6 per cent over the quarter) and household goods retailing (down 0.6 per cent). 
According to the ABS, by state, the growth in quarterly volumes was driven by Victoria, which enjoyed a 12.8 per cent increase following the lifting of COVID-19 restrictions.   Without the Victorian rise, the ABS said seasonally adjusted volumes would instead have fallen in the December quarter.
Why it matters:
Retail turnover fell over the month in December 2020 (in line with the ABS preliminary estimate) following what had been very strong growth in November.  And even the monthly decline still left turnover up 9.6 per cent in annual terms.  Quarterly volume growth overall was also solid, after a very strong third quarter, and translated into a large annual gain which should also help support Q4 GDP growth.
One impact of the pandemic has been a reallocation in consumer spending from the services hit by public health restrictions (for example, overseas holidays) towards spending on goods.  That transfer has seen the overall value of retail sales rise over the course of last year despite the pandemic.
At the same time, however, the pattern of spending within the retail sector has also been transformed by COVID-19, with big gains for food and household goods in 2020 offsetting declines in spending on eating out and clothing and footwear.
Finally, another shift in consumer behaviour has been the rise in online sales. In fact, by the end of last year, the share in total sales had actually fallen back quite significantly from the high of almost 21 per cent reached in April 2020.   But even so, last December's online share of 9.1 per cent of total retail sales was still well up on the 6.6 per cent share recorded in December 2019.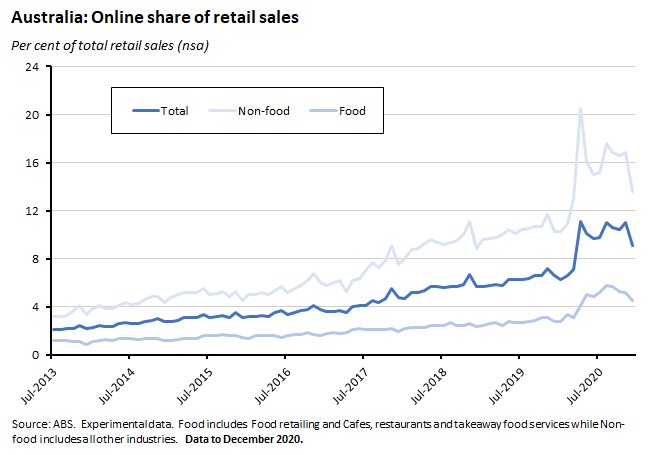 What happened:
The RBA published the February 2021 Statement on Monetary Policy last Friday.   The central theme of the analysis is that the economy has performed materially better than expected during the pandemic.  This in turn has triggered upgrades to the RBA's forecasts for GDP and employment growth relative to the projections set out in November's Statement, mainly because the starting point is now appreciably better.  As a result, both GDP and employment are expected to return to their pre-pandemic levels this year, between six and 12 months earlier than previously expected.  Likewise, the unemployment rate is now assumed to have peaked, and is expected to fall – albeit slowly and gradually – to around 5.25 per cent by mid-2023.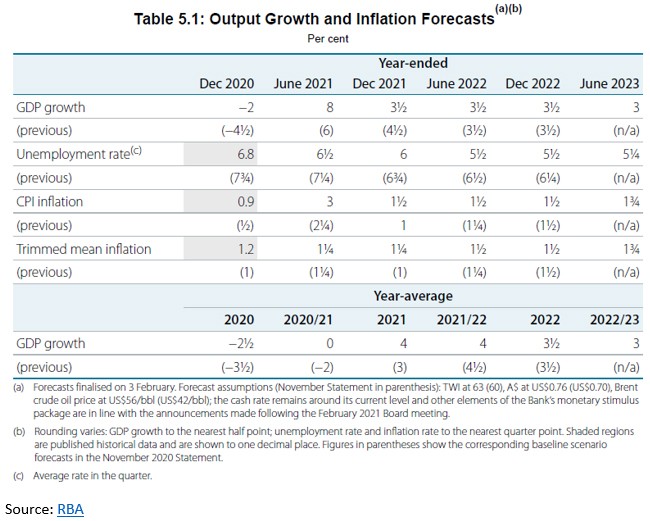 Key features of February's revised forecasts are:
A stronger-than-expected recovery in H2:2020 due to the faster-than-expected removal of social distancing measures and the impact of policy stimulus measures is assumed to have pulled forward GDP growth from 2021.GDP is now expected to have contracted by 2.5 per cent in 2020 compared to the previous forecast of a 3.5 per cent fall, while forecast growth this calendar year has been upgraded from three to four per cent.
This stronger-than-expected rebound has in turn produced a speedier recovery in the labour market.Both employment and the participation rate have recovered faster than the RBA had anticipated, with unemployment peaking earlier and at a lower rate than predicted.The rapid rebound in the participation rate also suggests that labour market scarring has been lower than in the typical recession, and that search frictions have likewise been smaller.The end of the JobKeeper program in March means that the decline in the unemployment rate is expected to slow but joblessness is still expected to fall over the forecast period.
Consumption is expected to recover to pre-pandemic levels by the end of this year, supported by a recovery in labour income and a decline in uncertainty. The household saving rate is predicted to fall from around 20 per cent in Q3:2020 to five per cent by the end of the forecast period.
Dwelling investment is forecast to return to pre-pandemic levels by the middle of this year with a strong pick up in lower-density residential construction.
Non-mining business investment is projected to increase only gradually and from a very low base over H1:2021 and to only return to pre-pandemic levels by the end of next year.
Mining investment – which in November had been forecast to see modest growth – is now predicted to be little changed in the near-term with survey data suggesting some firms have scaled back investment intentions.
Public sector demand is expected to make a larger contribution to growth this year than anticipated in the November Statement, largely reflecting increased investment by the states.
There has been a modest increase in the forecast for wages growth but continued spare capacity in the labour market means that year-ended growth in the Wage Price Index (WPI) is forecast to remain below two per cent – even slower than pre-pandemic wage growth.
Likewise, while there has been a slight upgrade to forecast inflation rates, inflation is still expected to be subdued throughout the forecast period. While there will be some volatility in headline inflation rates – reflecting the impact of shifting policies such as rent reductions, utility rebates and free childcare – underlying inflation is predicted to remain low, reaching only 1.75 per cent by mid-2023.
Note that the Statement also includes upside and downside scenarios.
Why it matters:
There wasn't too much new here, as the key messages and changes to November's forecast were both set out in Governor Lowe's speech to the National Press Club last week, which we covered in detail in the previous Weekly.  The main takeaway is that, despite the economy having performed quite a bit better than expected during the pandemic, and despite the consequent upgrades to the RBA's forecasts, Martin Place remains convinced that monetary policy will have to remain loose for several years.  Notably, even under the optimistic, upside scenario set out in February's Statement, inflation is still expected to be below two per cent by the end of the forecast period in mid-2023, implying no pressure to adjust the cash rate.
It's also worth noting that while the RBA foresees no sustained inflationary pressure over the forecast period, it does expect to see some volatility in the headline CPI, which it thinks could reach three per cent – the top of the target band – in the June quarter.  But the central bank will look through this 'noise' in the data, expecting inflation to fall back to 1.5 per cent by the end of this year.
. . . and what I've been following in the global economy
What happened:
The first round of Q4 GDP results paints a mixed picture as to how the world economy fared towards the end of last year, as some economies lost momentum in the face of renewed outbreaks of COVID-19 and a return to lockdowns.
In the case of the EU, for example, Eurostat's preliminary estimate for Q4 is a 0.5 per cent decline over the quarter, leaving output down  4.8 per cent over the year.  Across the whole of last year, EU GDP is estimated to have declined by 6.4 per cent.
For the narrower grouping that comprises the Eurozone, real GDP was down 0.7 per cent quarter-on-quarter in Q4:2020 and output shrank 5.1 per cent relative to Q4:2019.  That marked a sharp turnaround from the 12.4 per cent jump in real output enjoyed in the September quarter last year.   While Germany and Spain each managed to grow in the final quarter, France and Italy both went backwards.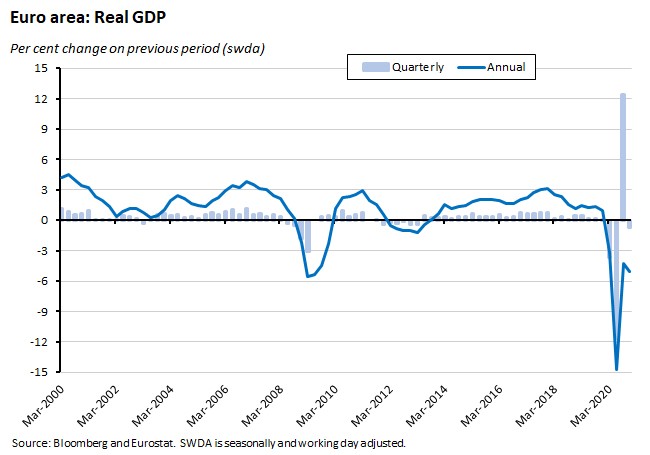 For 2020 as a whole, Eurozone GDP fell by 6.8 per cent, marking the biggest annual decline in the history of the series.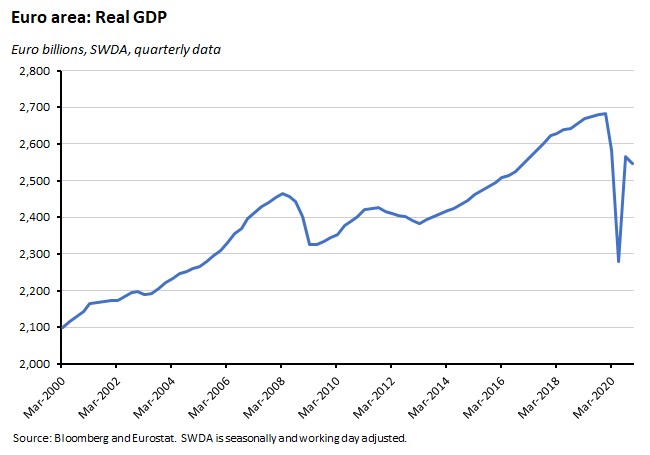 In the United States, according to the advance estimate from the BEA, real GDP rose at a seasonally adjusted annualised rate (saar) of four per cent in Q4 down from 33.4 per cent growth in Q3.  In more standard quarter-on-quarter terms, output rose one per cent relative to Q3 and was down 2.5 per cent from Q4:2019.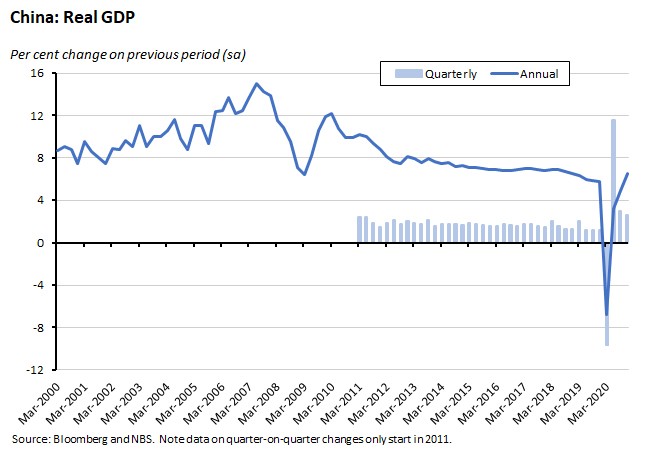 For 2020 as a whole, real GDP in the United States contracted by 3.5 per cent.  While this was a much smaller decline than that suffered by the Eurozone and the wider EU, it still marks the worst annual decline in US output since 1946 (which saw an 11.6 per cent fall) and is significantly worse than the 2.5 per cent fall in output suffered during the global financial crisis in 2009.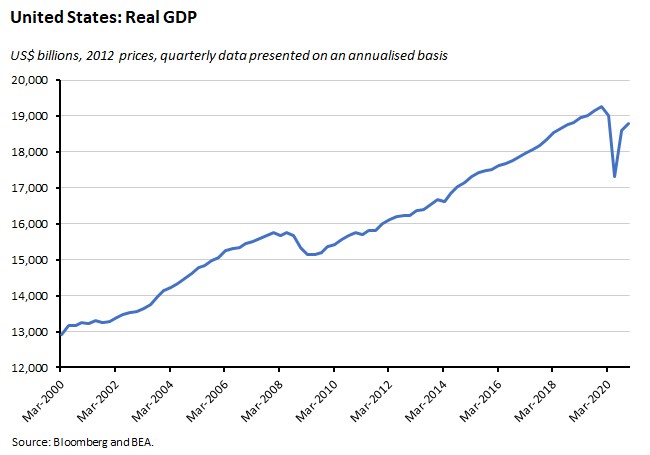 In contrast to both the US and the EU, China's economy managed to expand in 2020.  Preliminary GDP results from the National Bureau of Statistics showed GDP in Q4 up 2.6 per cent over Q3:2020 and up 6.5 per cent over Q4:2019, while for 2020 overall, GDP rose by an estimated 2.3 per cent.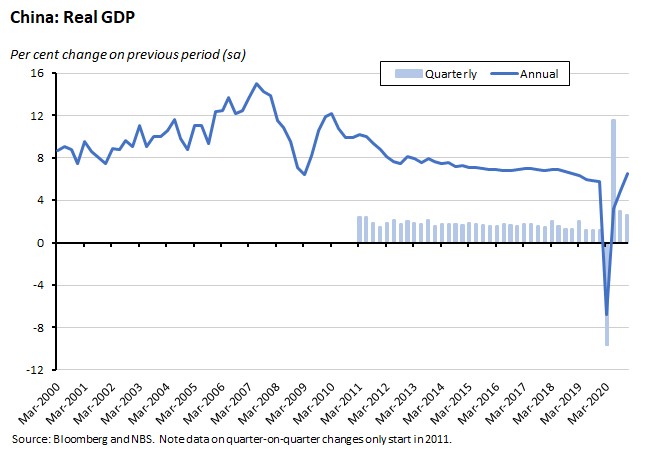 Why it matters:
The first round of Q4 GDP results depicts mixed fortunes across the world economy as last year drew to a close.  For the Eurozone and the broader EU, the need to return to lockdowns meant that the European economy suffered a double dip downturn as output contracted over the fourth quarter and the focus is now on the first quarter of this year to see if the EU can avoid a double-dip recession.  Meanwhile, a contraction in excess of six per cent across 2020 shows COVID-19 has taken a particularly brutal toll on the EU's economic performance.  (UK Q4 GDP has yet to be published, although the latest IMF forecasts – reviewed in the previous Weekly – suggest that the UK economy shrank by an even larger ten per cent last year.)
US economic performance has been relatively better, with the level of economic contraction in 2020 only a little more than half of that suffered by the Eurozone.  The US economy also managed to grow in the December quarter, although the pace of the economic recovery has slowed markedly.  Of course, some moderation was to be expected after the dramatic rebound in Q3 last year, but the data also reflect the drag from the pandemic and associated public health measures.
Finally, China is one of the few economies to manage to grow last year.  First in and first out of the Corona Virus Crisis, at 6.5 per cent the rate of annual growth in the final quarter was the economy's strongest result since 2018 and indicates a pretty decent recovery.  Even so, the full year 2020 result was still the slowest GDP growth seen in more than four decades.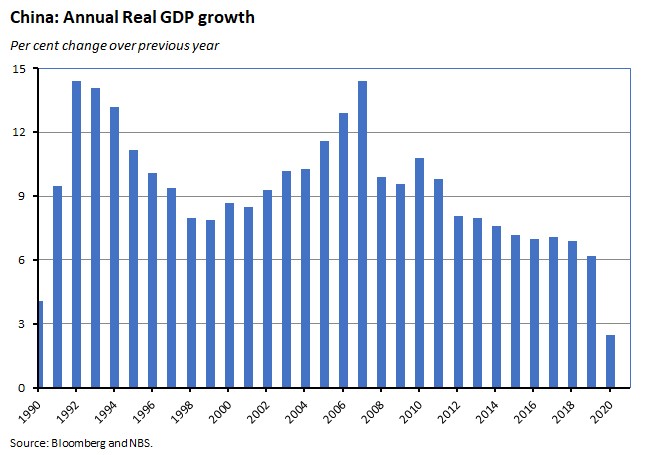 (Note, the ABS is due to release Australian Q4 GDP on 3 March.)
What happened:
Bloomberg's daily activity indicators show that fears around new variants of the coronavirus, high infection rates and tougher containment measures all took a toll on economic activity through the end of last year that for many economies then continued on into January 2021. 
The indicators show activity slowing in both advanced and emerging economies, although the former suffered the largest decline.  Australia also experienced its own sharp drop in measured activity through the end of 2020, but in contrast to many other advanced economies it has since enjoyed a quick bounce back.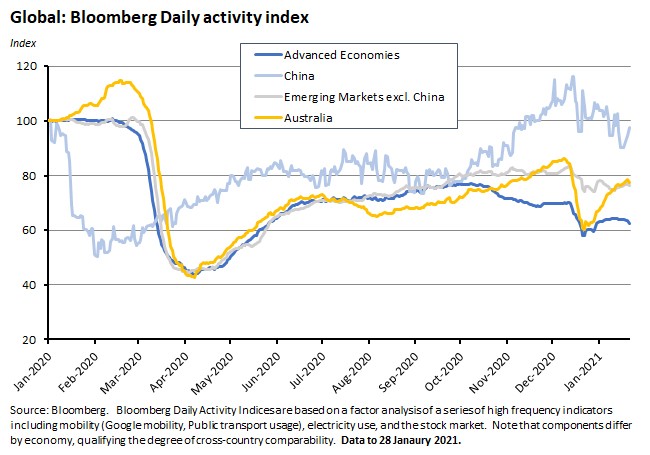 As was the case with the GDP data discussed above, China continues to outperform most other economies, although here too the alternative data points to signs of a slowdown.  Excluding China, activity in emerging markets remained stuck at around 76 per cent below its pre-virus level in the last week of January 2021.
With respect to advanced economies, the most recent data through to end January shows activity softening in Germany, Italy, Spain and Japan and going sideways in the US and UK, although there were modest gains in France and Sweden.  For advanced economies overall, by the end of last month activity was running at less than 63 per cent of pre-pandemic levels.
Why it matters:
The advantage of measures such as Bloomberg's alternative data (and the PMI numbers cited in the next story) is that they offer us a quicker take on economic trends. In this case, the numbers suggest that the weakness seen in the final quarter of 2020 in Europe in particular has carried on into the first month of this year, keeping the risk of a double dip recession alive. 
Also worth noting here is that Australia's relative performance in terms of activity levels now puts it well above many of its advanced economy peers and at a level that is similar to that of emerging markets excluding China.
Finally, however, and as we've noted before when citing this data, it's important to balance the advantages – insights that are both more timely and more frequent than traditional official economic statistics – with the drawbacks of alternative data sources.  For example, Bloomberg cautions that a relatively high reliance on travel and mobility indicators to produce its indices could overweight this particular kind of activity.  In addition, given differences in the components of indices across countries, as well as the potential for different relationships between mobility and output between nations, the measures are not fully comparable across markets.
What happened:
The J P Morgan Global Composite PMI fell to 52.3 in January 2021 from 52.7 in December 2020.
National PMI data indicated growth in the United States, China, Germany, India, Russia and Australia alongside falling output in Japan, the UK, France, Italy, Spain, Brazil, Ireland and Kazakhstan with the largest declines in output coming in Ireland and the UK (perhaps Brexit compounding pandemic effects here?).
The JP Morgan Global Services Business Activity Index fell to 51.6 in January from 51.8 in December while the Global manufacturing PMI dropped to 53.5 from 53.8.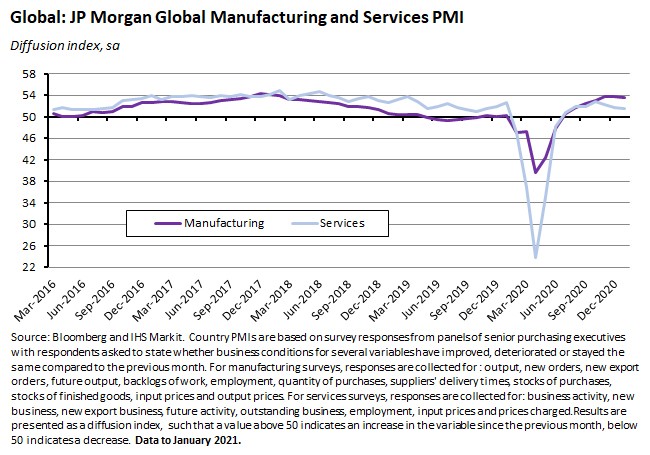 Why it matters:
January's reading for the Composite PMI was a six-month low for the index and marked a third consecutive fall in overall business activity. Both the services and manufacturing sectors saw a slowdown, with services again weaker than manufacturing and recording their weakest reading since July 2020.  All of which is in line with the story of a weak start to the year suggested by the alternative data reviewed above. 
That said, with the PMIs still in positive territory, the data are also signalling that global activity has been expanding for seven consecutive months, with the last sub-50 reading for the Composite PMI coming back in June last year.  According to IHS Markit, at current levels the latest PMI reading is consistent with a pace of annualised real GDP growth of around three per cent.  Not great, but at least it is growth.
What I've been reading . . .
This is of of your complimentary pieces of content
Already a member?
Login to view this content