A global decline in foreign direct investments and world trade could mean there are challenging times ahead for Australia's largest export market.
Last year, East Asia accounted for more than two-thirds of Australia's exports of goods and services. Ten of Australia's top 15 export markets were in the region, including all of the top three — China, Japan and Korea — which together accounted for roughly half of all Australian export revenues in 2018. China alone was responsible for more than 30 per cent.
The region has been one of the most dynamic in the global economy for the past five decades. Successive waves of rapid catch-up growth, beginning with Japan in the postwar period and culminating in China's economic emergence as a global power, have turned the region into the engine room of the world economy while simultaneously making an important contribution to Australia's economic prosperity. With overall income per head in the region still well below that of the developed world, there should be ample potential to sustain those positive effects.
The East Asian growth model has proved one of the most successful recipes for economic development the world has ever seen. While there have been important differences over time and across markets, the broad elements of this strategy included: effective international economic integration via a mix of trade and foreign direct investment that turned the region into the manufacturing powerhouse that is "Factory Asia", most recently by plugging into a network of global value chains (GVCs); high national rates of savings and investment that, along with economic openness, helped to build the human and physical capital that underpinned East Asia's manufacturing prowess, supported productivity growth and leveraged favourable demographics; and broadly effective macroeconomic policies that — with the glaring exception of the 1997 Asian financial crisis — have been able to deliver a level of economic stability that compares favourably with most other emerging regions.
That old model may now be done. Several key features of that international and regional environment either no longer apply or are subject to challenge. East Asia's ability to negotiate these challenges will shape the future of the global economy and our most important export market. Perhaps the most obvious challenge relates to the international trading environment, where the pre-GFC burst of "hyperglobalisation" has been replaced by much weaker world trade growth, a global decline in trend foreign direct investment (FDI) and a retrenchment of GVCs.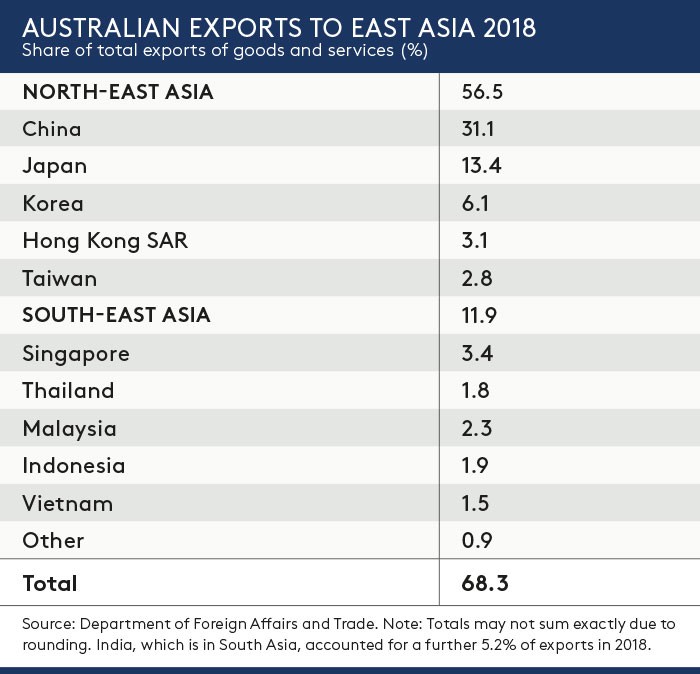 Moreover, what appears to be a secular slowdown in cross-border activity is exacerbated by an increasingly febrile and unpredictable trade policy environment as Washington and Beijing face off in a trade war. The potential for a prolonged period of trade weakness risks turning past strength into present vulnerability, transforming regional GVCs from a transmission mechanism for growth into potential vectors for the fallout from protectionism and soft external demand.
Some key domestic drivers for growth are no longer as dynamic as they used to be, either. Parts of East Asia are now ageing rapidly, growth in dependents outpacing growth in workers. Population ageing depresses productivity growth, which has slowed across several regional economies. IMF research has found a decline in firm dynamism in the region, partly due to a rise in low-productivity "zombie" firms.
A deteriorating international trade environment could prove another productivity headwind.
Finally, in the case of macroeconomic stability, the recent focus has been on Beijing's efforts to manage a rebalancing of the economy while reigning in a major credit boom, all while placing a floor under the rate of economic growth. China has experienced increases in private debt much larger than those seen in previous emerging market credit booms, and which in about one-third of those earlier cases culminated in some form of crisis. The adversarial economic relationship with Washington only further complicates an already delicate situation.
Overall, the East Asian growth story faces a set of complex challenges the region will have to overcome to maintain its role as the growth pole of the world economy. Past performance suggests it will do so. But it's not a foregone conclusion.
This is of of your complimentary pieces of content
Already a member?
Login to view this content