A new airport, dual-carriageway toll road and the proposed inland rail line could see a mini-boom for Queensland's regional city of Toowoomba.
Shane Charles MAICD, general manager of strategy and development for construction materials and services provider Wagners, is the first to admit his hometown of Toowoomba hasn't always had a reputation for being forward-thinking. But things are changing in this city of 135,000 residents that is two hours' drive west of Brisbane.
Registered businesses grew by 4.2 per cent in 2012–18, going against the Queensland trend in which business numbers fell by one per cent in the same period. Land is cheap and the city's population is expected to increase by 25 per cent by 2036.
Development and growth has taken a lot of hard work and collaboration and Charles says three key infrastructure projects have played a major role in the mini-boom. The first, Toowoomba Wellcamp Airport is just west of the city. Funded by the Wagner family, it was opened in 2014 as a passenger and cargo facility. The second is a new 41km dual-carriageway toll road, the $1.6b Toowoomba Second Range Crossing. Opened in September, it links Toowoomba to Brisbane, cutting out 18 sets of traffic lights. The third is the proposed inland railway linking Melbourne and Brisbane, which will run close to Toowoomba, further increasing the city's connectivity.
"In our heart, we're still the same, big country town. But the optimism is tangible," says Charles, a former lawyer who holds numerous board roles in addition to his position at Wagners, including chair of the Toowoomba and Surat Basin Enterprise, and non-executive director at Energy Resources Australia.
"When we set up the Toowoomba and Surat Basin Enterprise in 2011, we started the conversation by saying we were a community in which nothing had changed in 80 years," he says. "But people don't think locally anymore. They don't think nationally about their markets and they think internationally about what they might be able to achieve in the future."
The key, he says, was the opening of Toowoomba Wellcamp Airport with an initial capacity for 140,000 passengers and a weekly Cathay Pacific international flight, which carries exports of beef and milk products to Hong Kong.
Recently resigned Wellcamp Airport general manager Sara Hales — who first got involved with the project as the airport's community liaison consultant in 2013 — agrees the city now regards itself differently. "The airport has created an optimism in the community and Toowoomba has started to look at itself as being on the world stage," says Hales, who is raising her three children in the city. "When I arrived, the airport was just a clearing. Now it has created a physical and psychological connection."
Hales says one of biggest challenges on the $250m airport project was no-one had built a greenfield public airport in Australia since Melbourne's Tullamarine in 1970. Despite this, the airport was constructed in 19 months, funded by Wagners and built on a former quarry, which was owned by the family company.
"We had to earn our credibility with the Civil Aviation Safety Authority," says Hales. Business has also taken its time to be convinced. Hales says passenger numbers are low, running at 114,000 a year via more than 70 domestic passenger flights a week. The Wellcamp Business Park, next to the airport, looks like a wasteland, albeit a green one. However, the next few months will see a transformation.
Canadian company Asterion has announced plans to build the world's largest medicinal cannabis operation near the airport. The $10.6m project will include six 10ha greenhouses capable of producing more than 500 tonnes of medicinal cannabis a year.
The new Qantas pilot training academy opens in September, also adjacent to the airport. It will train 250 pilots each year. And the Toowoomba Integrated Milk Project is building a $50m milk formula factory 700m from the airport. The plan is to export milk products to China and fresh milk by early 2020.
"A whole range of things has lined up beautifully for us," says Charles. "As the old saying goes, 'Infrastructure brings prosperity'. It started with the development of the [coal seam] gas industry. International companies have moved into town, mostly from Canada and the US because they have the experience in onshore gas. That started the ball rolling. People will see us as the inland port for Australia within five years. We've got brand-new infrastructure and this is bringing untold business opportunities.
"Toowoomba offers a cheaper point of living, a cheaper cost of doing business. People are starting to wake up and realise the opportunities. Thirteen logistics companies have moved to Toowoomba in the past year — they understand the opportunities about to emerge."
Wagners turns 30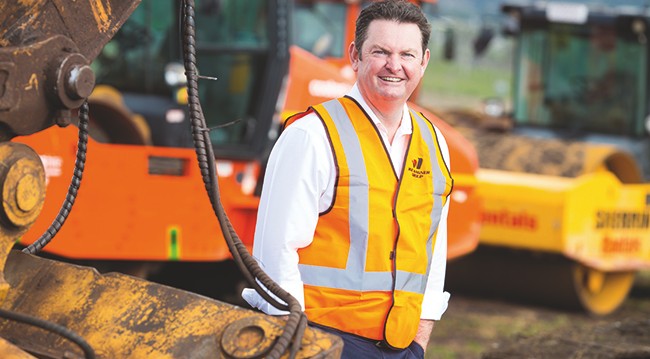 The Wagner family has been based in Toowoomba since 1896, when John Henry Wagner set up shop as a stonemason. In 1989, one of his grandsons, Henry Wagner and wife Mary Wagner AM, established Wagners. The family company listed on the Australian Stock Exchange in December 2017, creating Wagners Holding Company Limited, one of Queensland's largest construction materials and mining services providers.
In 2001, the company began international project work and more recently has accelerated its global business with the development of composite fibre technologies (CFT) and earth-friendly concrete (EFC). CFT is a lightweight product used for electrical cross-arms, road bridges and wharves. EFC uses a geopolymer binder made from waste products that doesn't contain cement delivering significant carbon emission reductions.
Wagners' five-member board includes Henry's sons Denis FAICD (chair) and John, plus independent directors Lynda O'Grady FAICD, Peter Crowley FAICD and Ross Walker.
The board's guiding principles include:
Deal with integrity
Work together to overcome challenges
Work in a safe environment
Be family-conscious
Encourage and acknowledge success
Foster innovation
Require quality and excellence.
This is of of your complimentary pieces of content
Already a member?
Login to view this content