Higher interest rates are making their impact felt on the Australian housing market. This week, CoreLogic reported that national home values in August suffered their steepest monthly fall since 1983, dropping for a fourth consecutive month as housing demand continues to soften. With the RBA's program of monetary policy tightening set to continue at next week's meeting – and beyond – house prices look set for further declines.
The signal from falling house prices is consistent with the message from other housing market indicators that are also feeling the squeeze from tighter monetary policy. For example, rising interest rates, together with higher construction costs, also contributed to a sharp fall in the number of dwelling approvals in July, which suffered their biggest monthly drop since January 2022. Similarly, ABS data reported a much sharper than expected fall in the value of new loan commitments for housing in July, while RBA numbers showed an ongoing softening in the pace of growth of housing credit. And residential construction fell over the June quarter of this year, due to a combination of softer demand, bad weather and a series of supply side challenges including rising costs and shortages of workers and raw materials.
Higher interest rates continue to squeeze the housing market
CoreLogic's national home value index fell 1.6 per cent over the month in August, although it was still up 4.7 per cent in annual terms. As noted above, that monthly decline was the largest since 1983. The combined capitals index also fell 1.6 per cent over August and is now up just 2.2 per cent over the year, as values dropped in every capital city except Darwin. The largest declines were in Sydney (down 2.3 per cent month-on-month), Brisbane (down 1.8 per cent), Hobart and Canberra (both down 1.7 per cent) and Melbourne (down 1.2 per cent). Dwelling values in Sydney (2.5 per cent) and Melbourne (2.1 per cent) are now below their level in August 2021.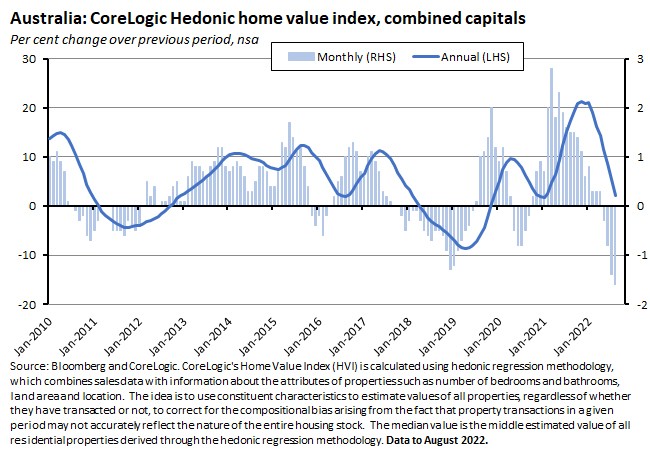 CoreLogic also reckons higher borrowing costs mean the share of annual household income required to service a new mortgage had increased to 44 per cent by the June quarter of this year, up from 40 per cent in the March quarter (although lower house prices also mean the time needed to save for a deposit across the capital cities fell in the June quarter for the first time in almost two years).
Despite the recent sequence of monthly falls, housing values in general remain well above their pre-COVID levels. For the national housing value index, COVID trough to peak growth was 28.6 per cent. The equivalent growth for the combined capitals index was 25.5 per cent. Given the size of that buffer, CoreLogic estimates that values across all capital cities and rest-of-state regions, with the sole exception of Melbourne, are currently still 15 per cent or more above their March 2020 levels.
This week also saw the ABS report that total dwellings approved fell 17.2 per cent over the month (seasonally adjusted) in July 2022 to be down 25.9 per cent over the year. Approvals for private sector houses edged up 0.7 per cent month-on-month but were down 17.4 per cent year-on-year while approvals for private sector dwellings excluding houses slumped 43.5 per cent over the month and were also down 43 per cent in annual terms. The Bureau said that the number of approvals for private sector dwellings excluding houses has now fallen to the lowest level recorded since January 2021, driven by a decline in approvals for large apartment developments.
July 2022 also saw an 8.5 per cent month-on-month fall and an 11.3 per cent annual drop in the value of new loan commitments ex refinancing for housing. That was a much bigger move than the median market forecast of a 3.5 per cent decline. The ABS said the value of new loans for owner occupiers fell seven per cent over the month to be down 15.9 per cent over the year, while commitments for investors fell 11.2 per cent over the month and were unchanged in annual terms. The ABS also noted that, despite monthly declines in June and July, the total value of loan commitments was still significantly higher than pre-pandemic levels: owner-occupier loans in July this year were 40 per cent higher than in February 2020 and investor loans were 78 per cent higher.
In addition, the Bureau said the value of total construction work done fell 3.8 per cent (seasonally adjusted) in the June quarter of this year, to be 4.3 per cent lower than work done in the June quarter 2021. Building work done fell 4.6 per cent over the quarter and 4.4 per cent over the year, pulled down by a quarterly fall of 6.8 per cent in residential construction (and a 7.6 per cent year-on-year fall) and a smaller 1.1 per cent decline in non-residential work (up 0.6 per cent in annual terms). The value of engineering work done was down 3.8 per cent over the quarter and 4.3 per cent over the year.
The latest financial aggregates release from the RBA showed that monthly growth in total housing credit edged down to 0.5 per cent in July from 0.6 per cent in June (seasonally adjusted), although housing credit was still up 7.7 per cent in annual terms. The rate of growth in overall monthly housing credit is now at its weakest since April last year, while growth in credit to owner-occupiers, which also rose 0.5 per cent over the month in July, was the softest since November 2020.
Private capital expenditure down in Q2 but outlook still positive
The ABS said that total new private capital expenditure fell by 0.3 per cent in the June quarter of this year, to be up two per cent on Q2:2021. That quarterly result was weaker than market expectations, with the consensus forecast having expected one per cent growth, and it also marked the first drop in capex since Q3:2020. The overall result was pulled down by a 2.5 per cent quarterly fall in spending on buildings and structures. Spending on equipment, plant and machinery was up 2.1 per cent over the quarter. By industry, mining and non-mining capex both fell 0.3 per cent over the quarter.
The ABS also published the latest estimates of expected expenditure. Estimate 7 for the 2021-22 financial year was $142.4 billion. That was down 0.6 per cent from Estimate 6. Estimate 3 for the 2022-23 financial year was $146.4 billion, up 11.7 per cent on Estimate 2. That suggests that – to date – investment intentions for this financial year have held up reasonably well.
What else happened on the Australian data front this week?
The ABS said retail turnover rose 1.3 per cent month-on-month (seasonally adjusted) in July 2022 to be a strong 16.5 per cent higher than the July 2021 result. Turnover rose in five of the six retail industries in July (the sole exception was household goods retailing, which fell for the third time in the past four months) and the monthly increase was the largest rise since March 2022. Monthly growth was strongest for department stores (up 3.8 per cent) and clothing, footwear and personal accessory retailing (up 3.3 per cent). Turnover was also up in every state and territory except for Tasmania, which suffered its first monthly fall of this year. The retail trade result was considerably stronger than market expectations: the consensus forecast had called for a much more modest 0.3 per cent monthly gain. As such, it suggests that household spending has remained resilient in the face of higher interest rates and low sentiment readings, with retail turnover continuing to run well-above the pre-pandemic trend.  Although it's also worth remembering that these nominal retail trade figures will reflect higher prices.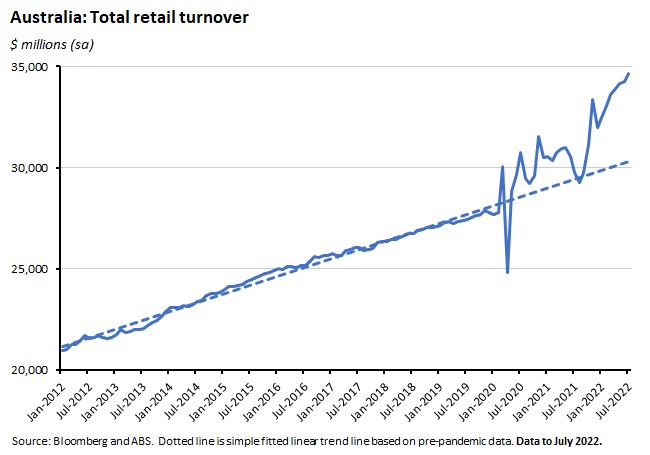 One possible explanation for the apparent discrepancy between sentiment and spending is the lag between increases in the cash rate and subsequent increases in household debt service payments and the consequent squeeze on disposable income. In part, that reflects the presence of fixed rate mortgages. According to the RBA, the share of housing credit on fixed rates increased from 20 per cent at the start of 2020 to a peak of nearly 40 per cent in early 2022, with the greatest concentration of fixed rate loans due to expire in the second half of next year.
The ANZ Roy Morgan Index of Consumer Confidence fell 0.7 per cent last week, pulled down by a 1.9 per cent drop in the 'future financial conditions index' and a 5.5 per cent slump in the 'time to buy a major  household item index', with the latter falling to its lowest reading since April 2020 during the opening stages of the pandemic. The other subindices all increased, with the measures of current and future economic conditions rising for a third consecutive week.  Weekly inflation expectations dropped 0.2 percentage points to 5.3 per cent.
The ABS reported that total expenditure on mineral and petroleum exploration by the private sector rose 4.5 per cent (seasonally adjusted) to a little over $1 billion in the June quarter of this year.
New data on Australia's regional population by age and sex from the ABS show that last year the youngest capital city was Darwin (median age of 34.5 years) and the oldest was Adelaide (median age 39.3). The median age for capital cities overall (37.1 years) was below that of the rest of Australia (41.8 years). Hobart had the lowest male-female ratio of all capital cities (95.8 males per 100 females) while Darwin had the highest (106.8). For capital cities overall, the ratio was 98.2 compared with 99.2 for the rest of Australia.
The ABS released the results of the Household Impacts of COVID-19 Survey for July 2022. The Bureau reported that 42 per cent of households experienced cold, flu or COVID-19 symptoms in July, up from the 32 per cent reported in the April 2022 survey, but that only 48 per cent of households had a COVID-19 test in the past four weeks, down from 62 per cent in April. In addition, 23 per cent of respondents reported that the job situation of someone in their household had changed in one or more ways due to COVID-19 in the previous four weeks, up from 18 per cent in April. Nearly twice as many reported changing to working from home in July (11 per cent) vs April (six per cent) while a similar number (nine per cent) reported being unable to work for a period of time due to COVID-19 in July vs April (seven per cent).
Updated statistics on COVID-19 mortality. There were 9,428 death registrations received by the ABS where an individual was certified as having died from or with COVID-19 between the start of the pandemic and 31 July 2022. Of these, 7,969 deaths were considered to be 'due to' COVID-19. The median age for those who died from COVID-19 was 85.
On this week's Dismal Science, we cover falling house prices, the jobs and skills summit and the future of Ethereum
Other things to note . . .
This is of of your complimentary pieces of content
Already a member?
Login to view this content