Former Australian soldier now champion parathlete and Invictus Games ambassador Curtis McGrath OAM on life after sport and finding inspiration through adversity.
Losing both legs to an improvised explosive device (IED) while on active service with the Australian Army in Afghanistan in August 2012, at the age of 24 — while obviously traumatic — proved only a brief setback for Curtis McGrath. Four years later, he was standing on the podium at the Rio Paralympic Games, a gold medal from the 200m KL2 Kayak event draped around his neck. Currently also the International Canoe Federation (ICF) Paracanoe World Champion, McGrath is proof positive of the healing and motivational power of sport.
That same power is the driving ethos behind the Invictus Games, for which McGrath is an ambassador. He concedes it's an obvious role. "Ambassadorship is about raising the profile of the games — and being a visibly wounded ex-soldier, it's quite easy to align the dots. When you think about traumatic experiences in a war zone, it's generally a gunshot wound or an amputation. It's all about ensuring the legacy of the Invictus Games is continued post-Sydney."
As a combat engineer, the New Zealand-born McGrath had served in Darwin, East Timor and Indonesia before his posting to Afghanistan, which he had intended to be his last tour of duty. After the IED explosion, he was astonishingly quick to decide on a new career.
"As I was being stretchered to the evac chopper, I said to the guys, 'You'll see me in the Paralympics'. We'd been watching the lead-up to the London Paralympics on TV every day when we came back in from patrol. The athletes were inspirational with what they could achieve despite their disabilities. That thought was really clear in my head. I thought it would be a pretty cool thing to do — but how I was going to do it, I didn't actually know at the time."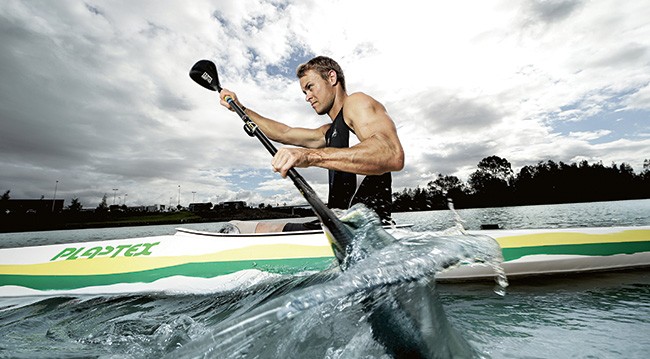 Rehabilitation
Having enjoyed whitewater kayaking at high school, McGrath had a skills base to build on. He completed a kayak tour from Brisbane to Sydney with his father, run by Mates4Mates, an organisation that supports injured Defence Force members. From there he got in touch with the Australian Paralympic Committee and began paracanoe training. Hard work, drive and an effective network would get him to the podium in Rio 2016.
"I had a great support network and team around me — a good coach and training program. I worked hard to get there and was fortunate to get the results I did — with the values and work ethic the military had instilled in me, it all came together at the Paralympic Games. Gold in Rio was an amazing experience. But then on top of that, for me to be asked to carry the Australian flag in the closing ceremony was simply fantastic."
McGrath cannot stress enough the importance to his own journey of the network of support he's enjoyed every stage of the journey. "There has to be more emphasis on networks around the rehabilitation of our veterans and people who have gone through adversity or trauma. It's one thing to wake up every morning, but it's another to be motivated to get out there and achieve your goals."
McGrath, a veteran of three previous Invictus Games, will not be competing in Sydney. He is now an Invictus Games ambassador, raising public awareness of both the Sydney event and the Invictus Foundation through motivational speaking engagements — and growing relationships with sponsors and partners.
"Three was enough. I've gained many benefits and great friends through the games, but thought it was time for someone else to benefit from this process I've been through. The incredible thing about the games is that it's not actually about winning medals or standing on podiums — it's about participating in something exciting. Harnessing the power of sport to rehabilitate is really important. This was the motivating force behind the Stoke Mandeville Games [this was a competition for wheelchair athletes, mostly WWII veterans, held in conjunction with the 1948 London Olympics, and the precursor to the modern Paralympic Games] and now it's come full circle. My story is all about the power of sport and its ability to heal."
Life after sport
McGrath spoke to Company Director after winning gold in the KL2 200 and VL3 200 events at the ICF Paracanoe World Championships in Portugal — taking his tally of world titles to eight. The 2020 Tokyo Olympics is his immediate goal, but McGrath is also planning for life after sport. To this end, he recently completed the Company Directors Course.
"The opportunity to do the course was a personal development stepping stone. I enjoyed it despite being very much out of my depth at the start. But the facilitators and guidance around the course were great — they have a great wealth of knowledge and it's very current. I've gained a good understanding of board processes — what a board does and how it can affect an organisation, whether it's an ASX company or a not-for-profit. In the ever-changing world of business, boards and directorships, skills always need to be updated. It's important to keep your finger on the pulse and ensure you're looking out for what's ahead, not just at what's happened in the past. The NFP sector is an area in which I plan on using these skills. One day I'd like the opportunity of being a company director, but at this stage, it's difficult managing anything other than a few sponsorship engagements and my sport."
Particularly interested in the area of sports governance, McGrath is a member of the Australian Paralympic Committee Athletes' Commission (APC). "It's the inaugural group and we're trying to establish charters and the processes around how we can support these athletes — both past and present. Listening to what the athletes want never hurts, that's why I thought it was important to be involved with the APC — to make sure the athlete's voice is not forgotten. Sometimes athletes can come from a different angle. You have to find out their needs in a way that's best for the organisation as a whole. Good governance is important for any sporting organisation, but you have to make sure the athletes understand the big picture moving forward."
Now based on the Gold Coast, McGrath is also a member of the Gold Coast Hospital events and marketing committee. After undergoing several operations at the Royal Brisbane Hospital and completing an extensive rehabilitation process on the road to recovery, he is keen to give back whenever he can.
However, right now, with the World Championships out of the way, it's all about the upcoming Invictus Games. "You can't underestimate the difference these games can make to someone's life. It's a chance for us to all come together and demonstrate our support for our defence community."
This is of of your complimentary pieces of content
Already a member?
Login to view this content