Essendon's drugs scandal was a failure of governance amid increasing commercial pressures. Chair Lindsay Tanner explains how the board of one of the AFL's oldest clubs turned things around.
Among the many disasters befalling AFL club Essendon over the past five years, according to chair Lindsay Tanner, there was one moment when he knew he was absolutely the right person in the right place at the right time. He'd been in the job less than a month, when the international Court of Arbitration for Sport overruled the AFL Anti-Doping Tribunal. The court slapped a 24-month suspension (effectively only 12 months as the players had already been provisionally suspended in the 2014–15 season) on 34 current and former players over illegal use of peptide supplements, ripping the heart out of the club's 2016 season.
"Although we had contingency plans, none of us was expecting that outcome was even remotely likely," he says of his first board meeting as chair. "In that sort of extreme crisis situation, the risk that the board will spin off in tangents is quite high; but we didn't. We were very focused, we managed to agree on the wording of a public statement within an hour, we communicated with players, parents, supporters, members, the media and it all went coherently and smoothly."
Familiar territory
The key, says Tanner, was his early career in the cut and thrust of the union movement. "My experience with the Federated Clerks Union (state secretary 1988–93) makes this stuff look like a walk in the park," he says, outlining hair-raising details of frozen bank accounts, a noose hanging in the office and 15 simultaneous court cases. Lessons from that 1980s mayhem helped Tanner craft Essendon's central message: We will get through this. "It might make us feel good to throw the toys out of the cot, but that will achieve nothing. When you are boiling inside, as I was — I was furious — that's not easy. You've really got to have mental discipline to park that."
This discipline, he says, has been the board's most valuable contribution to Essendon's recovery. "Imagine the discussions with sponsors if you've got a board running around like a headless chook, squawking and squabbling. That didn't happen. The critical thing from the board has been a united, calm, focused demeanour — completely committed to moving on. Basically, copping it on the chin, no matter how unfair the blows may have been, and focusing on doing the job and getting things back in good shape. That's something the entire board can feel very proud of."
Of course, underpinning the "keep calm and carry on" approach are huge changes at Essendon — in policies, executive structure, board composition and upward information flow — to ensure what Tanner calls "a classic failure of governance" never happens again.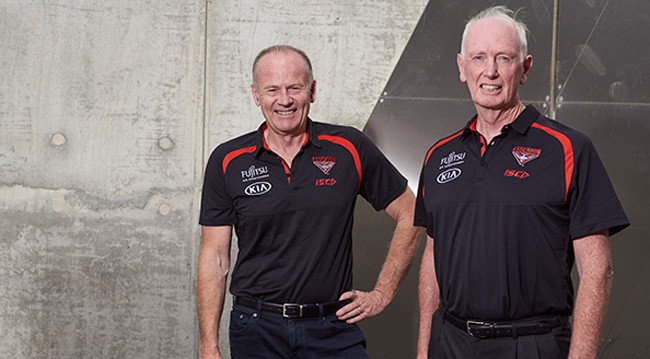 Crisis point
A toxic mix of circumstances, including lax oversight of the football department and a club icon (James Hird) in his first senior coaching role, were what brought Essendon undone (see breakout). But as sports journalist Chip Le Grand in his book The Straight Dope concludes, all the forces of modern commercial sport conspired to meet at the one time.
"What happened at Essendon in 2012 could easily have happened to another AFL club," Le Grand says. "To think otherwise is to misunderstand the relentless competitive forces that drive football clubs, coaches and players."
Indeed, the failures of governance are not limited to football or even the sporting world; there are lessons for all boards from the sorry saga. At the heart of it is how does the board keep its finger on the pulse without meddling too deeply in operational issues?
Essendon deputy chair Paul Brasher MAICD, the only director remaining from before the scandal, and a former global chair of PwC, puts it this way: "On any board I've been on, there are two things that keep every director awake from a risk management perspective: How do you know what's going on several levels below those you are interacting with and how do you smell the smoke coming under the door?"
That the Essendon board had no idea what was going on with the football department's "supplements program" is undisputed; yet Brasher says the club's risk management framework — rejigged in March 2012 in one of his first tasks as head of the (then) audit and risk committee — "looked wonderful". In fact, an external expert concluded that Essendon's risk matrix was "best in class". "Five minutes later, all hell breaks loose!" Brasher says.
Five years on, Brasher, who has spent one or two days a week for the past five years on Essendon-related work, describes the changes to Essendon's governance processes (and ensuring they are followed) as "like night and day". Tanner says it's been all about "eliminating fuzziness" about who is supposed to be doing what and how everything fits together. Following are some of the key steps taken and lessons learned:
Board composition
Tanner readily concedes that risk management issues for AFL clubs are probably greater than for many mid-sized companies and require rigorous governance and professionalism. But, he says, the dynamics are completely different to for-profit companies; directors represent the passionate members who own the not-for-profit club, not cool-eyed investors looking to make a buck. Each year, three out of nine Essendon board positions are up for renewal; two elected by the club's financial members and one appointed by the board. Tanner's three-year appointment finishes in December. He intends to reapply.
That can complicate the task of getting the right mix of skills, diversity and experience, although for strong clubs like Essendon, with a membership base approaching 65,000, the pool of talent is impressive (see panel, left).
Tanner cautions against an "elitist mentality" of seeking high-profile corporate titans, citing two valuable, member-elected directors who would not have scored highly on a traditional skills matrix. "They brought a serious connection to the world of the ordinary membership — one which high-paid, older, mostly male, very skilled people probably have less connection with — and they were both highly skilled in social media. Diversity of background and life experience is a significant component."
Board focus
In a discussion about the Essendon board's smoke-smelling ability, it seems counterintuitive to talk about directors keeping their noses out of operational issues, but Tanner says this is a key risk in any sporting organisation.
Every Essendon director is unpaid and barracks for the Bombers, two are former players and Tanner himself was the club's No.1 ticket holder in 2010, after jumping on the black-and-red bandwagon at the age of six because his schoolmates all supported Essendon or Geelong.
"It's a significant, continuous problem that we're all fans," he says. "You end up, from time to time, focusing more on things you're not supposed to, which will crowd out the things you are supposed to do. So if you spend half a meeting talking about how a particular player's injuries are going or what are the chances of recruiting a star player — which inevitably some of us will be tempted to do — that can become a problem. We constantly push back against it because you've got to get through the stuff that's less exciting, but is actually central to the board role."
The right CEO
Tanner says CEO Xavier Campbell, appointed by former chair Paul Little in 2014, has been central to Essendon's recovery. "Xavier was young, 34, hadn't been a CEO before, and it was like becoming captain of the ship in the middle of a hurricane," he says. "It's a tribute to the vision and courage of Paul Little — he took a big risk and the risk has paid off massively."
One measure of Campbell's success, Tanner says, is that Essendon has navigated the saga with no significant loss of sponsors. That's required difficult conversations, especially during 2016, when 12 of the club's best players were banned, so crowds were down and fewer fans watched the telecasts. Another achievement has been negotiating compensation claims with all 34 past and current players affected by the doping scandal.
Thirdly, Tanner says, Campbell has managed to sustain unity and general goodwill towards the club. "Through a period of very divergent and passionately held opinions, the whole Essendon ecosystem has held together and Xavier has been crucial in that."
Even more crucial is the fact that Essendon didn't go under. Its debt level of around $5 million for 2012–13 blew out to $9.8m during 2016, with lower gate takings, compensation payouts, legal fees and various fines.
"There were times when it was a bit nerve-wracking," Tanner says. "The real worry was that we would be extremely vulnerable if another major shock came along." Paul Brasher goes further: "There's no question there were solvency issues. If we hadn't had a large and unbelievably loyal membership base, and good sponsors, we could well have gone under. This was survival stuff."
Repairing the disconnect
Tanner says the power imbalance at Essendon, where the football department largely functioned separately from the rest of the organisation, with limited visibility and accountability to the board, is not uncommon. "Some organisations have a key leader who is not the CEO, but in reality is more powerful than the CEO," he says, citing powerful chief investment officers as an example. "We had a coach [former captain James Hird] who was a club icon, relatively new in the position; and a CEO [Ian Robson] who was an outsider, not from Essendon, and that created an inbuilt power imbalance."
Several changes at Essendon address this issue (see panel), including making it clear that the coach reports to the head of the football department, who reports to the CEO. "The key for a board is to be conscious of it and make sure it doesn't become a source of friction or instability," Tanner says.
Handling negative media
Despite sometimes largely inaccurate media coverage — including claims that Essendon had approached Melbourne underworld figure Mick Gatto for help — Tanner says negative media reports are nowhere near as damaging as people think.
"We have withstood a battering of outrageous false accusations and grossly distorted reporting over the past year or two and still managed to achieve record membership levels, record attendances, strong sponsor support and a huge turnaround in our finances," he says. "That is also a product of staying focused on the critical things and not being diverted by jumping at the shadows of ridiculous tabloid journalism."
There is a big governance problem right across Australian sport and it's a very difficult thing to grapple with.
Governance — boring but vital
Tanner says a key learning from the drugs saga was that while many sports have radically professionalised, some aspects of administration and governance have not kept up. "There is a big governance problem right across Australian sport and it's a very difficult thing to grapple with because even at AFL level, with large sums of money and big organisational infrastructure, there are all kinds of difficulties," he says. "When you're dealing with sports with a lot less money and you simply cannot attract the best available administrators, it's a huge problem. Governance things are prosaic, mundane and easy to overlook. But if you do, you're setting yourself up for disaster.
"Success means nothing bad happens, so you feel like you're not achieving anything. This is the same in all significant organisations. You have to document everything that matters, be completely rigorous about chains of accountability and responsibility, and always know exactly who is in charge of what. Then you know with clarity what is going on. Those are the sorts of things that sound really obvious, but it's really easy to let them slip."
This is of of your complimentary pieces of content
Already a member?
Login to view this content