Richmond Football Club president Peggy O'Neal says good culture will lead to success. Here's how the AFL legends plan to maintain their edge.
Something changed in 2016. In the hallowed halls of a long-standing, beleaguered sporting institution, there were angry fans, players and board members. A series of setbacks, including a record 88-point loss to Greater Western Sydney and a very public board schism left a tense mood around the Richmond Football Club.
President Peggy O'Neal FAICD says the Richmond Tigers endured and survived that "bad year" because of the groundwork it had laid well before. She announced "a thorough review of operations".
"Neither myself, the board or our CEO will shy away from making tough calls," said O'Neal at the time. "Change is required and changes will be made. Instability and change equals chaos; I refuse to let that happen to my club."
Her club is hard to recognise now, with the 2017 AFL premiership under its belt, the first in 37 years, and a preliminary final appearance, albeit a loss to Collingwood, in 2018. O'Neal is certain a winning culture and ensuring financial sustainability changed the club's fate.
A personal mission
In 2009, the club hired CEO Brendon Gale GAICD, a former Richmond player (244 games) and head of the AFL Players' Association. Gale's professional journey mirrored the club's — loss after loss on the field lit a fire to pursue success, according to O'Neal.
"He came in with a mission that was almost personal: to make the place better because he'd had no success during his playing career. So it really changed and energised him," says O'Neal, adding that energy flowed to fans who "immediately wanted to support him" as a much-loved former player.
The board has also demonstrated unwavering support of Damien Hardwick, now set to become Richmond's longest-serving coach (he is contracted until 2021). Announcing Hardwick's re-signing in March, O'Neal told fans, "Our club has built a strong and united culture, and Damien has been critical to that. He has an incredible connection to his players, is a person of great character and a wonderful coach."
The reinvigoration driven by Gale and O'Neal was the kind of change the board wanted to see. "If you get the culture right, success follows," says O'Neal. That phrase is now enshrined in Richmond's corporate strategy. "One of the big changes was people's interest in caring for one another, people's acceptance that we aren't all perfect, but we're all good people and we're trying to be better. Those sorts of elements lead to a culture where people can more readily put their hand up and say, 'I think I messed up here.'"
The board has since engaged an ethicist on decision-making and ensuring the club's culture reflects a collective ownership of "the way we do things around here".
"The board's role is always to set the example," says O'Neal. "Not just by personal behaviour, that's important, but by the engagement with management, by how they treat issues that arise."
O'Neal took a corporate route to football, with 20 years' experience as a superannuation and financial services lawyer in the US and Australia. A University of Virginia School of Law alumni, O'Neal came to Australia in 1989 swiftly making a name for herself in corporate law circles, culminating in her recognition in the 2010–2018 editions of Best Lawyers in Australia. In a rousing speech to the club ahead of a match late in the 2016 season, O'Neal cut to the chase: "While not everything is science, there are some fundamentals to good decision-making and the first fundamental is to be as well-informed as possible".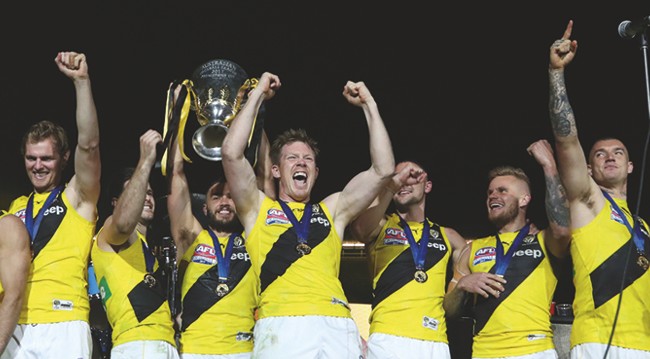 She says the club made an important decision: it couldn't invest in football in order to reduce debt. "We had gotten to the point where we were risking a qualified audit, our insurers were thinking they couldn't insure us any more.
That was 2005, when I started, and I thought, 'It's not going to be fun for a really long time.'"
Richmond management, supported by the board, took on an ambitious mantra: "3–0–75" (three finals, zero debt and 75,000 members in five years). "It took us six years to get to that point, but that's about where we were when we started winning games and getting back in the finals, says O'Neal. "We played in finals in 2013; we hadn't even been in a final in 12 years."
People will forgive one mistake, but if there's a second or third, or if it looks like you're taking advantage of people... that's a long road back to a position of trust.
The club now extols the virtues of being one of the most diversified sporting businesses in Australia. It owns and operates health and recreation business Aligned Leisure, and invests in revenue-raising partnerships such as the Richmond Institute of Sport Leadership with Swinburne University.
Forty per cent of the Richmond board is now female. "On the Richmond board we don't even talk about gender any more," O'Neal told The Age in March. "The nominations committee looks for the people with the best skill set, and lo and behold, when you do that and you are open to anyone they come back with a 50-50 male/female split."
Richmond has also met its ambitious debt reduction targets (from $6m to $2.5m between 2009–2013) by living within its means for many years before starting a fundraising campaign, says O'Neal. She concedes getting the finances right can be deemed "the boring part of sport", but emphasises that it's crucial to getting to the fun parts, "like winning". In 2017, the club confirmed it was debt-free with cash reserves of $9.88m and a net asset position of $27.15m.
"We now actually have money to invest," says O'Neal. The club is committed to the next iteration of its administration and training facilities.
The long process to establish an operating environment the board was proud of had its ups and downs. O'Neal offers advice to sporting institutions looking to turn things around after a breach of trust or a cultural crisis. "When things happen that cause some of your supporters or stakeholders or shareholders to lose trust, you have to work really hard to regain that," she says. "And if you still have that trust, you've got to work really hard to keep it because it doesn't take much to go backwards. People will forgive one mistake, but if there's a second or a third, or it looks as if you're taking advantage of people who can't protect themselves, that's a long road back to a position of trust."
This is of of your complimentary pieces of content
Already a member?
Login to view this content