Family values, a public governance mindset and a passion for rugby helped Buildcorp founders Tony and Josephine Sukkar succeed in the construction industry.
Family values, a public governance mindset and a passion for rugby helped Buildcorp founders Tony and Josephine Sukkar succeed in the construction industry.
For Buildcorp founder Tony Sukkar AM and Josephine Sukkar AM MAICD, rugby is more than just a sport the company sponsors, it provides an ethos behind how they run their business.
"Tony was a rugby union player when I met him, and it's become a big part of my life," says Josephine, now president of Australian Women's Rugby.
Tony played first-grade rugby union for Sydney University Football Club before following his father's footsteps into the construction and development sector.
"Through Tony, I observed that playing team sports at a high level provides behavioural competencies and skills directly transferable to businesses in a way no MBA can teach — how to lead teams and bring together a group of disparate stakeholders, how to win well and work towards a target and a budget."
Building business
Their enthusiasm for the game closely embodies their working partnership. The Sukkars have spent almost 30 years building the east coast construction company into a $500 million a year business employing some 330 staff. Buildcorp has survived three economic downturns thanks to strong family values and an open operating culture and governance discipline influenced by their time working for Lendlease construction subsidiary Civil and Civic.
The Sukkars founded Buildcorp in 1990, during a sudden and protracted recession — and when Josephine was pregnant with their first child. Tony had been with Girvan Corporation, which had gone into liquidation. From the Girvan ruins, the Sukkars won the contract to complete the $85 million construction of Citadel Towers in Sydney's Chatswood.
Some companies only start to think about governance and culture when they've grown and hit a crisis, but the Sukkars knew it was important from the outset.
"If I look back at my time at Civil and Civic, it gave me a lot of that rigour around the planning piece and the reporting," says Tony. "That experience was like doing a second degree. We were able to take that planning discipline to a level where, the day we began our business, we started with the business plan and developed that the same way we run projects around planning and programs. That was in our DNA upfront."
Governance
The Sukkars are the only two shareholders of Buildcorp, but run it with the same diligence around reporting and governance as a listed company. The company formed a paid advisory board eight years ago — three executive and three non-executive members chaired by former Leighton Holdings chair David Mortimer AO FAICD, who also chairs Opera Australia.
"We needed someone who could stretch and test us and continue to protect the business and keep it robust, which has allowed us to grow it in a steady, controlled way," Josephine says. Tony adds: "We invite their input and rely on their wealth of experience to test those ideas."
The firm constantly seeks improvement — borrowing from the Japanese doctrine of kaizen (continuous improvement), spending a lot of time documenting and analysing processes. "If we get the right information, we can make decisions appropriate to that information. If a project is not doing well, we want to understand why. If we have safety incidents and lost-time injuries, or injuries that are becoming repetitive, we want to understand why," Tony says.
Along with being transparent with staff about the company's financials and challenges, the Sukkars expect business leaders to manage their divisions as they see fit.
"They have ownership of their business units and set their own budgets with us," Josephine says. "They understand the challenges of the market and incentivise their own people. We have a bonus scheme for senior staff and they have authority over how that is used. Our leaders are not just shackled with responsibility, they have genuine authority. We don't care if you pull the business back and reduce the revenue as long as you remain focused on the bottom line, on developing your people and holding talent."
It's the agility of a private business, where you can go, 'I like the sound of that — let's have a crack.
One example of the benefits of holding on to in-house talent occurred in 2016, when employees came up with the idea of an app to deliver consistent quality product to the client. Built with help from federal R&D funding, the Onsite app allows the Buildcorp project manager to photograph and send defect notices to subcontractors so problems can be fixed as they occur, instead of having a list of hundreds of defects at the end of a project. "This was a ground-up idea," says Josephine. "It's the agility of a private business where you can go, 'I like the sound of that — let's have a crack'."
The Sukkars are seeking "slow and controlled growth" to ensure the business doesn't get away from them and put jobs at risk, and that it remains sustainable and robust in a volatile market where margins are tight. "It'd be so easy to top a billion dollars in revenue in five minutes. That's not a desire of ours."
People power
Outcomes are geared towards the four pillars of the company's strategic plan: having the right people, partnerships, projects and processes.
A lot of Buildcorp's staff are "homegrown", joining as cadets and learning on the job through training and development programs. The company hires more for character than technical skills, seeking employees who fit their values of passion, teamwork, continual learning, creative thinking and corporate and social responsibility. But in a business where margins are tight, how do you ensure staff won't cut corners?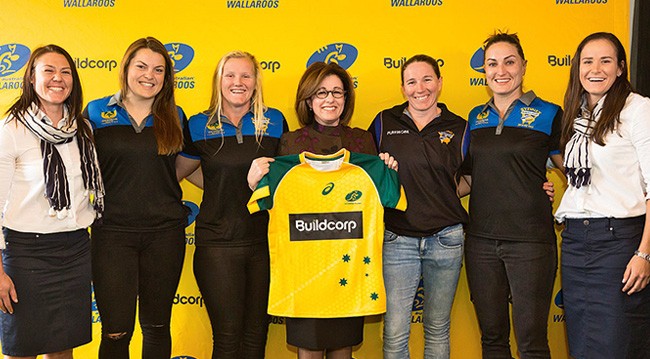 "If you've got the right people, that will deal with the process adherence," says Tony. "It's not a perfect world. There will be times when things won't necessarily go to plan, but we need to make sure, through our audit processes, we're picking up on that."
Buildcorp was recently selected as an Employer of Choice in The Australian Business Awards 2018. The Sukkars attribute the award to Buildcorp's care for its people. The company is known for having employees who stick — several have been there from the outset.
The management team includes Tony as MD and five general managers who oversee the interiors, asset management and financial control arms, and the NSW, Queensland and Victoria client base. The team is trying to create an environment where people feel safe to elevate an issue so problems can be dealt with early, even when involving a client. They train their staff to deal with ethical dilemmas — learning how to manage stakeholders in a respectful way that puts neither the business nor clients at risk.
"You're a 24-year-old graduate. What do you do if a client says, 'I need you to make a call on this now and release a million dollars. I know your boss isn't here, but I need it done and my family has been a client of yours [for years]'?" says Josephine.
Town hall meetings
Buildcorp gathers staff together twice a year for "town hall meetings" where they discuss where the business is up to and what lies ahead, the current challenges facing the organisation and industry, and their people's achievements, individually and on projects. The meetings also invite staff to raise issues.
"We don't keep anything from our staff. We tell them how the business is faring, warts and all. In that sense, we do run Buildcorp a bit like a public company. If they don't know where we're going and where we are, how will our helpers get there? It's never stood us in bad stead to tell them everything," says Josephine. "You can't over-communicate."
It's also an acknowledgement that while all decisions ultimately rest with the Sukkars, they can't run a business with an annual turnover of more than $500m by themselves. "Every now and then, a project's going to not go right, a client is not going to work out — but if they see you working really hard and you behave with integrity, if they trust your intention and where you're going, even if you fall, they will lift you," Josephine says.
Difficult times have been acknowledged and their employees have helped them through some tough times — on occasion, some executives have taken pay cuts and others have cut their hours back to four days a week. Tony runs sessions with new staff, five or six at a time, where they learn the company's values and discuss the business or related matters — such as rugby.
Family values
The Sukkars are often asked how they manage to work together successfully and harmoniously. "It's not that we don't disagree, we do, but we know how to respectfully engage," says Josephine. When they do disagree, they work and talk until they find a solution they both like which often produces a better outcome than their original ideas. "We married young, so we probably grew and developed our values together. We're from families of similar values," says Josephine.
Tony's parents migrated from Lebanon in the mid-1950s and the Sukkars' Lebanese heritage runs strongly through their business and philanthropy. Their daughter is a doctor and their son now works in the business.
One of eight children himself, Tony says it's family and Christian values, not nationality, that are important. "We open-plan with everybody. Our behaviours are on display all the time to our people. Then at home with your family, you display [those values] again."
Philanthropy
The pair established the Buildcorp Foundation with the aim of raising $1m in a decade. They have raised twice that amount in five years, thanks to support from staff, suppliers, contractors, family and friends. The foundation supports mental health and suicide prevention initiatives — the Sukkars believe suicide is the "single biggest issue facing our industry and nation today".
In 2017, they became the first couple of Lebanese origin to be awarded the Order of Australia for their service to the construction sector and the community through sporting, social welfare and cultural organisations.
The business has sponsored grassroots rugby since 1992 and, in recent years, has supported a national women's championship (Buildcorp Super W) as well as the Australian Women's XV, the Wallaroos.
After attending the Women's Rugby World Cup in Ireland in 2017, Josephine was keen for Rugby Australia to bid to host the 2021 World Cup, an idea it has since embraced. The Buildcorp brand is seen as inclusive because of its rugby sponsorship, says Josephine, and the company is attracting more women into construction roles.
"It's a sport that, a bit like construction, doesn't necessarily attract little girls out of school from the outset. Well, it didn't, but now it does."
Also an opera enthusiast, Josephine has spent almost eight years on the board of Opera Australia, which she says taught her how to be creative and innovative. It is now a passion for her husband. "Tony does a significant amount for Opera Australia these days because he knows it's something important to me," she says.
This is of of your complimentary pieces of content
Already a member?
Login to view this content