First Nations non-profit leader and Fulbright Scholar Adam Davids MAICD set out to identify the attributes of not-for-profits that serve minorities that have a strong track record of high impact and sustainability.
Growing up in rural and urban NSW I remember seeing not-for-profits for Aboriginal people struggle to sustain and struggle to make a lasting impact. Aside from the substantial institution of the Aboriginal Medical Centre, I remember seeing people with great intentions visit my school, with a good idea and the basis of a program – except they came and went at the blink of an eye.
Many times, at the whim of government funding cycles, I've seen programs and NFPs for Indigenous people fall short of becoming the "institution" they had the potential to be and therefore fail to achieve their intended impact.
The US has a deep and historic ecosystem of non-government organisations (NGOs) that for more than a century has preserved the mission for racial justice socially, economically and politically for millions of Black, Hispanic and Native Americans. In Australia, we might be more familiar with civil rights leaders such as Martin Luther King Jr and the sweeping policy changes he helped lead in the 1960s. However, we don't often give credit to the major NGOs that played just as big a role during this era and have continued since.
At one of the first community gatherings I attended in the US, I was told, "We as black people don't often get good opportunities — those we do get are created by good community assets like HBCUs". This was a reference to the more than 100 "Historically Black Colleges and Universities" founded in the US between 1837 and 1964, which have become the staple higher education provider for black households. More than 200,000 black Americans study at HBCUs across the US each year and notable former students include Vice-President Kamala Harris, Oprah Winfrey (the first black American billionaire) and Justice Thurgood Marshall (the first black Supreme Court judge).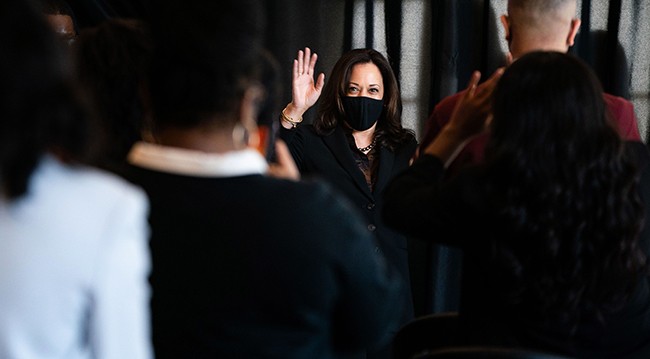 Vice-President Kamala Harris speaking at an HBCU. Photo: Getty Images.

Several HBCUs contributed to my research as highlighted below.
With these reflections in mind, I set out on a Fulbright exchange in the USA in 2019 to learn from some of the world's longest-standing institutions that are recognised for their impact in achieving social, economic and political justice for racial minority people. What I found were six common attributes that contributed to their longevity and impact.
My research revealed that the sustainability of an organisation was under threat when just one attribute was consistently violated and not practised. This means that, aside from each organisation's unique mission and objectives, the six attributes are a core set of traits that stimulate their sustainability and impact.
My research revealed that the sustainability of an organisation was under threat when just one attribute was consistently violated and not practised.
1. Genuine leadership
Staff at all levels demonstrate conviction and authenticity to fulfil a compelling vision.

Case study

The National Association for the Advancement of Colored People (NAACP) has played an active and authentic role by being present at every major turn on the issue of civil rights and taking a swift and leading position in court to support the families of victims of police shootings.

2. Local ownership
Influencers and elders in the community are on board and become ambassadors.

Case study

The leading student internship program in the US, INROADS, created a parent support group to empower the parents of the interns in the program. This simple initiative involved repurposing existing training materials such as "how to interview" and "financial management" that were usually provided to students but were also needed by the parents. In turn, the parent support group enabled a collaborative effort and multiplied the overall impact with student participants. With the buying from parents, the value of the INROADS program was enriched for the students and the program absorbed local cultures and etiquettes.

3. Purposeful partnerships
Key stakeholders such as investors, sponsors, and volunteers are engaged in a strategic, deliberate and targeted way.

Case study

In the wake of COVID-19, the United Negro College Fund (UNCF) complemented key organisations in its ecosystem by advocating to congress and securing US$1b for historically black colleges and universities (HBCUs). The HBCU institutions serve a disproportionately high percentage of low-income and first-generation college students. The disruption of transiting to distance learning and assisting some students to return home put unforeseen financial strains on those institutions, which have historically been underfunded. UNCF led the charge on calling for dedicated funding for these institutions.

4. Robust business
A focus on excellence in operations and governance, and the effective maintenance of organisational resources.
Behaviours include:
Internal systems in place to measure staff, program performance and longitudinal impact
A deliberate approach to governance, financial and risk modelling
Boards are active and selected based on skills and influence with stakeholders
Staff are inspired by excellence and are invested in training and development
Employing highly sought-after professionals with relevant expertise
5. Leverages decision-makers
Influential and respected leaders are engaged in helping to fulfil the NFP's objectives.
Case study

One example of this was INROADS engaging retired General Colin Powell, who as US Secretary of State had been the highest ranking African American in the federal executive (alongside Condoleezza Rice who succeeded him) before Obama. Powell actively helped to promote INROADS' internship program with the aim of attracting corporate sponsors, potential participants, as well as inspiring alumni to stay involved and support new interns.

6. A simple program
Clear opportunities for stakeholders' practical participation that provides ongoing reinforcement that change is happening.

Case study

Spelman College, founded in 1881 in Atlanta, is ranked the number one HBCU in America and is a global leader in the education of women of African descent. Spelman has been recognised as America's leading producer of black women who complete PhDs in science, technology, engineering and maths. Spelman boasts a 76 per cent graduation rate (one of the best in America) and holds itself accountable by publishing a comprehensive set of success measures and subsequent achievements. The metrics are understood across the organisation and are at the forefront of its value proposition to students and its stakeholders.

About the research

The research involved interviews with more than 40 executives and founders, staff and participants of historic NGOs and newer organisations recognised for their impact and establishing the foundation for sustainability.

Adam Davids is a proud Wiradjuri descendant, non-executive director of Social Ventures Australia and director of learning at CareerTrackers Indigenous mentoring. This is an edited extract of an article published by Social Ventures Australia.

This is of of your complimentary pieces of content
Already a member?
Login to view this content