Arnhem Land Progress Aboriginal Corporation CEO Alastair King OAM shares how remote communities responded to the challenges of coronavirus shutdown.
It was mid-March when Alastair King OAM FAICD knew trouble. was coming. The warehouses that supplied the Arnhem Land Progress Aboriginal Corporation's (ALPA) 27 supermarkets and general stores in remote communities in the Northern Territory and Queensland were reporting shortages of rice, sugar, flour, toilet paper, powdered milk and baby formula.
On top of this, King and the ALPA board were preparing for a board meeting at Galiwin'ku, a community of 2000 people on Elcho Island, 500km east of Darwin and birthplace of musician the late Geoffrey Gurrumul Yunupingu.
Charter flights, accommodation, meals and the board interpreter had been locked in. Then with a few days to go before the two-day meeting, the federal government announced new biosecurity restrictions would isolate remote communities in a bid to protect people managing chronic health issues such as diabetes, asthma and heart disease from the higher risks if COVID-19 entered their communities. Only essential workers could access the affected communities — and only if they had been approved by the Land Council and issued a specific permit.
The management team and long-time chair Rev Dr Djiniyini Gondarra OAM moved fast to switch the board meeting to a teleconference from seven remote areas of Arnhem Land. Then they crunched the agenda to financial reporting, a draft budget and anything that required board decision direction or resolution.
King says 2020 has been the toughest year for the organisation, established in 1972 as a cooperative of community stores, since he joined as a store manager 26 years ago. The 2018–19 annual report noted combined commercial activities, including subsidiary activities, had delivered a $7.3m surplus, with combined annual revenues of $107m.
"Our core business is retail," says King. "The biggest challenge for us has been just making sure we can get stock from our suppliers. Panic buying in the southern states impacted supply to regional, rural and remote Australia.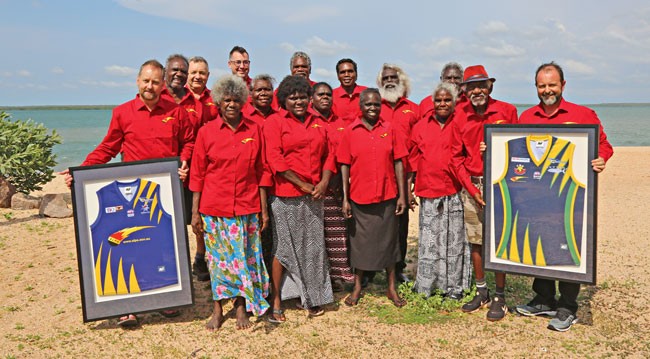 "In our communities, if you can't get it in our store, you can't go to the next suburb, because there's no other store. Of course, Coles and Woolies have a big stick due to their huge volumes. They can say to the manufacturers: 'We need more stock and expect to be prioritised' — and they are. That huge demand created supply issues for us."
King says biosecurity restrictions and poor communication increased the complexities of managing COVID-19 in Australia's remote north. On 18 March, the Governor-General declared a human biosecurity emergency and, for the first time since the Biosecurity Act became law in 2015, health minister Greg Hunt was given powers to issue overriding directives to combat the outbreak.
That March meeting of the 11-person ALPA board included a basic presentation on risks, symptoms and treatments for COVID-19. "People were told that if you leave your hometown, you can't get back in unless you do quarantine," says King. "If they go out and they get infected, bring it back in, that community is in a whole world of hurt. People are really frightened out there. Quite rightly, they're worried about everything."
Surprisingly there is an upside to the pandemic for ALPA and the people the organisation serves. Retail sales soared by up to 365 per cent in March when the $750 COVID-19 payment landed in people's bank accounts. ALPA moved community services workers — who could no longer run their programs due to isolation and social distancing restrictions — into retail roles to meet the demand.
King says sales have since settled and, across the group remain 68 per cent up on last year. "Our customer demographic is one that spends what they have," he says. "They don't panic buy. If they have $100 in their pocket, they'll spend that $100. If they've got $500, they'll spend $500. Sales went up substantially, which caused our supply issues."
ALPA operates across 20 language groups in Arnhem Land, the NT and North Queensland, running retail stores, mechanical workshops, building and furniture businesses, employment services, school attendance programs, two accommodation lodges, training and labour hire. About 1000 people are employed and of these, more than 80 per cent are Indigenous.
ALPA began diversifying in 2014, running employment programs for the government's Community Development Program. Among its businesses are Dinybulu Regional Services, Bukmak Constructions, Manapan Furniture and Rulku Lodge, an accommodation joint venture with local families. It aims for businesses to be incubators for local entrepreneurship.
"Everything we do is about building sustainable businesses that will employ local people and give them the opportunity for training and building skills while bringing health and wellbeing to the community," says King. "You give a person a job, you're helping them to build the economy out there. You're helping them to have independent income, to make their own decisions and to come off social welfare."
In April, the federal government responded to the supply shortages, the National Indigenous Australians Agency setting up a Food Security Working Group with Metcash and ALPA. "The safest place for you and your family is in your community," said Minister for Indigenous Australians Ken Wyatt AM, adding people should avoid hoarding.
Supply has improved, says King. "We're focused on watching it every week. The manufacturers didn't understand that our communities had been locked down under the Biosecurity Act and that the government didn't want them leaving because of the chronic health issues out there. If they brought it in, it would decimate the communities."
A different governance model
COVID-19 has led the ALPA board to change how it governs. At the March meeting, the board agreed to create an executive committee of eight members, who will attend the June board meeting by teleconference. The full board is expected to meet again in September. The Office of the Registrar of Indigenous Corporations (ORIC) endorsed the move.
"One of the challenges we had was how to keep good disciplines around governance," says chair Alistair King OAM FAICD, adding the remote locations didn't have the bandwidth to allow for videoconferencing with the entire board, while for some, mobile coverage was limited.
"Because we work cross-culturally, all of our board members are remote, traditional Aboriginal people with English as a second language. There are multiple dialects, but we use two main dialects everyone can understand."
ALPA board meetings often run for two to three days, and ALPA facilitators help interpret the directors' presentations. Because of isolation restrictions, remotely based members of management had to assist directors in the different remote areas through presentations on a laptop while the directors were connected by telephone.
Following the COVID-19 presentation at the board meeting, some directors decided to take their families to homelands. "These are small outstations, really remote," says King. "That gave us a real challenge, because a lot of these places have no mobile coverage, they might have a Telstra payphone if they're lucky. We questioned how we would continue with the governance and decision-making of ALPA while keeping in line with our statutory requirements and making sure ORIC was happy with what we were doing."
The board agreed to form an executive subcommittee with the chair, deputy chair, four directors and two management representatives. ORIC cleared the decision, allowing special measures in the constitution to permit decisions without a 100 per cent majority. The board also agreed that during COVID-19, the executive subcommittee would have power to make decisions on behalf of the board until September.
This is of of your complimentary pieces of content
Already a member?
Login to view this content