Through scholarships and a collaborative network, these two former Sydney Swans stars are improving education and business for young Indigenous Australians.
Adam Goodes and Michael O'Loughlin are used to being the centre of attention. In storied careers, they both played at the highest level in the Australian Football League (AFL) for over a decade, protagonists in the emergence of the Sydney Swans as a powerhouse of the competition. O'Loughlin, a graceful figure in the forward line, and Goodes, a powerful ball-winner, were pivotal in the Swans' drought-breaking 2005 premiership campaign. Goodes won another in 2012, playing the second half of the grand final with a ruptured posterior cruciate ligament.
Goodes would go on to transcend the game, named Australian of the Year in 2014. Before federal parliament, he urged Australians "to break down the silos between races, break down those stereotypes of minority populations". For his efforts, his final 2015 season would be marred by a racially charged campaign of booing by rival club supporters and hectoring by powerful media figures, while league officials dithered in their response. In the AFL's 2015 annual report, CEO Gillon McLachlan acknowledged that the AFL had failed Goodes.
Goodes and O'Loughlin are still star attractions in any room. Today, it's the ballroom of a five-star hotel in Sydney for the annual fundraising lunch of the GO Foundation, the charity they founded that supports the education of Indigenous children and young people. The founders slip their 190cm frames through the crowd and chat with former teammates, current players, media personalities and Sydney business luminaries.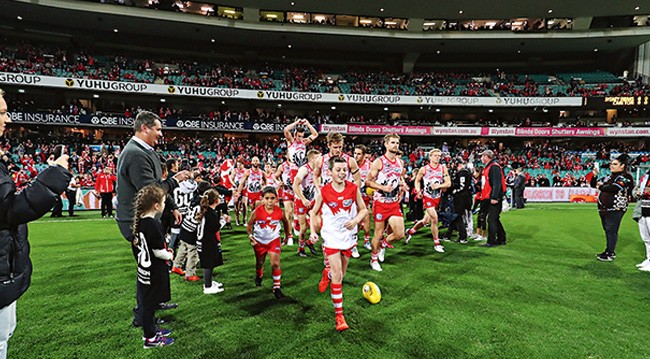 It's a resounding success. An investment banker pays $20,000 for dinner with Goodes and O'Loughlin. A pair of boots from current Swans star Lance Franklin sells for $8000; an artwork by award-winning artist Danie Mellor for $14,000. In total, $530,000 is raised to fund scholarships for Indigenous students.
Yet this afternoon, they will all be eclipsed as a GO Foundation scholar and Gringai woman of the Wonnarua nation, Madison Howarth, takes the podium. The second-year university student recently started a job as development and communications officer with the National Aboriginal Sporting Chance Academy (NASCA) in Redfern, NSW. She describes how her great-grandmother lived there as a 12-year-old before being taken from her home, along with her younger siblings.
"Every day, I walk through Redfern with the privilege of choosing my own path as a woman at university, on the way to the job I chose for the career I chose," Howarth says. "However, there are so many more Indigenous women my age with the same motivation, same hunger and same passion, but without the opportunities I've had — and they deserve this opportunity as much as I do. For reasons beyond their control, they're not standing up here. They're not in this room. They're not in class with me at uni. They won't work alongside me. They won't run your companies. And they won't sit in your boardrooms. That's the reality. Unless we make a change — and I really think we can."
As Howarth finishes her speech, Goodes brushes away tears.
Ready
Goodes and O'Loughlin founded GO Foundation with IBM executive James Gallichan in 2009. Initially, the foundation funded community programs in the far west NSW town of Dareton, population 600, a third of whom are Indigenous. GO-supported programs included healthy lifestyle education, vocational training, sports equipment for local schools and play equipment for a local community centre. While this made a difference, it wasn't going to achieve the type of systemic change the pair sought. So in 2014, GO broadened its ambition and shifted its focus to education.
Their vision was to empower the next generation of Indigenous role models through education. Establishing the Goodes-O'Loughlin Scholarship Fund, they teamed up initially with the Australian Indigenous Education Foundation, which provides funding for Indigenous students to attend elite private schools.
The founders then brought in new directors to provide the leadership and guidance the organisation would need as it set about its new mission. They drew lessons from their football experience in gathering the right people around them. Their long careers at the Swans with the club's emphasis on culture — what former recruiting manager Rick Barham famously described as a "no dickheads" policy — shaped the way they built GO.
"Culture is all about the traditions, the language that you speak, and the value placed on every individual in that organisation," says Goodes. "We've both taken that on to our business lives and tried to implement it with the boards we sit on and the not-for-profits that we share in."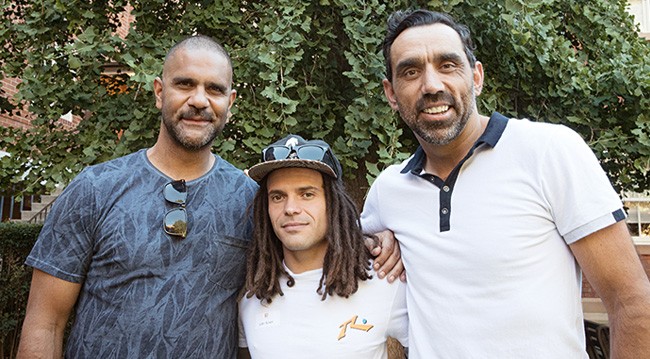 Nomura Australia executive chairman Peter Meurer FAICD, a long-time Swans supporter, came in as chair. He was joined on the board by Sam Mostyn MAICD, a non-executive director of Virgin Australia (and, at the time, an AFL commissioner), Ken Boundy FAICD, chair of the Royal Botanic Gardens and Domain Trust, and Kylie Brown, a partner at Allens Linklaters. This was followed by Holly Kramer MAICD, deputy chair of Australia Post. In a short time, the founders had surrounded themselves with a board the envy of any listed company.
We're trying to fill these voids in the market where kids are not getting the support they need, or just need that little extra financial backing.
Set
As GO raised money in the first few years after redefining its purpose to be education, the board got stuck in helping the foundation to gain traction, says Boundy. "When I came on, the board was still doing a lot of heavy lifting — we were pretty hands-on. We found eight or so foundation partners who put in $50,000 in each. We got a little bit of money from the government and [then] we started to get some scholarships [in order] to build Adam and Michael's vision."
By the end of 2016, GO was in a position to appoint a CEO. The board took its time, eventually selecting. Shirley Chowdhary GAICD, a former banking lawyer and deputy chair of YMCA NSW. She was unaware of the star power of the two AFL greats. "I wasn't joining the organisation with stars in my eyes, or to work with celebrities," Chowdhary says.
In 2017, there were 215,453 students enrolled in Australian schools identifying as Aboriginal and Torres Strait Islander, according to the Australian Bureau of Statistics. "Eighty-four per cent of Indigenous boys and girls are going to primary and state schools across the country," says Chowdhary. "Why limit ourselves to 16 per cent [in private schools]? We're trying to fill these voids in the market where kids are not getting the support they need, or just need that little extra financial backing."
Chowdhary estimates that for every boarding scholarship the government funds for private schools, GO can fund 100 primary scholarships or 20 high-school scholarships for students in public schools. O'Loughlin, a Kaurna/Ngarrindjeri/Narungga man, speaks of his own childhood in South Australia to illustrate the difference that can make. "Mine was a really good experience in the public system, but there were a lot of things I did miss out on. Take excursions — $10 is a lot of money for a family doing it tough, but it's a huge experience for a young kid."
Students now need equipment to fully participate in their education, or in sport or cultural school programs. Offering scholarships to students in public schools also allows them to maintain their connection to country and their communities. Research by KPMG Arrilla Indigenous Services, commissioned by GO, found that cultural identity is an important driver of participation in education by Indigenous students.
This connection was denied Goodes, an Adnyamathanha/Narungga man from South Australia. His mother, Lisa Sansbury, was placed in state care as a young child and never returned to her parents. "I never got to understand my culture, what it meant to be an Indigenous person. Every town we moved to, we seemed to be the only Indigenous kids at school. I had no idea what it meant to be an Indigenous Australian until I went on my own personal journey. Since learning about my culture, colonisation and where I come from, I felt like 'Wow, I'm part of something really special'. That's when I started to find my voice about sticking up for my people and having a say on very tough topics."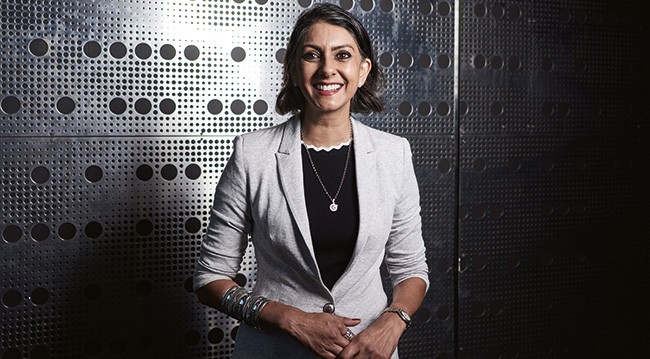 GO
Over the past year, the GO Foundation has gone from supporting 13 students to 68. What marks out those who win the scholarships is their drive to break the cycle of disadvantage, not just for themselves, but for their communities, says Goodes. "The kids we select, it breaks your heart when you read the applications — the disadvantage and just how hopeless some of those situations can be. The biggest thing that shines through for us is these kids have the aspiration to want to do more past year 12, whether it's university or getting a trade. They also want to connect to their culture, which relates to giving back — when you become successful, you give back to other disadvantaged brothers and sisters in the community."
Chowdhary says GO's main aim is to learn from the students, schools and community "about how we need to change what we do in Australia so that our students can take their authentic selves into their careers and education. In Australia, we generally ask Indigenous students to choose between their Indigenous heritage or a corporate path. At GO, we don't think that's right. We believe that our Indigenous students bring a unique perspective and richness to everything they do, and that perspective and richness is something we can all benefit from."
Building the ecosystem network alongside AIME and CareerTrackers will help GO as it enters its next phase of growth, according to Chowdhary. Currently, the work with each student is so intensive, it is a challenge to scale the model.
"If the students have an issue at school, if they're struggling in some way, their parents pick up the phone and we have a conversation with them, with the school — with the village of people helping to raise that student and give that student strength. How do you keep doing that with more and more students?"
Goodes and O'Loughlin will become more involved as GO addresses that challenge. Meurer intends to stand down towards the end of the year, to be replaced by Mostyn, who will mentor O'Loughlin as deputy chair until he is ready to take over, with Goodes to eventually follow.
Business has replaced football in Goodes' life and he wants to set a new example for Indigenous kids. "Footy is not going to be a big part of my life going forward, but business is. And the biggest thing we need to do is show Indigenous boys and girls that while being an athlete is great, only a small percentage of our population get to do that. But being a businessperson? Anyone can do that."
In business, the pair model what they hope their program and its supporting ecosystem will allow their scholars to do one day — run companies and sit in boardrooms.
"We've still got a long way to go as a country, but there are great opportunities for our people to join in the economic development of this country," says O'Loughlin. "I'd love to see more [Indigenous] CEOs, more Aboriginal and Torres Strait Islanders in suits and ties, and young women running organisations — that's the dream for both of us."
As Goodes and O'Loughlin stood with some of their scholars at the recent Marn Grook match at Sydney's SCG, they clearly had the respect of the crowd. The pair had made their mark in sport but, as they noted, "This is our legacy."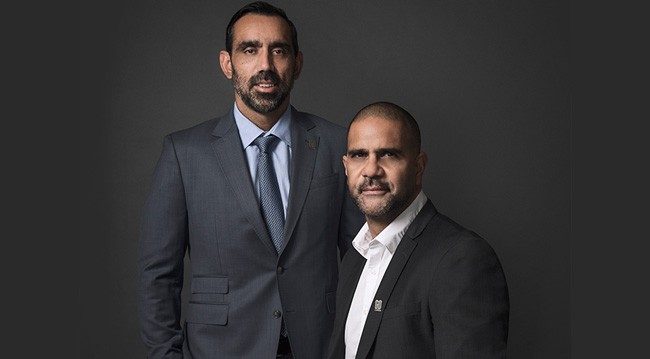 Getting a Good RAP
Reconciliation Action Plans (RAPs) outline what an organisation commits to do as its contribution to reconciliation. They are increasingly part of the governance framework for organisations such as major listed companies, not-for-profits and government departments. Adam Goodes and Michael O'Loughlin have been involved in launching or implementing RAPs with organisations including Lendlease, the AFL and Australia Post. Their take on how organisations can make RAPs work is simple:
Do it for the right reasons

"Don't just do it because your competition has done it. You have to do it because it means something to you and your business," says O'Loughlin.

Engage Indigenous communities and leaders

"It's really important to engage local Indigenous people. You also need an Indigenous champion looking after your RAP and communicating what you need to do through that RAP," says Goodes.

Senior management must buy in

"If you don't have the senior management in control of those RAP KPIs, then it's not going to have as much impact," says Goodes. "When those KPIs become part of their normal KPIs you see real cut-through."

"If it's defined from the CEO down, it tends to get done. Otherwise, it gets put in a drawer and left there until the end of the year when you review it. No-one's held accountable," says O'Loughlin.

It's not just about employment

"Everyone's focusing on employment. Now if traditionally you haven't employed Indigenous people, then it's fair to say the environment at your workforce hasn't been inviting enough for Indigenous people to apply for jobs there," says Goodes. "You can change that environment, but it's also about procurement. Actually procuring from Indigenous businesses will have even more of an impact than just employing Indigenous people because the Indigenous business sector is 100 times more likely to hire other Indigenous people. Supply Nation did a study last year [and found that for] every dollar spent with an Indigenous business, it gave $4.41 [socio-economic] value. If that's not value for money, I don't know what is." 
This is of of your complimentary pieces of content
Already a member?
Login to view this content