Building a global network offshore takes focus. Leonie Valentine MAICD, from Google Hong Kong, reveals how she's doing it.
When Leonie Valentine moved to Hong Kong in 2011 as a senior executive with Telstra International Group, she realised she lacked contacts in the country and would need to build a new network. "I've always been good at networking, because I gravitate towards people in networks and coalitions quite easily," she says via web link from her Times Square office in Causeway Bay.
Valentine, now managing director of sales and operations at Google Hong Kong, started methodically with a long-term vision of where she wanted her career to go, which included being on listed-company boards. Then she looked for relevant networking groups. "I actually Googled 'women on boards'," she recalls. "The Women's Foundation came up, so I started going to their events."
At the foundation, a Hong Kong not-for-profit that focuses on improving the lives of women and girls, Valentine encountered a like-minded group of women in varying stages of career development. "I found a healthy, robust and well-connected network and got involved in their programs."
She also connected with AustCham (the Australian Chamber of Commerce Hong Kong and Macau), a network of Hong Kong-based Australian business community members; and community volunteering organisation HandsOn Hong Kong, joining the board 2014–2016. She became an AICD member in 2017.
Valentine learned some effective networking lessons early in her career. A geologist by background, she had roles in sales, marketing and customer experience technology before moving to Google in 2014. "Somebody once said to me that it was because of two things: I was both interested and interesting. What's important is the art of listening; being interested in what the person needs. You become known inside your networks for providing certain insights or having certain connections."
Conversation equals opportunity
"One of the things I've learned in the networks I've built over the years is about investment," says Valentine. "There's an element I call the 'favour bank'. I've always had this idea that nothing is too much trouble, because if I invest first in a relationship then it's very easy for me to make contact in the future when I might need a favour.
"When somebody randomly contacts them, people have a tendency to think, 'What do you want from me?' They think of it as a negative. I see conversations as an opportunity — and I continue to be surprised by what I find out. Opportunities arise from those conversations, but they also allow me to play the role of connector; if it's not the right opportunity for me, I might know someone in my network that it will suit. I [don't] profess to know everything... But I know who to call."
Network navigation
According to Valentine, one of the most important aspects of networking is "the quality and depth of the relationships that you want to be able to call on, especially when you need assistance. You do find fairweather friends who network on the surface. They want to know a lot of people, but they can't be called upon when you really need them."
Being gender-aware
Valentine has been an active in issues to advance the education and participation of women. She supports The Women's Foundation and sits on its Girls Go Tech Programme steering committee, which is rolling out computer science for underprivileged schools in Hong Kong, with a focus on women. She is also a member of the Women on Boards advisory panel for Hong Kong's 30% Club, which promotes the appointment of more women directors.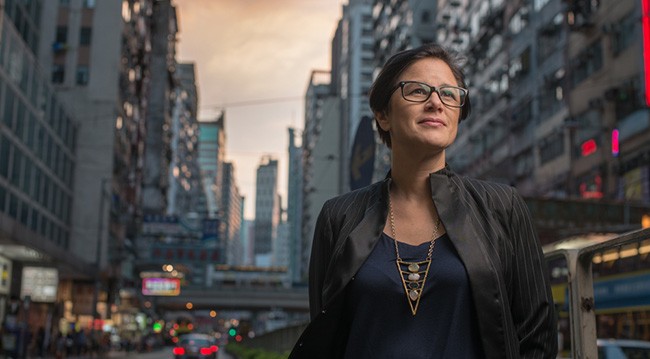 The learning curve continues
Valentine, who completed AICD's International Company Directors Course in September, says it was a great, interactive way to learn. "The way the content was broken down over the five days — with different people teaching, each with a depth of experience, and being able to talk to somebody in an open, small-group format — you also learn from your cohorts in the room."
Another benefit of the course was exposure to an international cohort. Valentine met someone, for example, "who appeared to be running a startup" but turned out to be part of a Taiwanese conglomerate with 50,000 employees.
"There's an interesting lesson in leadership when you start to network with people. You have people with big titles from big brands, then you've got the less obvious, more humble leaders who are managing intense, complex things and facing amazing challenges in their businesses."
This is of of your complimentary pieces of content
Already a member?
Login to view this content