With new flight links to capital cities bringing business and tourism, and art and culture boosting investment, the future of Bendigo looks bright.
Legend has it that in 1851, two shepherds' wives discovered alluvial gold while washing clothes in Bendigo Creek. In doing so they put Bendigo on the map. From 800 people in the original tent settlement, the population rose to 20,000 within six months as people rushed to central Victoria to pan for their fortunes. The town was originally known as Sandhurst. It was renamed Bendigo in 1891, after the creek that brought it international attention and provided the money to build grand public buildings such as a stock exchange and, in 1900, Australia's first Myer department store.
Almost 170 years on, Bendigo is a city of 116,000 — and still making money from gold. City of Greater Bendigo CEO Craig Niemann GAICD says Fosterville underground gold mine, 20km east of the town, employs nearly 700 people working one of the world's most valuable gold seams. The mine has so far produced $4b worth of gold.
Fosterville began operations in 2005 and in February 2019, its owner, Canadian company Kirkland Lake Gold, upgraded its gold reserves by 60 per cent to an estimated 2.7 million ounces. The company reported 2019 production topping 600,000 ounces, almost double the 350,000 ounces mined in 2018.
AICD Bendigo Regional Committee
Samantha Read GAICD (chair)
Jan Boynton FAICD
Joe Ciancio GAICD
Abhishek Awasthi GAICD
Vicki Pearce MAICD
Steven Abbott GAICD
Carolyn Stanford MAICD
Annette Toohey GAICD
Membership enquiries: 1300 739 119 or email here.
Niemann says that while the gold mine is a positive, the launch of QantasLink flights between Sydney and Bendigo in March 2019 is key to future growth in the town. Greater Bendigo predicts the town's population will increase to 200,000 by 2050, which Niemann says will bring housing and transport challenges. "The daily Qantas flights have connected us to the world and increased the catchment of our area," says Niemann, who has worked at the City of Greater Bendigo for 14 years (12 as CEO) and lived within 70km of Bendigo his whole life, after growing up on a dairy farm. "The jobs will come as we grow."
The City of Greater Bendigo, the Victorian government and the federal government, split the $15m investment to upgrade the airport runway. Niemann says that when the first flight from Sydney arrived, many locals went to welcome it, even though they knew no-one on the plane.
The Greater Bendigo: Where People Thrive discussion paper, released in July 2019, states the ambition of the Greater Bendigo Economic Development Strategy Steering Committee is to "build the most productive knowledge-led economy in regional Australia". It notes the Qantas flight "boosts and expands the connections and our capacity to connect both nationally and internationally".
The next step, Niemann says, are flights linking the town to Adelaide, as Bendigo has the national head office of Australia's fifth-largest bank, Bendigo and Adelaide Bank, which provides about 1200 local jobs. However, like many regional centres, Bendigo's biggest employer is the health sector, which employs almost 4000 people.
The Where People Thrive report notes that residents of the Bendigo region have high levels of obesity and that the rates of avoidable deaths among people under 75 from cancer and heart disease are Victoria's highest.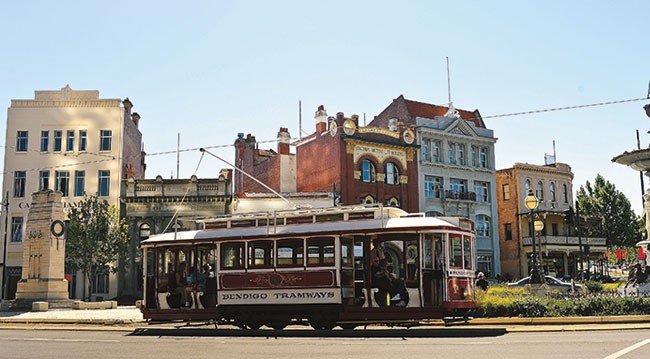 Bob Cameron FAICD, who chairs the nine-member board of Bendigo Health, says the hospital runs as a public-private partnership (PPP) with Exemplar Health. Under a 25-year agreement between the Victorian government and Exemplar, Bendigo Health focuses on clinical operations, while Exemplar provides non-clinical services such as cleaning, building maintenance and catering.
"We don't have to deal with any of those issues and can focus on the clinical arrangements," says Cameron. "For a PPP to work, you have to have a good contract and good relationships. Exemplar has standards to meet, gets paid a fee and it doesn't affect our operations."
The daily Qantas flights have connected us to the world and increased the catchment of our area. The jobs will come as we grow.
The Bendigo Health board meets for two days a month and, according to Cameron, its biggest challenge during the past few years has been managing the growth of the hospital. By the end of 2022, the $630m project will be complete, including a $60m refurbishment of the original hospital site, which is being turned into a day rehabilitation centre.
Gross regional product per capita
Greater Bendigo $64,046
Greater Geelong $58,419
Central Goldfields $41,795
Toowoomba $68,340
Launceston $71,984
Wagga Wagga $82,067
Newcastle $108,549
Victoria (average) $68,681
Australia (average) $79,107
Per capita gross regional product 2017
Source: Remplan 2019
"Attracting staff is a key issue," notes Cameron. "Our headcount has increased by 730 in the five years I've been chair. We have to breed our own staff as much as possible in the region and we have good relationships with La Trobe University and the Monash University School of Rural Medicine in Bendigo. "We do have some difficulty attracting staff in psychiatric nursing, psychiatrists, and other specialties such as ear nose and throat specialists. There aren't enough of these staff anywhere."
Cameron was a state Labor politician from 1996, and a minister of various portfolios from 1999 until retiring from politics in 2010. He says that as Bendigo has changed, it has been easier to get people to move to the town, nominating two growth stories as key.
Firstly, the Bendigo Art Gallery has put the town on the Australian cultural map, attracting tourists with its groundbreaking exhibitions. Secondly, Bendigo and Adelaide Bank. "It used to be a little local bank and it has taken the Bendigo name nationally," he says. "These things have totally changed how Bendigo sees itself — and how others see it."
Other cultural attractions include the 1000-seat Ulumbarra Theatre, built in the former Sandhurst Gaol, and The Capital, originally the Masonic Hall, built in 1873 and closed in the 1970s before a community campaign led to its relaunch as a theatre in 1991. The Golden Dragon Museum showcases the Chinese heritage of the city.
Jan Boynton GAICD, a member of the Bendigo AICD committee and vice-chair of the Bendigo Art Gallery, agrees on the city's value as a cultural tourist destination. Boynton — also a director at Haven; Home, Safe social housing, CVGT Australia employment organisation, and treasurer of the Bendigo Jockey Club — has seen huge changes in the city since she moved there in 1980 for a regional planning job. Then, she found a population of 60,000 with just one place to buy a good coffee. However, 40 years on, Bendigo boasts award-winning restaurants such as The Woodhouse and in October was designated Australia's first UNESCO Creative City of Gastronomy.
This is of of your complimentary pieces of content
Already a member?
Login to view this content