Sunshine Coast social enterprise Sunny Street uses mobile services to provide access to health care to individuals and families who are homeless or vulnerable. Now, it's going national.
Dr Nova Evans MAICD and nurse Sonia Goodwin MAICD had no clue that attending a fundraiser for palliative care services on Queensland's Sunshine Coast two years ago would change their lives. In a documentary shown at the event, a palliative care doctor in India who was caring for dying patients sleeping on the streets asked: "What are you doing to help the most vulnerable?" The question bothered the duo, who between them had worked for 40 years in hospitals and practices across Australia and knew many people were missing out on the health services they needed.
"We knew we had about 25 more years of work ahead of us and were determined to make a bigger difference in those years," says Goodwin. "It was all about finding our purpose. There are more than 1800 homeless people on the Sunshine Coast and we know hospital emergency departments aren't usually the best places for them to be going for treatment. We realised we had to step out of the health system."
After hours of talking and planning, the duo took the leap and resigned from their jobs on the same day in March 2018.
"From there, we started talking about it seriously, writing the procedures and policies," says Goodwin. "In July 2018, we began our first clinic [Sunny Street] and the next week started two weekly night clinics at Maroochy Neighbourhood Centre. We had family members, who were also clinicians, and 19 nurse volunteers, who, like us, chose to be away from their families to help out. At first, we wondered if we would actually get any clients. In four hours at our service launch, we saw 48 people and realised there is a massive need."
In the past nine months, Sunny Street has held more than 6000 consultations with 700 patients and recruited more than 200 volunteers — doctors, nurses, paramedics, students, allied health professionals and non-clinical support staff. Evans says half of Sunny Street's patients are women aged over 55, and 35 per cent aged under 25. The health service has expanded to 12 clinic locations in South East Queensland and in November, the first clinic opened in Ipswich.
A healthcare startup
Sunny Street has set up headquarters at the Innovation Centre Sunshine Coast, a hub for innovators and entrepreneurial startups on the campus of the University of the Sunshine Coast.
"It's been massive, starting a new healthcare service," says Evans. "I've owned a small business before and certainly understand the 24/7 nature of it, the stress of cash flow and, obviously, people management, another thing that keeps us awake at night. Building Sunny Street from scratch has been an incredible learning curve. We've reached out to people in the innovation and entrepreneurial spaces, and also have lots of different support networks… lots of brains to pick and people to keep us going during tough times."
Among the clinics' patients are people just out of jail, children, youth and women living in domestic violence refuges. The youngest patient they have seen is two weeks old, having cared for her mother for most weeks of her pregnancy; the eldest, an 87-year-old man who had been sleeping rough in sand dunes.
"We are acting to change the stigma over homelessness and trying to get our patients back into mainstream health," says Evans. "One time, writing a prescription, for the patient's address I put down 'homeless'. The woman asked me to change it. There is so much shame about being homeless. The experience has challenged our own biases. We started with a medical model, but soon realised people wanted to be heard more than anything. We now encourage our volunteers to give themselves permission to be kind in a conversation-based model of care."
By the numbers
Launched in Maroochydore July 2018
200 volunteers, including 20 doctors
1800-plus homeless on Sunshine Coast
$250,000 annual budget
12 mobile health clinics on Sunshine Coast
Launching in Victoria and more locations in South East Queensland this year
Setting the framework
When they met, Evans, who graduated from University of Queensland Medical School in 2004, was running a program for alternative inpatient services for five hospitals, helping people to return home as soon as possible while still accessing high-quality hospital care. Goodwin was working in a similar role, leading a large team to discharge complex patients by arranging community nursing and outpatient follow-up.
They say, between them, they have put $45,000 of their own money into Sunny Street and gone many months without a regular income. Some patients are bulk-billed through Medicare, but no-one is turned away.
"We spent three months setting up the framework for the service, including policies and procedures we could foresee we needed," says Goodwin. "We had in mind that what we were starting wouldn't be a small local business — we would need to think about a national model. This is all about working for a purpose. It has been shocking that some of our clients are ex-CEOs, CFOs and COOs who have taken too much risk, made mistakes or ignored governance issues and lost their businesses — and their families."
The people helped by Sunny Street have "complex vulnerabilities" says Goodwin. "Often a solution doesn't work for the patient. For example, you suggest someone ice a wound and realise they have no fridge. When you wonder why they don't access regular health services, it's about a lack of transport, anxiety, mental health issues and self-shame. There are a lot of barriers to health services, even in a country such as Australia with a terrific public health system. It all goes back to families. Someone has let them down."
The pair concedes the project, as well as their extremely busy lives, has brought its casualties. Each has seen their marriages collapse under the strain. "Being an entrepreneurial director is not the same as taking on a company that's established or has processes in place," says Goodwin. "For the first 12 months, we consistently had people saying, 'You can't do it, there's no way, this doesn't exist.' Under the title 'Motivation', we wrote down everything people said to us we couldn't do. It's a reminder that when people think something is not possible, that doesn't mean it's not possible for us," she says.
"We're proving people wrong as we disrupt healthcare. Nursing and medicine are very traditional professional fields, so it has been wonderful to meet fellow clinicians able to think outside the box," adds Evans. "That's why we resonate so strongly and have no trouble getting volunteers — people working in the system know services have to change and they're loving an opportunity to do things differently."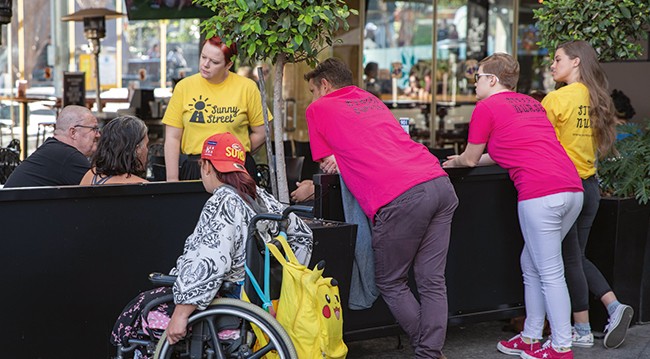 You can help
Sunny Street has launched a crowdfunding campaign to facilitate its expansion to care for more of the country's most vulnerable. Donations are welcome through GoFundMe at any time, but specifically during the campaign, which started in January. Visit sunnystreet.org for the link.
Managing risk
Goodwin says one of the key challenges was setting up a framework to manage risk as it applies to patients, volunteers and the general public. Sunny Street uses community networks' social media to advise clients when and where the clinics will be, and the mobile vans set up near community centres. "From a healthcare perspective, we knew there were a lot of regulations around that," says Goodwin. "One of the first things I developed was our risk management system, incident reporting and quality management systems."
Each clinic runs for about two hours, mostly in the evenings, with additional time dedicated to a team debrief. "We need to manage the risk for our volunteers — this is about preventing vicarious trauma and mental health [issues], as we hear stories that are inconceivable for most people," says Evans, adding she, like many health professionals, sees a psychologist regularly to manage her own mental health.
Funding model
Sunny Street runs as a social impact enterprise, which means all profits go back into delivering health services. After seven months without a salary, Goodwin's role is now financially supported through the federally funded Central Queensland Wide Bay Primary Health Network. Evans earns her income through contracted medical services.
"We considered setting up as a charity, but really struggled when we looked into the time we would have to dedicate to the reporting requirements," says Evans. "We struggled with the concept of having to assess a person's vulnerability because we were very firm that if anyone wants help or a conversation with Sunny Street, then who are we to say you're not vulnerable enough or your life isn't hard enough, therefore we can't look after you? And we didn't want to rely on funding through grants. Our clients have been let down and we're determined not to be another service that leaves people behind. So we needed a model that was sustainable financially. We are a private company with a social justice focus. Our restrictive annual budget in 2018–19 was $250,000."
This "restrictiveness" has made Evans and Goodwin committed to managing Sunny Street conscientiously. They focus on being resourceful rather than using up resources to make it work. That attention to detail, and hard work, has seen the startup remain debt and loan-free.
Goodwin says the organisation couldn't have cared for the number of vulnerable people it did without the generous donations and in-kind support from the larger community. "We needed to find sustainable ways to keep this moving without locking it in as a charity and being completely reliant on funding from others. We do have income around Medicare billing for some patients," she says.
This year, the duo has set up a not-for-profit arm, Sunny Street Association Inc, and will apply to register the association through the Australian Charities and Not-for-profits Commission. "We want to make it easy for people to contribute and we have had interest in consumer sponsorship and corporate opportunities," says Goodwin.
Getting governance right
Goodwin and Evans both completed the AICD Foundations of Directorship course in 2019, determined to learn about governance principles to ensure Sunny Street remains viable and its national expansion is successful.
"We have had doctors and nurses around Australia saying they need the service in their regions," says Evans. "We want to expand, but don't want to let down our volunteers or the people who use the service in any way. Getting the governance right is incredibly important. That's why we haven't grown yet, despite the demand. We have to ensure we're set up so services can be ongoing."
The duo is establishing an advisory board of experts in innovation, healthcare and financial services that will include Mark Paddenburg GAICD, CEO of the Innovation Centre Sunshine Coast, and Kevin Hegarty OAM, former Sunshine Coast Hospital and Health Service CEO and a director of Building Queensland.
"We're looking at six people for the advisory board and having conversations with experts in fundraising, risk and legal, and finance," says Goodwin. "Every single day is beyond phenomenal. We have more than 116,000 homeless in Australia and more than 15,000 of these are under 12 and living on the streets. Doing something to help is one of the best things I have done in my life."
This is of of your complimentary pieces of content
Already a member?
Login to view this content