Australia's sporting community has rallied to volunteer with local charities to help the vulnerable. Craig Foster's social movement Play for Lives has created a web of partnerships which show the power of collaboration.
While the NRL and AFL were desperately trying to prolong their seasons as the COVID-19 virus took over, former Socceroo, human rights activist and SBS sports broadcaster Craig Foster was thinking of ways for sport to show a more generous, compassionate face. How could it reconnect and serve vulnerable parts of the community in a time of crisis? How could it be repurposed as an agent of positive change?
Still active with Waverley Old Boys Over-35s when the football season was terminated due to the pandemic, Foster saw an opportunity to create a "sporting volunteer army". The six or so hours a week sportspeople across the country normally devote to training and playing could, he thought, be diverted to assist charities — feeling the pinch as their volunteers, predominantly senior citizens, were forced to self-isolate as the country moved into lockdown — and people in need.
Play for Lives was the outcome. It's a platform that bridges two worlds that have often operated at a distance from each other — and in the case of professional sport, had become divorced from the very communities that sustained its financial successes. Foster describes it as "simply a movement managed through a social enterprise called Be Collective that connects with sports charities."
"Sport traditionally doesn't see itself as a huge social institution that can make a huge difference in this way," says Foster. "We're creating a deeper connection between one of the most important and visible social industries with one of our most invisible, but no less important — the social services sector and people in need."
Connection matters
As a member of the Australian Multicultural Council, director of the Indigenous Nangala Project and the face of SBS football, Foster wears a number of hats. The former CEO and chair of Professional Footballers Australia, and former director of what is now the Australian Multicultural Council, has taken advantage of connections across various communities to get the Play for Lives ball rolling. He is determined it won't be weighed down by unrealistic expectations.
"The first thing I decided was, in a crisis, there's no absolute and no perfection," he says. "We didn't have the time to make really detailed short- and medium-term plans when the situation was evolving so rapidly every day."
Be Collective, the volunteer connectivity platform, stepped up to build a website enabling sporting clubs to link with charities, many of whom have volunteers aged over 65 who have been unable to keep giving back due to self-isolation.
Founder and director Rob Wise says Be Collective added "rigour and robust processes" to Foster's vision. "Craig had created a mass movement around Play For Lives, but it was a still a hashtag. Working with him, we created a logo, webpage and the infrastructure needed to make it work."
Aware of governance issues around the spreading of COVID-19 and the necessity for a healthy working environment, Foster urged Be Collective to pair with Volunteering Australia and adopt their strict COVID-19 safety guidelines.
A phone call to close friend Sam Mostyn, a director of the Sydney Swans, secured the services of former AFL players including Kieren Jack and Nick Smith for the Play for Lives pilot at the Addison Road Community Organisation Food Pantry in Marrickville. Alongside Foster and other sportspeople, they have been packing emergency hampers for people experiencing difficulties during lockdown. Mostyn had worked closely with Foster on the successful campaign to save refugee footballer Hakeem al-Araibi from deportation. So when Foster asked her to muck in with the Work for Lives pilot, she was on board immediately, recruiting players and fans to the cause and lugging emergency hampers at the Addison Road Pantry.
The first thing I decided was, in a crisis, there's no absolute and no perfection.
As the volunteer roster became congested, Foster suggested Mostyn turn her wealth of experience in governance and sustainability to Colombo Social (below), a social enterprise restaurant dedicated to employing asylum seekers. With lockdown in full swing, Colombo Social had linked with Settlement Services International and Mission Australia to provide meals to the needy. But demand was so heavy, the kitchen facilities at their Enmore premises couldn't keep up.
Mostyn tapped into her network of contacts. She discovered a bank building with a new commercial kitchen in the nearby South Eveleigh precinct that would be unoccupied until October. A flurry of phone calls and meetings later, the bank agreed to loan the facility to Colombo Social, enabling them to ramp up meal production fourfold.
It was a shining example of the power directors have to effect tangible change. "I'm not sure directors fully appreciate what keys they hold to unlocking the system for people who are out there doing stuff on the ground and need our support," says Mostyn. "It's extraordinary how a couple of phone calls can transform the work of those who are doing the heavy lifting."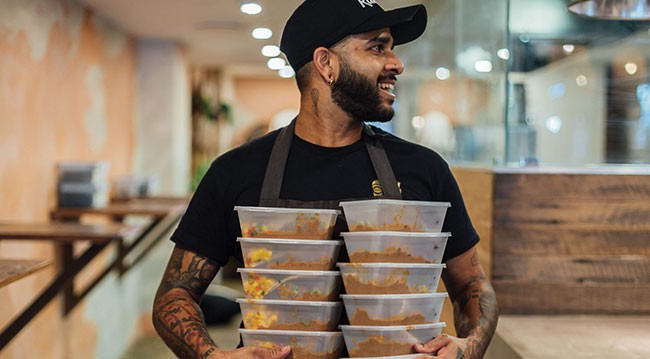 The pilot is being replicated all over the country. Variety Australia has persuaded athletes to provide video messages of support to isolated, disadvantaged children. The Cancer Council has secured more drivers to transport patients.
"I may have birthed the project, but I don't want to parent it," says Foster. "I want 10,000 parents growing it and shaping it in ways that are meaningful for them in their local areas." He is encouraged by the effect Play for Lives has had on the community and on the players who have contributed their time and labour. "It's been marvellous to see professional athletes come to Addi Road and say they're inspired to be here," says Foster. "I had a conversation with assistant Swans coach Tadhg Kennelly, and he said he was spending more time with his two-year-old than he had in a very long time. I'm seeing people start to think about being a better citizen — a better human being."
This idea of a kinder, better Australia is what motivates Foster, who hopes aligning sporting organisations with the disadvantaged will help build a more bonded and resilient nation. He also sees a role in the current environment for corporate Australia, in particular company directors, to escape the boardroom bubble and connect with those doing it tough. COVID-19 has afforded everyone the opportunity to reassess what community means, says Foster. It's allowed people to come to the realisation that community is more than just family, friends and work colleagues. It also includes those members of society who have fallen between the cracks.
"My question to corporate Australia is, how are you going to respond?" says Foster. "These are opportunities for the corporate world to use its infrastructure, which is idle, to support sectors of society that it hasn't [before]. The communities that are vulnerable now are your customers and, in the case of international students, your future employees. These are your people. Now's the time you should be coming closer to the society you're serving — and that is ultimately serving you."
Play for Lives has attracted attention around the world, with the National Basketball Association and Major League Soccer in the US expressing interest in the concept. Sporting organisations in India, Bangladesh and Cambodia have indicated to Foster that they are aiming to set up similar platforms.
"The Australia after this virus will be one where we're not only going to assist minority communities to make sure they're fed and housed, but also going to raise our voice to make sure they're not demonised, victimised and marginalised," he says. "If both sport and corporate Australia raises its voice, we can change the country."
This is of of your complimentary pieces of content
Already a member?
Login to view this content