Renew Australia is a social enterprise that aims to revitalise the commercial hearts of Australian cities by repurposing, re-letting and rejuvenating vacant commercial real estate.
Wander down any main street, in almost any town or city, and you'll see them: the For Lease signs, graffiti, broken windows and temporary fencing. As large retailers reduced their rental footprints in response to the rise of online shopping, vacancy blight was already emerging as a problem, but the business downturn and remote work arrangements accompanying the pandemic have exacerbated it.
Enter Renew Australia, a Melbourne-based social enterprise that works with local business owners, councils and communities to activate empty shops and offices by installing fine artists, industrial designers and other creatives on short-term rolling tenancy agreements, for little to no rent.
This low- to no-cost space allows creatives to build their visibility and test new ideas free of the pressure that comes with paying commercial rents, says Angela Simons, CEO of Renew Australia. "This assists [them] to further their passion, helps bring life to the vacant spaces and rejuvenates the community," she says.
According to the Reserve Bank of Australia's Financial Stability Review released in April, vacant shops, offices and public buildings aren't just unsightly challenges for communities, local councils and chambers of commerce. By putting downward pressure on rents and valuations, vacancies exacerbate stress on landlords, raising the potential for asset fire sales, further depressing retail property prices and affecting the broader economy.
Simons notes that the story of owners and agents with vacant spaces "is often a negative narrative within communities we visit, but is often misunderstood". Specifically, property owners often aren't willing to reduce rents because of the impact this will have on the value of their investment. "Renew helps catalyse the conversation around investments and community engagement to unlock these spaces with a view to not be a barrier for commercial activity while demonstrating a new future use," says Simons. 
By the numbers
15%
Decline in valuations since early 2019
$520,623.26
Total value of rent in Renew Australia's activated spaces at 2019–20
24
Number of businesses that joined Docklands Spaces project 2013–16
11.7%
Australia's office market vacancy rate at January 2021
US$720b
spent on commercial real estate globally in 2020
9%
of remote workers want to return to the office
8%
of Australian superannuation fund assets invested in commercial property at June 2020
$14.40
return on every $1 invested in Renew Newcastle in 2015–16
Sources: RBA Financial Stability Review, Renew Australia, Property Council of Australia Office Market Report, Knight Frank Wealth Report, PwC Hopes and Fears 2021 report, Association of Superannuation Funds of Australia, Economic Evaluation of the Renew Newcastle Project (2017)
How it works
Founded by Marcus Westbury in 2013, Renew Australia sprung from another initiative, Renew Newcastle. The original project aimed to revitalise the Newcastle area following the GFC. A 2017 study from the Centre of Full Employment and Equity showed it had a 14:1 return on investment.
Renew Australia takes the pressure off landlords by providing public liability and broken glass insurance for the property and managing the space while the tenant is in residence. "The idea of participating in these projects is to make this a zero-sum game for the landlord or the property owner," Simons explains. "We need to make sure that the agent or owner who is already generously giving us their space… doesn't have to spend any more money or any more time trying to manage this space."
The list of business success stories is long and lengthening — stretching from Burnie in Tasmania to Toowoomba in Queensland. Other projects have been brought to life in Melbourne, Geelong and Wollongong (see breakout). Urban renewal is firmly on the agenda with an ambitious new project in St Kilda's Fitzroy Street in the pipeline. Port Phillip Mayor Bernadene Voss says the injection of new ideas would breathe new life into the precinct. "Working with existing businesses in the precinct, Renew Australia will give residents and visitors alike another great reason to visit Fitzroy Street."
Another example is the Docklands Art Collective, which ran from 2017–19 for the District Docklands redevelopment in partnership with Development Victoria. The project included 15 activated vacant spaces, with participants such as Octave Streetwear and the Australian Cartoon Museum.
Projects are place-specific and funded by the state government or local council, by building developers, managers or agents, and, more recently, with traders or business associations. For example, Renew Geelong was funded by the City of Greater Geelong and Creative Victoria. These large-scale projects provide Renew Australia with financial stability, supplemented by its consulting services.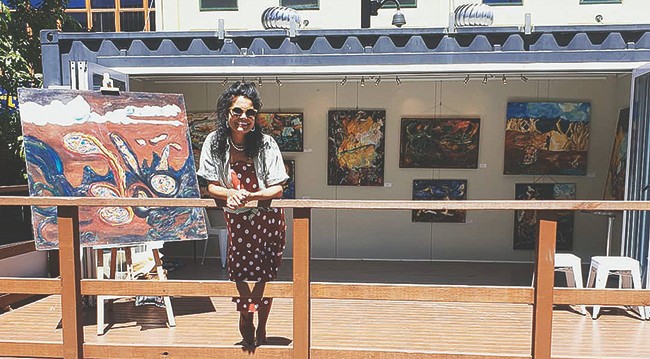 Carol Barossa from The Artists Guild
Board walk
Renew Australia has been building its board to help scale the enterprise and maximise its impact.
The board is chaired by former Shell global executive Peter Lamell FAICD who is also a non-executive director on boards including National Trust of Australia (Victoria) Foundation and Citywide Services Solutions.
Lamell joined the board after meeting Renew Newcastle founder Westbury. Renew Newcastle catalysed 82 properties and created and estimated 264 jobs, but he found each community had to tailor its approaches according to its needs, underpinned by basic common services. Westbury is now CEO of Collingwood Arts Precinct.
"I was so enthused by what he was trying to achieve," Lamell explains, saying he was also driven by a passion for the arts, and for using his skills and expertise to give back to the community. He says a curatorial process determines the selection of creative people to go into each shop at each location, as they need to be a good fit, but not competing with existing businesses.
Having worked at senior levels in Shell for 15 years, Lamell used his contacts at the Shell refinery in Geelong to smooth the path for the Renew Geelong project. Renew Geelong has since hosted dozens of artists and creative groups, including a furniture recycler and neon sign designer, and is now seeking applications for the next round of vacant spaces for activation.
The Renew Australia board also has directors from Melbourne, Victoria and NSW with a mix of architecture, finance and creative economy skills.
Collaboration brings results
Renew Woollongong Docklands space

One of the lessons of this process of trial and error is that renewal projects need to be responsive to local needs and tailored to the context of each town or city it works with. For example, Simons points out that Newcastle and Wollongong have suffered very similar economic downturns over the past few decades, but see their issues and identity as unique, so engaging different stakeholders is key.
Simons came on board six years ago. Both she and Lamell say they work well together because their skills are complementary. "When I met Peter and the rest of the board, we really hit it off, and we realised we have this commercial background, but a really shared love for the creative industries," says Simons. "There was an instant understanding that we were facing in the same direction."
The board is described as "spirited" and open to robust debate. "That keeps things fresh, because it's not like we're all sitting in the same boat rowing in the same direction all the time," says Simons.
Lamell says the pandemic has increased interest in the work of Renew Australia. "Every community in every shopping area has got vacant shops and there's every chance that it's going to stay that way."
Simons says COVID-19 has meant stakeholders are more willing to work together and collectively co-fund a project, while community members have developed an "affection" for their main street. "The mindset seems to have shifted towards my local, my street, my area — understanding if you want that to survive, to be vibrant, you must be part of it."
Though it sounds counterintuitive, the ending of a project is a key measure of success. "Our projects don't need to be there for 20 years to be successful," says Simons. "If [after] three years they start to scale down, we see that as success. These projects don't always want to get bigger, because that tells us the vacancy problem isn't being addressed."
What's old is new again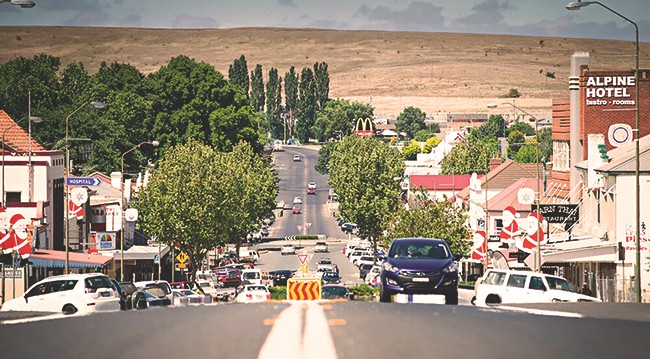 Renew Cooma began in 2014 in response to high vacancy rates among shops on the main street. Prior to the plan being implemented, there were more than 20 empty shops in the main streets of Cooma. Now there are nine activated spaces and a 20 per cent increase in foot traffic along with more than 25 expressions of interest. After an initial $3000 investment, Renew projects have generated an estimated $43,000 input to the local economy.
While the finds stocked by Nightbird Cottage Antiques and Collectables catch the eye of people passing through, co-owner Nikki Simons knew she would have to broaden her business plan. "We realised we couldn't rely solely on people coming through the door," says Simons, who started the business five years ago through the Renew Cooma project.
Prior to opening the shop, she hadn't appreciated how variable the retail industry could be and quickly learned a complementary income stream would be crucial.
"For us, it came through providing deceased estate management, both directly and from the appointed public trustee," she says. "We also sell online as this exponentially increases our marketplace."
Nightbird was part of the Renew Cooma program for three months. This allowed the business to road-test its viability prior to negotiating a standard commercial lease agreement. "The Renew program gave us a chance and it's really changed our lives," says Simons. "The biggest struggle was turning a passionate interest into a business that an outsider or accountant could look at and see we were making good decisions."

Simons sometimes found it challenging to resist buying everything she loved, in favour of making more strategic acquisitions. "It's an ongoing struggle because you have to remain passionate about what you do and really love it, while not making emotional decisions,"
Significant benefits arising from the business flowed through to the community. For example, the shop became a social hub when they added a library space with comfortable chairs. "People would come in to share their stories, often prompted by the fascinating things they saw come into our shop," says Simons.
Cross-referrals with other businesses in Cooma also developed and a group of six to 10 business owners also meet regularly to swap notes.
Source: Renew Australia
By putting downward pressure on rents and valuations, vacancies exacerbate stress on landlords, raising the potential for asset fire sales, further depressing retail property prices and affecting the broader economy.
Regional revival
Even before the pandemic hastened a rise in remote working, the exodus from cities was underway. Shorter commutes, more affordable housing, and an abundance of wide open spaces are among the many reasons more Australians are moving to regional, rural and remote areas.
For example, the Regional Australia Institute's (RAI) The Big Movers: Understanding Population Mobility in Regional Australia report revealed that millennials — those aged 20–35 years — living in the regions were more likely to stay there or move to other regional areas than to head for the big smoke. This trend is fuelling to a range of innovative projects that are bringing the regions to life.
Millennials — those aged 25–35 years — living in the regions were more likely to stay there or move to other regional areas than to head for the big smoke.
Regional Australia Institute
Formed in 2012, the RAI analyses and shares information about regional areas, including the challenges they face and how these might be best surmounted. One useful resource is its regional jobs vacancy map, which allows people to explore different jobs available in 37 regions across the country, from outback Queensland to the Pilbara and Kimberley areas of Western Australia.
The RAI has also developed resources for regional communities seeking to capitalise on the burgeoning national interest in regional Australia, says Dr Kim Houghton, the organisation's chief economist. Its Liveability Toolkit offers a step-by-step practical guide for regional leaders who want to boost their populations.
"Australia is on the cusp of a new era, one in which regional Australian towns have the opportunity to grow and thrive like never before," says Houghton.
Welcome to Country
Launched in December 2020, Welcome to Country is a marketplace that allows people to search and book experiences that are Aboriginal and Torres Strait Islander-owned, operated or led. There are currently more than 400 Aboriginal and Torres Strait Islander businesses actively engaged in the delivery of over 1000 experiences,including everything from a bush tucker tour in Bangalow through to a charter 4WD tour of Kakadu and Arnhem Land.
Welcome to Country aims to enable prosperity in Aboriginal and Torres Strait Islander communities through tourism. It is led by CEO and Aboriginal man Jason Eades. The board includes Eades and philanthropist Roger Allen AM MAICD, along with former Tourism Australia CEO John Morse AM and Rhoda Roberts AO, head of First Nations programming at Sydney Opera House.
Wander
As an interior designer, Cassandra Sasso thought there must be a better way to build hotels than erecting large towers that lacked sustainability and separated guests from the surrounding environment.
"[My business partner and I] realised that instead of having 100 rooms in one location, we could have one room in 100 locations," she says.
Sasso, the co-founder and CEO of Wander came up with the concept of WanderPods — luxurious, self-contained, standalone, light-footprint hotel rooms set in spectacular natural locations. The first WanderPods are set to open in July at The Overflow Estate 1895 in Queensland's Scenic Rim. The Overflow will lease the pods to Wander, which will manage, market and operate them.
Construction was assisted through a $1.33m Queensland government Growing Tourism Infrastructure Fund grant. The Scenic Rim Regional Council expects that the WanderPods will bring long-term economic benefits to the region.
This is of of your complimentary pieces of content
Already a member?
Login to view this content