Chairs and CEOs have a unique relationship which should be anchored by mutual trust and respect. Three pairs of CEOs and chairs share their tips for establishing a successful working partnership.
Great documentary films are more than history lessons about social issues. They can make history by inspiring and instigating action. While it's no secret some of the best documentaries cost more than they recoup at the box office or via distribution deals, the philanthropists who fund films through Documentary Australia Foundation are more interested in what the organisation calls "a social return on investment".
Founded in 2008 by award-winning documentary filmmaker Ian Darling AO and Dr Mitzi Goldman, the foundation has so far attracted more than $25m in philanthropy for films, fellowships and programs. The organisation connects and enables filmmakers, donors, advocates and educators to work together in strategic partnerships, using storytelling for social initiatives. During the past 10 years, it has supported more than 600 films. Documentary Australia doesn't produce documentaries itself, although Goldman has been a filmmaker for more than 30 years.
"Stories can amplify the effect of the work and unite people around an issue — such as the social sector working at the coalface of these issues, filmmakers, who often struggle to get funding, and philanthropists," says Goldman.
The philanthropy model has become increasingly important as government film funding agencies and public broadcasters have had budgets slashed, while networks shifted to reality TV shows rather than hard-hitting social issues.
"When you work in this sector, you're always looking for new funding models, and the Documentary Australia Foundation model was groundbreaking," explains Sam Meers AO FAICD, who first joined the board as a founding director when it was chaired by Darling in 2008, and served for three years.
A lawyer and philanthropist, Meers has served on several arts boards and runs the Nelson Meers Foundation, a private philanthropic arts foundation she established with her father in 2001. In 2015, CEO Goldman, along with the board, asked Meers to come back as chair. She agreed, feeling she'd built skills in the interlude that could help the organisation and was keen to work with Goldman again.
"Coming in as chair on a fully formed board made it a little bit harder," she says. "I was mindful of being respectful of this effective, functioning whole. Initially, Mitzi and I had to find our chair-CEO groove and be confident in our roles. It also involved me encouraging her to seek counsel from others."
Meers recognises passion for the cause is a big reason people join an NFP board, so one simple adjustment was to find other ways for board members to participate more in the organisation's work. She did this through a board subcommittee structure, and by encouraging Goldman to call on individual directors for their particular skills when needed. To support the additional time commitment from directors, she cut one board meeting a year.
"I've learned not to go into forensic detail in board meetings," observes Goldman. "Sam and I will talk through the detail then present the executive summary. She likes to keep it 'big-picture, strategic' and leave the detail to me. I appreciate that and think we manage to bring everyone along with us. If they want to be more involved they can meet with me or engage through the subcommittee, where people have a voice and agency."
As chair, it's important not to destroy the passion because it's crucial to what we do. My style was to be the conductor rather than a benevolent dictator, but it took me time to learn how to do this effectively. Trust and respectful communication are the key.
A bigger voice
Meers and Goldman don't want to nominate a favourite documentary. "That's like being asked to choose my favourite child," says Goldman. But they do share a list (That Sugar Film, Backtrack Boys, Ka-Ching! Pokie Nation, Blue and I Am a Girl) of those films with the biggest impact.
"Stories are the connective tissue that keep us all human and help us make sense of the world we live in," says Meers. "It's why we've been really keen to implement screening programs and get our documentaries online, so people can see them regardless of their socioeconomic background. Art in all its forms is so important. It's a soft mechanism into really complex social issues."
Documentary Australia Foundation now has a shared model for the funding and impact campaigns of documentary films, because amplifying the message of these films is vital to the organisation's mission of inspiring action on social issues. The impact campaign for Ka-Ching! Pokie Nation, for example, is still running four years after it was first shown on the ABC. The organisation partnered with the Alliance for Gambling Reform to take the film to affected communities and their influencers, such as clubs and pubs. Similarly, environmental documentary Blue was promoted on a large scale with community screenings targeting grassroots audiences and, importantly, businesses and politicians, explains Goldman.
"Screenings were organised at strategic moments when governments were making decisions about how to respond to plastic pollution," she says. "Cutting through partisan politics, we focused on the importance of creating marine sanctuaries."
Over the years, different programs have been tried. A program to teach documentary making in schools was halted by Meers and the board because it was considered "mission creep". It was a tricky conversation for a chair to have with a CEO, she acknowledges. "Mitzi was passionate about it and doing a great job, but it was diverting resources away from our main business. The compromise was to wind it back."
Goldman agrees it was the right call, "I was deeply invested, but it was very labour-intensive going from school to school delivering the program. Now we're looking at putting the resources online. We don't have big disagreements and do listen to each other. I can be passionate and get worked up. Sometimes Sam might share the outrage, if it's appropriate, but she's really level-headed. She's got a legal mind and a way of reminding me to pull my head in — it's not always strategic to show anger."
"Perhaps the legal training makes me think about things more deliberately," says Meers. "But as chair, it's important not to destroy the passion because it's crucial to what we do. I realised it was really important for me to support Mitzi's courageousness, but also be the foil, making sure we stay focused on our long-term strategy. My style was to be the conductor rather than a benevolent dictator, but it took me time to learn how to do this effectively. Trust and respectful communication are the keys."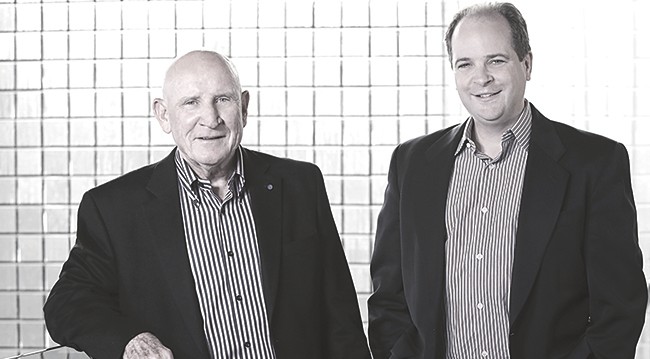 ResMed Inc
At medical device maker ResMed Inc, the chair-CEO relationship has the added dynamic of being between father and son. By Christopher Niesche
Asked what makes for a good relationship between a chair and a chief executive, ResMed CEO Mick Farrell nominates openness, trust and humility. His father, ResMed founder and chair Peter Farrell, nominates transparency because there shouldn't be any doubt about what the other person is doing or saying. "It doesn't matter whether it's a father or son thing, you've got to be able to trust the people you're working with," he says.
Mick agrees, saying there has to be an intrinsic sense the other person will do the right thing all the time, every time. "I can't think of a greater level of trust than sharing 50 per cent of your DNA," he says.
ResMed has built a reputation as a pioneer of medical devices to treat sleep apnoea, chronic obstructive pulmonary disease (COPD) and other chronic diseases. With its headquarters in San Diego, California, it has market capitalisation of close to US$19b and has recently moved into software-as-a-service for out of hospital care. The company was founded in 1989 when Peter acquired technology for the treatment of obstructive sleep apnoea (OSA), which had been developed by Professor Colin Sullivan at the University of Sydney.
Revenues for ResMed's first fiscal year in 1990 were less than $1m and there were nine employees. In the past fiscal year, the company earned revenues of US$2.6b and now employs more than 6000 people and operates in more than 120 countries.
ResMed dedicates seven per cent of its annual revenue to research and development, and during the past five years has been reinvented with a focus on digital health alongside its sleep apnoea and breathing devices. Communication chips are installed in every device it sells and the company now has more than 10 million connected devices utilising the cloud. ResMed aims to be a world leader in digital health for COPD and OSA, as well as outside-hospital medical software such as home medical equipment, hospices and skilled nursing facilities. Peter cites research data suggesting 50 per cent of adult males and 25 per cent of females suffer from sleep-disordered breathing.
We had a direct conversation in 2014 and I said if I was going to do the job, he had to properly give it up.
The board meets once a quarter, which is standard in the US, but only about half as much as a typical Australian board. "Australian boards have way too many meetings," says Peter. "It's insane because management spends several days a month preparing for board meetings. Things just don't change that rapidly, particularly in big companies."
The board also decides on strategy and then it's up to management to develop a game plan and let the board track progress, he says. Supplementing the quarterly board meetings are monthly meetings Peter holds with Mick and president and chief operating officer Rob Douglas. These meetings allow Peter to get an update and review issues with the two executives, but do not stray into board territory. "It's more them informing me rather than me offering any suggestions or judgement," he says.
Mick says he draws on his father's "muscle memory" in running ResMed for so many years to check he's on track. "You may as well learn from all that wisdom," he says.
The office of the CEO was formed when Peter stood down as chief executive and Mick won the role over Douglas in 2013. Douglas was appointed president as well as COO in an effort to retain him.
Mick focuses more on strategy, industrial relations and spending time with customers and investors, while Douglas looks after the internal business. Each can make decisions for the other. If, for instance, Mick is out of reach on a plane, Rob can decide on an urgent matter in a business unit, which Mick would usually do.
"Together we make a strong team," says Mick, pointing to the rise in the stock price from US$43 when the pair took over six and a half years ago to around US$131 in September. This raises the obvious question of how Mick won his job over his rival. "Business is about business and it wasn't like daddy put his little boy in there to run the whole thing," he says, noting that executive search firm Spencer Stuart was consulted on the appointment.
The choice between Mick and Douglas came down to technical expertise. With a chemical engineering background, Mick had worked in biotech and for a medical advice company before joining ResMed 19 years ago. Nonetheless, father and son have to work to quell any perception of paternal favouritism. "Culturally, everybody else has to feel you're not going to back your son just because he's your son," says Peter.
It can be hard for any CEO turned chair to totally relinquish their executive role and perhaps more so when the chair is also the founder and the father of his successor. Mick says that in 2013–2014, after he took over as CEO, there were a couple of occasions where Peter overstepped the boundaries to get involved in operations or speak to journalists or analysts. "We had a direct conversation in 2014 and I said if I was going to do the job, he had to properly give it up'," says Mick. "Since then, I've not felt one moment where Dad has tried to jump into an operational context."
Peter says that as a general rule there is no conflict between because issues are voiced well ahead of time, giving both parties time to "marinate" on them. Board meetings are also very open.
"People are very vocal and say if it sounds like a bit of crap," he says.
One issue in 2016 was whether to spend US$800m — then 10 per cent of ResMed's market capitalisation — to buy a company called Brightree and enter software-as-a-service, an entirely new market for the company. "We had a debate, we talked about facts, we analysed the issue and ultimately the board said: 'We will vote for this and you guys are accountable to make it work'," says Mick.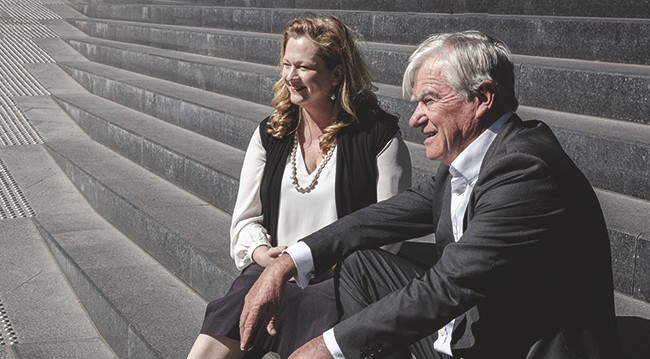 Australian Business Volunteers
Chair Mark Epper GAICD and CEO Liz Mackinlay MAICD are driving a corporate social responsibility strategy to alleviate poverty in the Asia Pacific region. By Stuart Ridley
Many directors are reluctant to fully retire from working while they feel they have more to give. Mark Epper GAICD is a case in point. Epper took early retirement from KPMG at 58 after nearly three decades working as an audit partner in Australia and overseas. He'd already served on the KPMG board and as a member of its remuneration committee when the opportunity to join the Australian Business Volunteers (ABV) board came up in 2015. He was appointed chair a year later.
"I feel I've got some good years left and was looking for something to keep me active in my post-KPMG years," says Epper. "I especially wanted to work in an area where I could make a difference and add value."
The ABV vision is "to alleviate poverty by using business expertise to drive inclusive economic growth and wellbeing". Many of its volunteers are like Epper — business experts who've retired and who volunteer to work alongside corporate-sponsored volunteers to execute corporate social responsibility programs. Established by the Australian government in 1981 as the Australian Executive Service Overseas Program (AESOP) to channel the skills of newly retired Australian executives into community projects under the guidance of the Department of Foreign Affairs and Trade (DFAT), its name was changed to Australian Business Volunteers in 2003.
Time to innovate
In 2017, the organisation reset its business model. "We lost our funding from DFAT, then lost our largest corporate client (IBM) and the CEO resigned," explains Epper. "We couldn't just do what we'd always been doing. It was obvious we needed a new CEO who could oversee the transformation from being government-funded to self-funded. While the board was comfortable with the 10 to 12 staff we had at the time, it soon became clear some of those people weren't the right fit for the transformation."
So ABV appointed a new CEO. Liz Mackinlay MAICD had more than two decades' experience in international development with not-for-profits such as World Vision and Red Cross International, when she was approached to transform ABV. She could see the organisation was at a fairly critical junction, having lost two-thirds of its funding streams.
"The question I asked the board was: this is a risky proposition, are you prepared to really innovate? Can I create a business model that is sustainable and will leverage some of the organisation's assets, particularly the business volunteers?" she recalls. "Mark said I could have a blank piece of paper. That was huge. To be told I could develop something that draws on all of my experience and they would back me as a board was a pretty exciting proposition."
Epper admits it's unrealistic to believe the road will always be smooth in business, therefore it's vital to keep a level head and be patient during major change. Both approaches have served him well across years of managing business audits.
Making changes
"Some people weren't willing to change or didn't like the new style of CEO," says Epper, reflecting on the major review of ABV's staff. "There were some gnarly moments. But we backed Liz's judgement as CEO and encouraged her to make hard decisions if they had to be made, including letting people go who some board members had relationships with for several years. We told Liz it was her responsibility to lead this organisation, and not to be afraid to challenge the status quo."
Most of the existing staff members were accustomed to administering projects under the old government grant, but didn't have an entrepreneurial skillset, notes Mackinlay, explaining why she had to replace them. ABV's new funding model relies on winning corporate partnerships and helping businesses execute their corporate social responsibility strategies.
"One staff member said working with corporate partners didn't align with her values," says Mackinlay. "I told her it was good to acknowledge that and there was no harm or bad feelings. We spend so much time working and I support people to find roles where they will be happy."
Trust is essential in the chair-CEO relationship, insists Epper. Major contributors include the chair being a sounding board and mentor while letting the CEO get on with the day-to-day job of leading the organisation. Epper acknowledges one of the lessons from his KPMG years is accepting you don't have to do everything yourself.
"Liz can spread herself a bit thin, so one of the things she brought up — which I'm encouraging her to follow through on — is that she needs to delegate more," he says. "I don't try to manage her, although I encourage her to take leave, particularly after a lot of travel. She's said a few times she appreciated my advice to take time to recharge her batteries."
Stability and sustainability
Although the change in the business model was forced by DFAT dropping its funding support, Mackinlay saw an opportunity for growth. ABV is now pursuing bigger partnerships with corporations keen to contribute to the UN's Sustainable Development Goals.
"The business community is now far more engaged around corporate social responsibility and outcomes for community," says Mackinlay. "That's the big opportunity. Because we're focused on business volunteers, we've proved we're well placed to engage with corporate partners."
Mackinlay is pragmatic about building a pipeline of partnership opportunities, having seen during her years in international development how low conversion rates can hurt NFPs. She has a "one in five rule" for her business development pipeline — if ABV needs 10 partnerships next year, then she needs 50 potential partner organisations lined up.
"It's also being really vigilant about getting the brand out there, getting speaking opportunities and making sure people understand the value proposition," she says. "What we've really had to do as part of our model is talk about partnership, not projects. We're not manufacturing widgets. It's that understanding of community engagement and creating sustainable change at a community level."
Volunteering on community projects and serving on NFP boards presents plenty of excellent opportunities to put business skills to the test, says Epper. Historically, corporate social responsibility (CSR) activities might have included helping out at a local community centre. These days there are many more ways to add value.
"You're putting into practice some of the things you learn in the Company Directors Course, and in your job, to make a difference," he says. "One of our corporate partners in Australia is National Australia Bank, and we have a very good corporate skill volunteer program with them."
ABV had a team of senior NAB staff working with not-for-profit Two Good Co, developing a three-year business plan and an impact measurement framework — all in a few weeks of volunteering.
Working in an NFP can be a "transformative experience" for corporate leaders, says Mackinlay, because of the intense work involved in helping resource-strapped communities. "It's quite profound what can be achieved when we take top talent out of the bank for two weeks and put them into an NFP to solve some of their tricky business problems. It's also great for the corporate as a staff-engagement strategy and we're getting incredibly high engagement scores."
"Every corporate should have some involvement in CSR," says Epper. "Your responsibilities are much broader than just those you have to your shareholders. If you acknowledge that you are part of a community and need to make a contribution, it's remarkable what can be achieved."
This is of of your complimentary pieces of content
Already a member?
Login to view this content