Phil Ruthven puts Australia's best companies under the microscope to assess what makes the high-fliers tick.
Each year, IBISWorld downloads its company database to find out how well corporations and government entities have performed over the previous five years.

The survey eliminates companies that have had negative shareholder funds at any stage over that period, less than five years of official data or that have any other characteristic that would invalidate fair comparisons.

For the 2013 reporting year, the analysis covered 555 companies with a combined revenue in 2013 of $1.1 trillion, or just over a quarter of the nation's $4.3 trillion in revenue across its 2.2 million businesses (see Figure 1).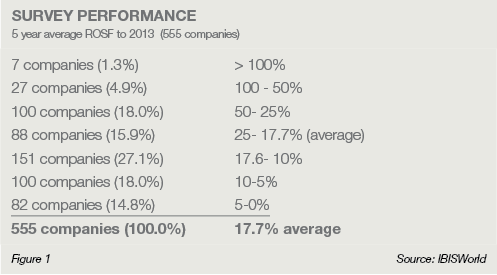 The revenue of advanced nations these days is usually just under three times its GDP. 

We examined the weighted average return on shareholder funds after tax (ROSF) over the five-year period to 2013 for these companies.    

Figure 4 shows a quarter of the best 100 list from the survey, and an eclectic list it is.

Almost a quarter of the companies bettered a five-year average ROSF of 25 per cent and 40 per cent improved on the overall average of 17.7 per cent.

More than five per cent of the companies had an average in excess of 50 per cent ROSF. At the other end, a third of the firms achieved an average of less than double figures.

There was also a wide diversity of performances across the nation's 19 major industry divisions, with weighted average ROSFs of 2.5 per cent to 31 per cent.

There would be no surprise that government administration and defence is at the bottom (an industry average ROSF over five years of just 2.5 per cent).

Surprisingly, mining – the boom industry of the first decade, at least in prices if not volumes – has fallen down the list to fifth place, but still has a commendable average of 25 per cent.

However, media and telecommunications topped the list with an impressive 31.3 per cent average ROSF over the five years, just ahead of professional and technical services (30.7 per cent).

Eight of the 19 industry divisions had a weighted average of over 20 per cent return on shareholder funds after tax.

Eight industries performed below the average, including health, hospitality (accommodation and restaurants), education and utilities (electricity, gas and water).

The more interesting results were those for the nation's 100 best-performing businesses (combined revenues of $125 billion in 2013), as incorporated within their appropriate industry divisions in Figure 2.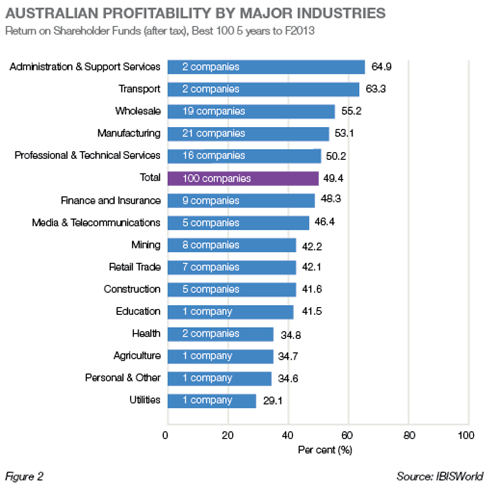 Fifteen of the nation's 19 divisions yielded winners, the worst industry averaging a staggering five-year average ROSF of 29 per cent and the best at 65 per cent, being administration and support services (incorporating a diverse range of activities such as staff hire, landscaping and gardening services, travel agencies and other support services).

The most populated of the industries was manufacturing, an industry under blow-torch pressure from Asian competition, flat demand and an over-valued dollar. This industry had 21 of the 100 winners in 2013.

In fact, Figure 2 puts paid to the old concept of "good" and "bad" industries: over a five-year period there really is only good and not-so-good companies.

Even industries that ranked near the bottom produced champions.

So what made those high-fliers tick? Figure 3 helps.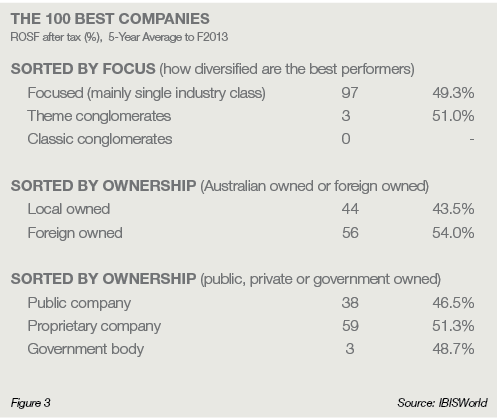 It is encouraging to note little difference between local and foreign ownership (although the latter did better as always) or between types of ownership (private, listed and government).

An argument-settling characteristic was focus. Some 97 of the best 100 were essentially in only one of the nation's 509 classes of industries (that make up the 19 industry divisions shown earlier), as defined by the Australian Bureau of Statistics with the ANZSIC classification system.

Now that is focus. When they run out of room in a country as small as Australia (just 1.6 per cent of world GDP) they can do the same in the rest of the world – a market over 60 times that of Australia.

The other three winners were theme conglomerates, meaning several or more industry classes but all within a single division (for example, retailing, manufacturing, construction, finance and so on).

Not one winner was a classic conglomerate and there has not been one on the list for years.

Classic conglomerates are out of fashion. They are found in many classes of industry and across more than one of the 19 industry divisions in the economy.

And they assume that good and tight management alone is enough to make any industry very profitable.

But, there is more to it than that.

Conglomerates now only work in developing economies.

The record holder for diversification in Australia was Adsteam, which disintegrated in the early 1990s, with 82 different industry classes.

Pacific Dunlop and BTR Nylex were each in 56 different industry classes before imploding and being broken up.

Long gone are conglomerates such as Gollin & Co (44 different activities in the 1970s) and the once-glorious Burns Philp, an Australian-based international conglomerate.

These days, our classic conglomerates are all in under 15 industry classes. But this is still too many to have any chance of getting into the nation's best-performing list.

Focus, innovation (IP), positioning, world best practice, unique organisational culture and leadership are among the many qualities to be found in our best 100.

What is encouraging from these results, when we worry about our industries these days, is that industry is secondary to other qualities and does not necessarily influence performance.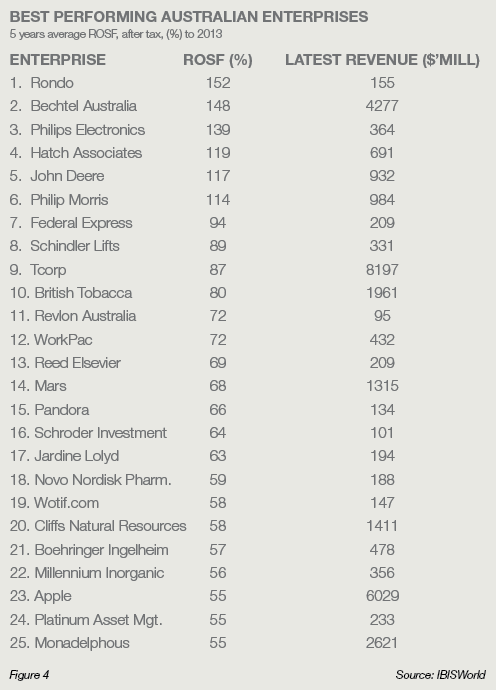 This is of of your complimentary pieces of content
Already a member?
Login to view this content