While business profits are up, the average return to shareholders seems to have stalled, leaving room for improvement in financial governance, argues Phil Ruthven AM.
Businesspeople were 19th-century heroes, their inventiveness, adaptability and skills generating a quarter of Australia's GDP as exports by the time of Federation in 1901. The adoption of protectionism in 1908 saw businesspeople retreat to a fortress-style stance for most of the 20th century. Now it appears the business world has lost the plot. It has been disappointing to learn of lack of honesty and good governance in our financial institutions as revealed by the banking Royal Commission.
The overwhelming number of directors and executives are honest and conscientious. When it comes to the community perceptions, though, in terms of ethics and honesty directors rate lower than you might think. According to the 2017 Roy Morgan Images of Professions survey, company directors rate above politicians, unionists, journalists and car salesmen but below accountants, lawyers and bank managers. None, by the way, come anywhere near the health professions, which consistently dominate Australia's most highly regarded occupations (nurses, rating 94 out of 100, have topped the annual survey for 23 years).
Directors were rated by 25 per cent in the 2017 survey, lower than religious ministers (34 per cent), but higher than business executives (18 per cent). Of little comfort is that our elected politicians scored just 16 per cent.
A minority of crooks in many professions spoil it for the rest. IBISWorld analysis shows it isn't just honesty and a lack of punishment for these corporate crooks by appropriate authorities that is the problem. There is a failure to perform in financial terms and often, partly as a result of that failure, to satisfy the "triple bottom line". A business needs good profitability to optimise its relationships with those other stakeholders — customers, employees and the environment.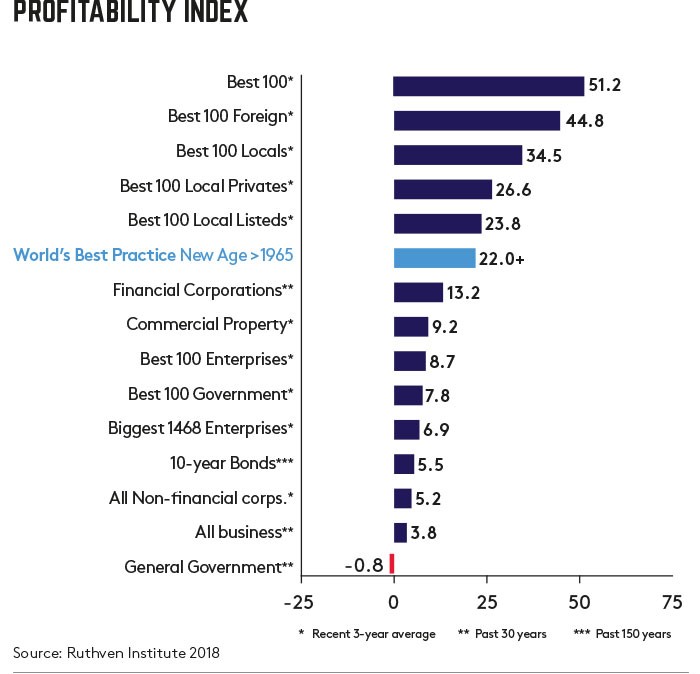 Many corporations have problems with such issues as poor leadership, ineffectual or dysfunctional boards, and tolerance of misogyny, bullying and sociopathy. No nation will ever be perfect, but Australia has room for improvement. We need to rejoin the admired and respected sectors of society, even if we don't quite reach hero status.
Hard statistics
Some of the following facts will make directors wince, but they help explain the low rating of businesses and business leaders. Firstly, the average return on shareholder funds (ROSF) after tax by the nation's 2.2 million enterprises has stayed unchanged at a 3.8 per cent for the past three decades, lower than the risk-free 10-year government bond rate (5.5 per cent). We lose one in eight of our enterprises each year, partly because there is no training qualification for starting and operating a company, unlike the requirement for a licence to drive a car. A similar number of companies start up each year, with prospects of almost half shutting down by the fifth year.
Our largest 2000 businesses, with close to half Australia's $5.3 trillion revenue this year, have not even earned an average seven per cent ROSF over the past three years. Our 100 largest corporations (accounting for 22 per cent of the national revenue in 2017–18) averaged 8.7 per cent ROSF over the past three years, less than twice the normal bond rate. Only nine of the 100 achieved world's best practice of 22 per cent ROSF. Seventeen ran at a loss for the three years and 39 failed to equal the long-term average bond rate. Other than explaining it all away as an ongoing miracle of tax-effective planning, the lack of adequate profitability across the entire business sector requires equal and urgent attention. As directors, we perhaps shouldn't kid ourselves that our governance in financial performance terms is good — or even satisfactory.
The appropriate question is whether all of our business associations and tertiary education institutions have been on the right track over the past three decades, given there has been absolutely no increase in national profitability of languishing at less than four per cent.
We need better advice and education up to and including director level. The majority are driving without enough knowledge and skills.
This is of of your complimentary pieces of content
Already a member?
Login to view this content