There are many strategies board members can employ to get more directly in touch with the needs of stakeholders. These can provide a powerful feedback loop to the business which can improve services and products offered to the market. One of the most effective ways to consult with stakeholders is to set up advisory committees that can provide the board with specialist and unique information, insights and data.
Setting up advisory committees to provide important feedback to boards can be a powerful way to tap into the views of stakeholders and the issues they regard as important, according to David Gonski AC FAICDLife who was speaking at a recent event to launch the AICD's new publication Elevating stakeholder voices to the board: A guide to effective governance. The full event can be accessed above.
Gonski, who is Chair of the Sydney Airport Corporation and Chancellor of UNSW, shared that when he was the chair of the ANZ Bank board, he formed the Ethics, Environment, Social and Governance (EESG) Committee where experts gave advice on subjects like gambling and how banks could play their role in minimising social harm. "I chaired the committee, not because I thought I'd be the best chair, but…I was very enthusiastic about it. And it became like a lightning rod. The issues that we debated on that committee were amazing." Board committees can be incredibly powerful, he said.
According to the AICD's new guide, which examined ANZ's EESG Committee in a case study, committees such as this can assist the board by thinking about the broader issues and impact the organisation might be having and in sharing perspectives from current governance literature and from the broader community.
Australia is also starting to follow the practice of European companies in setting up worker advisory committees, added Scott Connolly GAICD, Assistant Secretary to the ACTU, who also spoke at the event. "I think it's a really good emerging trend."
Virgin Australia is an example of an organisation who has set up a committee with worker representatives. "What surprised me as part of discussions with [the] prospective owners of Virgin Australian over the course of last year, was that both global private equity bidders have agreed to establish a workplace advisory council in the event their bid is successful," he said. "Clearly, they are starting to think through how they act in a new world of stakeholder capitalism."
While regular informal engagement with stakeholders, including workers, is important for boards, the engagement must be authentic, he said. "Advisory committees are important and can play a key role, but there needs to be a real genuineness to that engagement. There also need to be proper resources and support."
In another example outlined in the guide, Insurance Australia Group (IAG) established a 'Consumer Advisory Board' that is led by the CEO with the CEOs of customer advocacy organisations all participating. IAG's chair also attends as an observer. This committee provides the board with the opportunity to hear directly from customer advocates about vulnerable and disadvantaged customers who are an incredibly important subset of customers.
"The committee agenda is succinct and clear and driven by the [customer advocacy] representatives, who say what they think needs to be addressed or fixed in the business," said Gerard Brody GAICD, CEO of the Consumer Action Law Centre, who has been involved with the committee.
"Then the business looks at that and comes back with what needs to be done, often with consumer engagement committees or community engagement," he said.
"I think [the stakeholder consultation process] really needs to start with listening to what the issues are, then acting upon those, so there is a change in the business," said Brody.
Flourish Australia, a specialised community mental health service, engages and partners with the Flourish Australia Community Advisory Council which represents the people accessing services across the country. In this example, the council helped the board with service delivery during COVID-19 and has contributed to the development of a new strategic plan and framework.
Steps for boards on stakeholder governance
The AICD guide outlines five stakeholder governance steps for boards to take and questions that boards should ask.
STEP 1: STAKEHOLDERS AND ORGANISATIONAL PURPOSE
Which groups are vital to the organisation's long-term success and what are their interests?
STEP 2: VISION
Does our organisation need a formal stakeholder governance framework?
STEP 3: ENGAGEMENT
Should the board be directly involved in engagement with a particular stakeholder group or on a particular issue?
STEP 4: DECISION MAKING
How does the board's decision-making process reflect stakeholder perspectives?
STEP 5: EVALUATION
Does the board regularly review the effectiveness of the organisation's stakeholder governance vision/strategy?
"Understanding stakeholder perspectives and how the organisation is managing relationships with key stakeholders is a deliberate exercise, and it is critical for the board to effectively discharge these responsibilities," the guide says.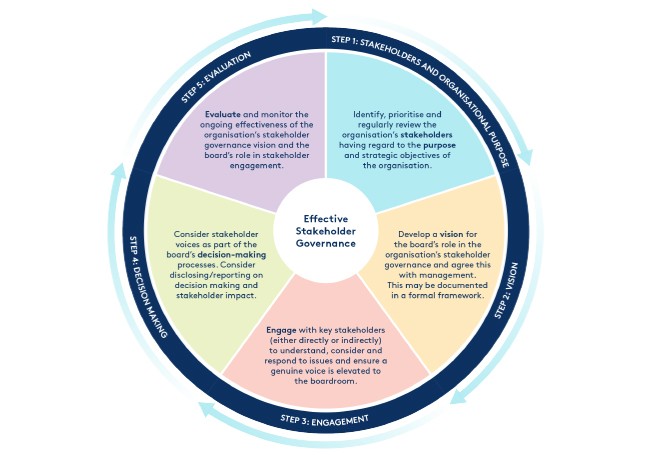 Self-education for directors
Besides advisory committees, there are other ways for board members to get more in touch with the needs and concerns of stakeholders.
Site visits can yield insights into the way the business really operates, the chair and directors can take part in self-education programs to gain insights into the needs of customers and consumers, or directors can explore available data to make sure they are asking the right questions.
"Directors should bring their own humanity to the table, and really understand what life is like for the broad variety of customers or consumers, and take steps to really understand those who are doing it particularly tough and what their interactions with the business are like," Brody said at the event.
Directors should also take steps to put themselves in the shoes of consumers and other stakeholders, added Gonski. "I think board members should be taking steps to educate themselves."
Gonski, in his role as ANZ chair, once attended a forum for directors and leaders linked to the Consumer Action Law Centre's National Debt Helpline, where consumers could phone in for advice on their finances. "I thought, obviously being the chairman of a bank, I knew everything about finance, why did I really need to do it? But I have to say, the three hours we spent there was a big eye-opener to me. I also brought my CEO with me, and he agreed."
The A Day in the Life program, initiated by Financial Counselling Australia, allows decisionmakers including company directors, politicians and regulators to spend time listening to callers on the national debt helpline, said Brody.
"I think that's a really good example of the type of engagement that's proactive by a director, so they can understand some of the difficulties people are facing in the community and to help them with decision-making at a board level."
The Good Shepherd Australia charity also runs a microfinance immersion program where company directors are invited to see life from the perspective of disadvantaged and vulnerable people in the community, said Brody. NAB and Good Shepherd Microfinance co-developed the program for executives and policymakers to hear first-hand from clients who benefit from microfinance products.
Effective site visits
Site visits are a useful way for directors to observe firsthand the workings of the organisation.
Kathleen Conlon FAICD, director of Lynas and the Benevolent Society, said one question she always asks workers on site tours is how often they see management. "It's really interesting," she said. "I was on one company board where we appointed a new CEO, and a [worker] said to me… "I've seen this new CEO more in the last three months than I saw the last CEO in four years… So my concern is that management is out there and talking to people."
As a director, the process comes down to asking for feedback, and "people are willing to give it to you if want to hear it," she said.
Gonski added that smaller site visits can sometimes be more effective and less formal than tours conducted by the whole board. "I'm not sure that board tours are a great idea… the best thing that's worked for me is to go with another director, because staff talk to you more… and you have more time to walk around."
He added that conducting effective listening across all the boards on which a director sits can be a valuable way to cross-fertilise learning points and inform decision-making in a diverse way.
"The virtue of having non-executive directors has never been more important for companies than it is now," he told attendees. "Because as you move from the Benevolent Society, or in my case, say the university, you are able to pick up all sorts of views, which are not the same as you pick up in Pitt Street or in Collins Street. And I think you've got to be alive to that."
This is of of your complimentary pieces of content
Already a member?
Login to view this content