Over recent weeks, close to 500 AICD members provided initial feedback to the AICD on the implementation of a Director Identification Number (DIN). We sought this input through two on-line surveys sent to approximately 3000 members.
AICD sought this feedback to assist the AICD respond to a Treasury consultation on Modernising Business Registers, which included a section on the implementation of DINs in Australia. This response was submitted to Treasury on 17 August 2018 and can be accessed here.
The AICD submission supported the introduction of DINs. We recognise that the effective implementation of DINs will make it easier for regulators and other stakeholders to track the corporate history of individual directors and further support targeted anti-phoenixing measures, while offering an opportunity to address security and privacy concerns at the same time.
While the AICD recognises that the vast majority of Australia's 2.5 million directors govern their companies with integrity and accountability, fraudulent phoenix activity by a small number of people hurts the economy, employees and creditors.
We have highlighted to Government that information confidentiality and security issues will be of paramount importance in implementing a DIN, and this will need further consultation and consideration.
Further, the AICD strongly recommends that the Government should prioritise the removal of personal director information from the public register simultaneously with the introduction of DINs due to identity theft, security and privacy concerns. We highlighted in our submission the progress made in both the United Kingdom and New Zealand on these fronts. New Zealand is currently ahead of Australia in proposals to implement a DIN, while the UK requires far less personal information than Australia following reforms in October 2015. The table below sets out the comparative approach:
| | | | |
| --- | --- | --- | --- |
| Details on public display | Australia | New Zealand | United Kingdom |
| Name and former name |  Y |  Y |  Y |
| Date of birth |  Y |  N |  N |
| Place of birth |  Y |  N |  N |
| Month and year of birth |  N |  N |  Y |
| Residential address |  Y (Note 1) |  Y |  N |
| Service/ correspondence address |  N |  N |  Y |
| Nationality |  N |  N |  Y |
Note 1 - A company director can apply to ASIC to have their residential address suppressed on the public database, and in its place use an alternative address. This can be undertaken in cases of personal safety through a 'silent enrolment' from the Australian Electoral Office.
Survey results
When we asked directors in Australia what DIN related data should be made publicly available on a register, we received the following responses: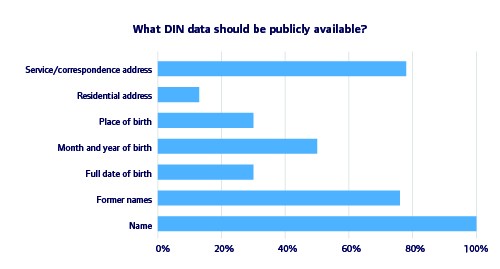 As shown above, the least popular criteria to include on the public register was the residential address, followed closely by the full date of birth and place of birth. The United Kingdom does not require the residential address or the full date of birth or place of birth, merely a service/correspondence address and the month and year of birth. New Zealand does not require the date of birth to be included on the public register, and they are currently proposing the removal of the residential address.
Questioning directors on the method they would prefer in applying for a DIN, 93% of directors that answered our surveys are comfortable with an on-line application process, as long as it is a simple process.
A DIN application process will likely require an identity verification process to be implemented. When asked what level of identity verification was supported, 84% of directors supported a 100 point verification similar to that used by banks for new bank accounts.
For certain existing online processes authorised agents, such as legal or accounting professionals, are allowed to respond on behalf of their clients. We asked directors whether authorised agents should be allowed to both apply for a DIN and 'consent' online to a director appointments on behalf of directors, and received the following results: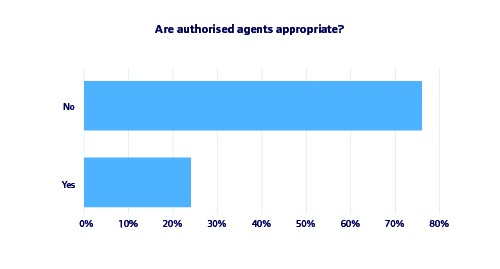 Further implementation preferences from our surveys included:
Support for a complete digital identity solution, in contrast to needing to visit an office or shop front. However, a partial digital solution which may involve the need to visit an office or shop front was indicated as another alternative.
A preference for directors to pay no fee when applying for a DIN and maintaining DIN registration, although directors were open to a nominal one-off fee.
DIN applications should be made for a specific directorship, in contrast to being able to apply for a DIN in advance of obtaining a director role.
A preference for retaining the existing notification to the regulator of director appointments and resignations with the company. However, some suggested that a director should be able to provide some form of on-line verification of the amendments made by the company.
Reform process
The implementation of DINs is a significant undertaking by the Government and will require further consultation with impacted parties as well as consideration of linked reforms (such as those to address illegal phoenixing). The AICD is likely to require further member input as part of future consultation on DIN implementation as the impact on our membership will be significant.
The AICD is working closely with Treasury around the proposed reforms and will be strongly advocating that the introduction of DINs be used as an opportunity to address director concerns around the current extent of personal information on the ASIC administered register.
We look forward to your support and input during the consultation process. If you require any further information or would like to participate in any future initiatives in this area please email Ms Kerry Hicks, Senior Policy Adviser (khicks@aicd.com.au).
This is of of your complimentary pieces of content
Already a member?
Login to view this content