Paralympic legend Kurt Fearnley AO is blazing yet another trail — this time in the boardrooms of the organisations that have shaped his life. He's calling on Australian boards to level the playing field and embrace diversity.
Kurt Fearnley AO has a question for board directors: where are the people with disability in your boardroom and management?
Fearnley, a Paralympic triple gold medallist and Commonwealth Games double gold medallist, says too few boards represent the Australian community in which one in five people have a disability and one in three households has a person with disability.
"We are missing out on a lot of talent," says Fearnley, who is a director of Sport Australia, the Newcastle Permanent Charitable Foundation and startup Compeat Nutrition. "I would hope every board would have a pillar in their strategic direction talking about inclusivity and equality that includes people with disability. I think, as good governance, that should be there because every board needs a variety of lived experience to enable it to make the best decisions."
Fearnley was born in 1981 with a congenital disorder called sacral agenesis, which prevented foetal development of parts of his lower spine. In 1985, when his parents enrolled him at Carcoar Public School in Central Western NSW — which three generations of his family, including his four older siblings, had attended — the Department of Education opposed it, saying segregated education — a "special school" — a drive away from his country home would be a better fit. His parents and the school principal refused, with Fearnley finishing school at Carcoar and then Blayney High School.
Kurt's collection
Track record
3 Paralympic gold medals
13 Paralympic medals (across five games)
40+ Marathon victories
2 Commonwealth Games gold medals
Source: Australian Network on Disability
Fearnley's face lights up when he recalls his high-school teacher inviting a sportsman in a wheelchair to meet students. "She ordered 10 wheelchairs into my school and put my peers and my brothers and sisters in wheelchairs," he says. "She truly showed me what sport is about — this even playing field. She had no idea of the world that she had just introduced me to."
The then 13-year-old took up wheelchair racing soon after. He went on to study teaching and human movement at Charles Sturt University, where, in 2005, he met his wife, Sheridan, now a director at NBN News, with whom he has two children.
Called to the board
His first board experience came in 2006, when Bob Meyenn, former dean of the Faculty of Education at Charles Sturt University, invited him to become a director of Australian Volunteers International (AVI). He remained on that board until 2015.
I would hope every board would have a pillar in their strategic direction talking about inclusivity and equality that includes people with disability. As good governance, that should be there because every board needs a variety of lived experience to enable it to make the best decisions.
Fearnley says he sat in on two board meetings as an observer and then the chair "took the risk" to invite him to join the board. AVI is part of the Department of Foreign Affairs and Trade's portfolio and sends Australian volunteers overseas as part of the nation's aid program.
"Being able to influence, in strategic ways, organisations that I've been invited into wouldn't have happened unless Bob took a risk, made a phone call and said, 'We can't wait for you to get the skills to be here — we need you now'," he recalls. "It was a risk placed on me and I recognised the risk of bringing somebody to the board who had experience in the education field, but no board experience."
Fearnley's teaching background was useful, as AVI sends educators abroad and his experience "brought in another layer of engagement", particularly given how challenging it can be for people with disability in developing countries.
He says he has grown since his first board appointment and gains a greater understanding of the risks and responsibilities with every role, but he still sees opportunities for fostering equality and inclusion in the boardroom. "If we waited decades to have every box ticked for people with disability [on] every board, we would be waiting a generation. Can we wait a generation?" he asks.
Inclusion is the jewel in the crown of what we're creating.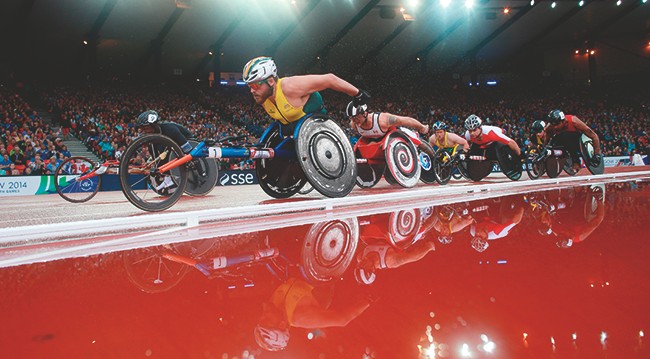 New frontier
Peter Wilson AM FAICD, chair of the Australian Network on Disability since 2015, says disability is the new frontier for boards and companies wanting to boost diversity and inclusion. The organisation, a private mutual company with 325 leading Australian public and private organisations as members, has a vision "to create a disability confident Australia built on the equitable inclusion of people with disability".
Wilson says chairs should do more to open their eyes to the value of recruiting people with disability to their boards, saying small adjustments can make it easier for them to contribute. "The enthusiasm from someone with disability who wants a position and values it can be extraordinary," he says. "Chairs need to open their minds. Many have been very good on gender and this is the same issue. We also need to make the workplace more accessible and see the changes needed through the eyes of someone with disability. The elephant in the room is that some people with disability will be concerned about stigma and it can seem all too hard."
Wilson, like Fearnley, believes the key is getting people into workplaces and having them succeed and be seen. "A good worker will make a good director," says Wilson, adding that 25 per cent of the network's board has a disability.
There are benefits beyond diversity of thought when it comes to being more inclusive, he adds. "Directors always want to do the right thing and it's important for their stakeholders and customers, so it's vital if they want to be a respected organisation."
Fearnley is on the board of the Newcastle Permanent Charitable Foundation, which was set up in 2003 to mark the 100th anniversary of the Newcastle Permanent Building Society with a $30m endowment. The foundation offers $1.5m each year in grants to local communities using the interest on that investment.
The board, chaired by Jennifer Leslie MAICD, meets at least four times a year and lists its mission as "Helping rewrite the future — now and for generations to come."
Fearnley says he loves being involved with a foundation that helps NFPs across the Hunter, Central Coast, Central West, Mid North Coast, New England and Northern Rivers regions of NSW, as "it's the footprint I grew up in — where my family lives and where I call home".
Good sport
Another board role close to his heart, especially in the lead-up to the Tokyo Olympics and Paralympics is Sport Australia, which oversees the participation and funding of sport — including the high-performance program at the Australian Institute of Sport (AIS) in the ACT, where Fearnley once trained. Sport Australia was founded as the Australian Sports Commission in 1985 under the Australian Sports Commission Act 1989. Chair Josephine Sukkar AM AAICD is the organisation's first female chair and the board meets monthly.
"The Sports Commission has been servicing my sport for decades and, to me, the AIS was Camelot, the light on the hill," says Fearnley. "It meant a lot to me to be down there training. When I got the invitation to join the board, I was shocked. I'd never heard of another Paralympian on there — ever — and it's one of those roles you have to do. I wanted to engage with that space."
With the Tokyo Olympics due to begin this month, Fearnley cautions he is "a romantic about sport" and says it's important for Australia to compete on the world stage. "I believe in the power of sport. I also believe in the strength of the green and gold and have seen the sense of service through so many people that have put everything into that green-and-gold.
"There's no financial reward for 99 per cent of those who create that legacy of the green and gold," he adds.
"If there is an Olympic Games and a Paralympic Games, I would hope the green-and- gold is there, proudly shaping that space, because we live in a world that is better for it."
The AIS was Camelot, the light on the hill. When I got the invitation to join the board... I wanted to engage with that space.
Fearnley served as a director of the board of Paralympics Australia (formerly the Australian Paralympic Committee) for three years, standing down from the role in 2019 because the Paralympics receives funding from Sport Australia. "Although I would have been able to leave meetings when the discussions were taking place, I didn't think I could be independent. I just didn't feel it was appropriate," he says.
As for what he hopes to achieve on the Sport Australia board, he responds with enthusiasm. "We're already achieving it — greater pathways for national sporting organisations and for them to be given the skill to create their own pathways for people with disability to participate in sport," he says. "I always go back to this idea that you're a steward of the organisation and you bring your lived experience, whether that be governance, accountancy or strategic advice. I hope we've been able to create a more holistic approach to funding sport. I hope we've given more kids more options to be involved in sport."
Where would he be without sport when he was a little boy? "I was lost, actually. I was lost with no sport," he replies.
When it comes to his career highlight, Fearnley nominates finishing his Australian representative career on home soil with a win in the men's T54 marathon at the Gold Coast Commonwealth Games in 2018 — and setting a record in his final marathon in Australian colours.
The next year, after he had carried the Australian flag into the closing ceremony at the Commonwealth Games, he was named NSW Australian of the Year. This followed wins in more than 40 marathons — including New York, Chicago and London — and a 12-day endurance test crawling the Kokoda Track in Papua New Guinea to raise awareness of men's health in 2009. "Nothing worth doing is easy" was his motto for the trek.
Equal opportunity
Asked if part of the problem of a lack of directors with disability is because they don't put themselves forward for board roles, Fearnley replies firmly: "I think they are putting themselves forward. That whole conversation is flawed, because we're living in a world that's not made for people with disability."
"Have you ever been to a workplace where you can't go to the toilet? Have you ever been in a workplace where you can't get to the lunchroom or car park? I've been to plenty. How am I meant to be engaging in that workforce as an equal?" Still, he concedes that things have improved over the 20 years he has been working. "The progress at an individual level, the life I've got to live right now, is exponentially wider than the options that were available when I was a kid," he says. "I'm going into rooms now and starting to see more people with disability in the workforce, especially in organisations servicing the community. Previously, there would often be no disabled voices at any level of the executive or the board. I'm sure that's different now but progress is slow."
Fearnley says many barriers still exist for people with disability to join boards and he can't nominate any organisation that is doing it well. "The first thing that gets in the way is that we're rarely employed for extended periods of time," he says. "If you're not employing and giving a trajectory for people with disability within our biggest organisations, how do we get someone to the board level?
"There are those in medicine, law and accounting who have disability. You tell me why they haven't been on boards; why they haven't been invited into the room to offer their experience, education and skills to assist in the strategic direction of stewarding an organisation. Why haven't they been there?" he asks.
Fearnley speaks of feeling both guilt and gratitude for the opportunities that have come his way, including his current role hosting ABC TV's One Plus One and being part of the Seven Network's commentary team during the Tokyo Paralympics, starting on 24 August.
"I recognise there are potentially 100 people with disability with media skills, with the desire to be in this space," he says. "But the door was open for me. Do you stop? Or do you go through it and do whatever you can to make sure the next person is more likely to get [through] that door?
"I feel so grateful that Bob invited me into this room where I was able to learn what it is to work with an organisation and allow my experience to help shape its vision and strategic direction, and to highlight potential risks coming down the track," adds Fearnley. "But there is guilt, because I know that there are multiple layers of people with disability who are more experienced than me."
He commends the 2018 Gold Coast Commonwealth Games for its approach as a combined abled/disabled sporting competition; offering almost double the number of paramedal events at the 2014 Glasgow Games. He also praises then Commonwealth Games Corporation CEO Mark Peters for declaring: "Inclusion is the jewel in the crown of what we're creating."
It's an ethos Fearnley hopes that more organisations and their boards will take up. He is convinced boards can make better decisions when they incorporate people with all sorts of diversity — gender, ability, backgrounds and life experiences — to participate in the decision- making. As for how directors can ensure that happens, he says they should create a culture — from the strategic vision to the trenches — in which an organisation is fit and ready to serve people with disabilities. Fearnley singles out transport to and from work as a significant challenge for people with disability — one that boards should be more alert to. "Most of the emails I receive from people with disability are about transport," he says.
Value alignment
In 2020, Fearnley joined the board of Compeat Nutrition, an app-based dietetics/consultation platform founded by former AIS dietitian Alicia Edge and her husband Dan. Camplify founder Justin Hales is also on the board.
Edge has said she discovered the system was "broken" when she realised her contribution as a dietician was confined to a small group. "We were changing the lives of elite athletes, transforming performance, but it couldn't really be accessed by everyone else."
Dan Edge says they selected Fearnley for his "value alignment" with the board. "Kurt is outward-focused. Corporate social responsibility is at the core of who he is, and at Compeat we're trying to create a new model of health care."
Compeat targets elite athletes and partners with the Socceroos, Matildas and NSW Waratahs. The company is chasing a new round of funding to expand the business to eventually service a global market. There are no immediate plans to list on the stock exchange.
Fearnley, meanwhile, is calling on people with disability to keep fighting for equality in the workplace, "even if you have applied for roles for the past 50 years and been knocked back. We need you to continually put your hand up and know that times are changing. It's hard to continually put yourself out there, but we need each individual to keep pushing in their own way. But we also need every single non-disabled board member, HR recruiter and executive to open their eyes to the depth of talent in our community.
This is of of your complimentary pieces of content
Already a member?
Login to view this content