A round-up of recent governance news.
Diversity and the bottom line
While successful female leaders such as Facebook's Sheryl Sandberg have made headlines in recent years, finding women in the corporate boardroom and the c-suite still remains a challenge.
Yet in the US, women make up nearly 40 per cent of MBA graduates and 40 per cent of managers, while in many other countries they make up an equal or greater share of tertiary graduates and the professional and technical work force.
However, a new study of nearly 22,000 firms globally from the Peterson Institute for International Economics has found that in 2014, almost 60 per cent of firms surveyed had no female board members, just over half had no female c-suite executives, and fewer than 5 per cent had a female CEO.
In contrast, there was considerable variation among other countries across the globe. For example, Norway, Latvia, Slovenia and Bulgaria had at least 20 per cent female representation in board members and senior executives. However, only 2 per cent of Japanese board members and 2.5 per cent of Japanese c-suite executives were women.
There was similar, though less dramatic, variation across different sectors, with financial services, health care, utilities and telecommunications relatively welcoming to female leadership, while fewer women were found at the top in basic materials, technology, energy, and industrial sectors.
The study shows that these figures matter to the bottom line. The authors report that when they examined the profitable firms in the sample (with an average net margin of 6.4 per cent), they found that going from having no women in corporate leadership (the CEO, the board and other c-suite positions) to a 30 per cent female share is associated with a one-percentage-point increase in net margin, which translates to a 15 per cent increase in profitability for a typical firm.
However, it is not just a matter of getting women to the very top ranks of management, the authors write. The results indicate that the impact of having more women in the c-suite is bigger than that of having one woman on the board or as the CEO, with the findings showing that female CEOs neither systematically outperform nor underperform their male counterparts.
The report highlights at least two channels through which more female senior leaders could contribute to superior firm performance. They are increased skill diversity within top management, which increases effectiveness in monitoring staff performance, and less gender discrimination throughout the management ranks, which helps to recruit, promote, and retain talent.

The big question
Question
Is there a need to either rescind or make redundant resolutions that were made by the board at a certain point in time but now, as the company has progressed, appear irrelevant or redundant?
Answer
If a resolution of the board is such that it has an ongoing effect rather than being a one-off decision, then the way for it to be changed is for the board to make a replacement resolution or decision if the original decision is no longer appropriate. The board could choose to put a time period on any decision, however this may leave unclear what happens at the end of that period. It is open to the board at any point in time to revise its past decisions and alter its approach accordingly.
This Q&A is taken from Director Assist, a complimentary member service operated in partnership with IFX. Answers are provided by a network of specialist practitioners.

The great strategy debate
Who is better at strategy? The chief financial officer (CFO) or the chief strategy officer (CSO)? That is the question posed by McKinsey & Company in a recent article examining the best approach to strategy execution. The answer, it found, is neither; they work best as a team.
Thirty years ago, strategy was considered the job of the CEO. Since then, as the composition of top executive teams has changed, responsibility for leading strategy development has been shared by more members of the c-suite. While the 1990s saw the rise of the strategic CFO, more recently, many companies have created a chief strategy officer (CSO) position.
While developing a good strategy is a management challenge that involves maximising the unique contributions of very different executives, at its worst it can require managing counterproductive tension and turf wars between CFOs, CSOs and business-unit heads.
However, such friction is destructive, McKinsey says, mainly because it is a missed opportunity. It says the CFO and the strategy head are far more effective when they collaborate and identifies three particular areas where cultivating this partnership can have major impact on performance.

Ensuring that strategy has money behind it
Companies tend to be timid capital re-allocators. On average, they put 90 per cent or more of their resources toward the same activities year after year, even though shifting resources as the business environment and company strategies change tends to deliver better, less volatile returns — particularly during down times.
Working together, finance and strategy executives can forge better links between resource allocation and strategic goals. This means, among other things:
Creating a distinct corporate or portfolio-strategy process, rather than just combining business-unit plans.
Encouraging regular conversations among small groups of senior leaders rather than reserving those for annual (or less frequent) encounters around big tables.
Ensuring that strategy, budgeting, and capital allocation are fully integrated – a view you can only get if finance and strategy executives collaborate.
Working together, strategy executives can forge better links between resource allocation and strategic goals.
Tapping the most promising growth spots
The research found that fewer than 15 per cent of executives consider such macroeconomic trends in making strategy decisions, and less than a quarter even look at their own financial projections and portfolio performance.
This is a big oversight, and strategy heads, working with finance chiefs, can help correct it. CSOs are usually in charge of their organisations' trend forecasting, which can point to growth opportunities and looming disruptions. Similarly, they're often the go-to individuals on competitor analysis. These insights are more powerful when combined with the CFO's traditional strengths in managing the portfolio and the M&A strategy.
 
Embracing the long-term view
A strategist's deep knowledge of regulation, innovation and trends complements a finance expert's understanding of cost and revenue, capital allocation, and stakeholder issues. Together, they can propose options that improve the short-term earnings and the longer-term prospects in a way that is compelling to management, boards and investors.
Our members honoured
AC 
Professor Mary O'Kane AC GAICD
AO
Professor Marilyn Anderson AO FAICD
Professor Kate Leslie AO FAICD
Judith Brewer AO GAICD
AM
Dr Bronte Adams AM GAICD
Rodney Chadwick AM FAICD
Nigel Chamier AM FAICD
Richard Champion de Crespigny AM GAICD
Professor Carol Dickenson AM GAICD
Dr Mary Foley AM MAICD
Graham Ford AM FAICD
Buz Green AM GAICD
Ashley Gunder AM MAICD
David Handley AM MAICD
Professor Karen Healy AM GAICD
David Liddy AM FAICD
The Hon Louis Lieberman AM FAICD
Ian MacKinnon AM GAICD
Professor Kevin McConkey AM FAICD
Dr Peter Pratten AM GAICD
Heather Stacy AM GAICD
Diane Sullivan AM FAICD
Neil Summerson AM FAICD
Grahame Turk AM FAICD
Air Vice Marshal Gavin Turnbull AM GAICD
Geoffrey Willis AM FAICD
Dr John Wright AM FAICD
Air Commodore Peter Yates AM GAICD
OAM
Mark Brimble OAM MAICD
Geoffrey Day OAM FAICD
Lynne Foley OAM GAICD
Susie Herzberg OAM FAICD
Brian Hoare OAM FAICD
Dr Sajeev Koshy OAM MAICD
Anthony Monley OAM GAICD
Adjunct Associate Professor Rashmi Sharma OAM GAICD
Leo Tutt OAM FAICD
Peter Walton OAM FAICD
PSM
Anthony Bates PSM AAICD
Brian Bell PSM MAICD
Margaret Darton PSM GAICD
Helen Gluer PSM FAICD
Veronique Ingram PSM GAICD
Geoffrey Lawler PSM GAICD
Rosemary Milkins PSM GAICD
Peter Moore PSM GAICD
Ian Roth PSM GAICD
Katherine Schaefer PSM GAICD
Gregory Trevaskis PSM FAICD
APM
Assistant Commissioner Jamie Chalker APM GAICD
CSC
Group Captain Robert Chipman CSC GAICD
Commendation for Distinguished Service (Australian Army)
Brigadier David Shields MAICD
Key
Companion of the Order of Australia – AC
Officer of the Order of Australia – AO
Member of the Order of Australia – AM
Medal of the Order of Australia – OAM
Public Service Medal – PSM
Australian Police Medal – APM
Conspicuous Service Cross – CSC
Note: While much care is taken to ensure we include all members honoured, we apologise in advance to anyone who may have been overlooked.

Financial expertise priority skill for boards
Financial expertise and industry expertise have been identified as the most important traits in a director, according to a study carried out by PwC entitled Governing for the long-term: Looking down the road with an eye on the rear-view mirror.
A total of 783 public company directors were asked for the attributes they value the most highly when it comes to board composition. Consistent with results from the 2014 survey, financial expertise was cited as the skill most crucial to board service by 91 per cent of respondents.
This was followed by industry expertise (70 per cent), operational expertise (66 per cent), and risk management expertise (62 per cent).
The percentage of directors who think board diversity is an important attribute increased on the previous year's survey, with 39 per cent now considering gender diversity very important compared to 37 per cent in 2014.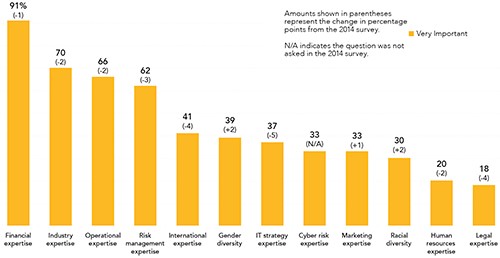 The study shows that gender is no longer the sole issue in the diversity debate, with 30 per cent of survey respondents now considering racial diversity as very important – up from 28 per cent last year.
Given the climate around cyber breaches, it's not surprising that 87 per cent of directors find board expertise in this area to be at least "somewhat" important. However, the study showed that directors rate IT strategy expertise as a higher priority than having a director with a cyber-risk background. This shows that while the importance of cyber security has certainly been recognised, directors remain strategically focused when it comes to IT.
In contrast, human resources and legal expertise continue to be less sought after, with only one-in-five directors describing these attributes as "very important".
The study also focused on other issues affecting directors and boards, including what it calls "the short-term/long-term dichotomy", which has been exacerbated by an unprecedented level of pressure from shareholder activists using a variety of approaches to achieve a near-term increase in the company's share price. It states that the short-term nature of many activists has seen 84 per cent exit their investments within two years.
From a corporate governance perspective, these concerns raise questions about how boards stay oriented towards long-term shareholder value while facing short-term pressure.
This is of of your complimentary pieces of content
Already a member?
Login to view this content