Education NFP Yalari is building a pipeline of Indigenous leaders through its scholarship program and has formed a partnership with AICD to further develop pathways it can provide young people.
The national not-for-profit organisation Yalari provides Indigenous students from regional and remote communities with secondary boarding school scholarships and offers leadership development to its alumni. It now also provides the chance for its alumni to gain valuable board experience.
In April, a group of 15 alumni met on the Gold Coast to complete an introductory training course with the AICD, which has formed a Board Advance partnership with Yalari. The group has formed the Yalari Alumni Advisory Board and will meet every three months to assist Yalari's progress in building a cohort of Indigenous leaders through educational opportunities. Board Advance is the AICD's board advisory offering.
As well as gaining valuable boardroom experience, alumni advisory board members will be mentored by members of Yalari's own board, including chair Bruce Davidson FAICD and director Belinda Gibson FAICD.
"In a given year, we estimate there are around 500 to 1000 students across Australia who possess the blend of factors that make them a candidate for a Yalari scholarship," says Davidson. "This includes things like the resilience and courage to study far from home, family support, and the necessary academic achievements to be successful in taking up a Yalari scholarship. We have never been in a position where we haven't been able to fund a scholarship for someone who qualifies. For that we are very grateful to our supporters. Every year, we see some great children in remote communities who simply lack the requisite numeracy and literacy skills
Yalari has an independent board of directors as well as regional councils in Victoria, NSW and Queensland. Each regional council is governed by an independent charter and promotes the work of Yalari in their state, including by identifying potential supporters, such as large advisory and legal firms, among others, which provide pro bono support for overseeing aspects of Yalari's governance. With help from its supporters, Yalari is in the process of forming Alumni Advisory Committees to help expand the Pathways Program to help students find career opportunities.
AICD is proud to be partnering with Yalari to develop First Nations leaders of the future, says John Devine, Head of AICD's Board Advance program.
"By providing governance training and boardroom experience, the pathways program will support the participants to add great value in the boardroom, their community and society as a whole."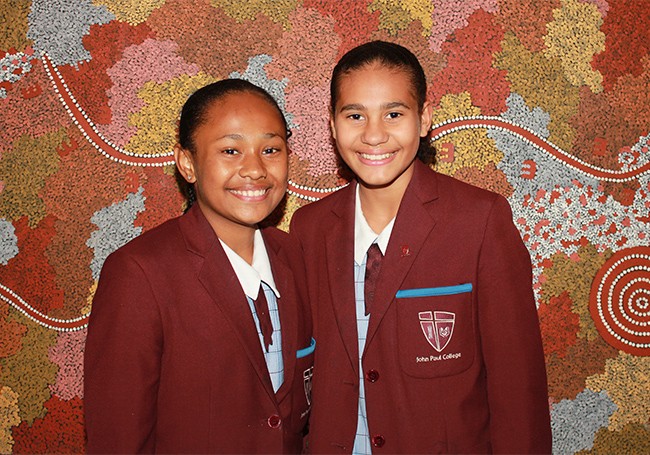 Record intake
Yalari has grown substantially since it was founded in 2005 by First Nations educationalist Waverley Stanley and his wife, Llew Mullins. In its first year, Yalari provided three First Nations students from remote communities with scholarships at two of the country's leading secondary boarding schools.
This year, there are 56 students undertaking their first year of studies as scholarship recipients, which is the highest annual intake yet. A total of 245 students are currently enrolled on Yalari scholarships at 20 partner schools around Australia. Over its 18 years of operation, Yalari has granted a total of 728 scholarships to Indigenous students from remote and regional areas of Australia.
Its alumni now totals 480 connected and empowered young First Nations leaders who are making an impact in their chosen field.
"Awareness about the scholarship program is growing in many communities," says Davidson. "Young people are seeing people from their communities who have had great success with it. It gives them the confidence to apply for a Yalari scholarship knowing they, too, can do this."
Yalari's focus is on helping young First Nations people from regional and remote communities specifically.
"In major urban centres, there is choice regarding education, so our focus is on providing a choice in communities where it may not otherwise exist," says Davidson.
Yalari founder, Waverley Stanley, grew up in a remote community in Murgon and Cherbourg, 300km north-west of Brisbane. From 1980 to 1984, he received a full boarding scholarship at Toowoomba Grammar School. Stanley started Yalari with the aim of providing the same kind of opportunities to other young First Nations people from remote areas. He interviews each scholarship applicant in their hometown, and travels throughout the country every year to raise funds and awareness.
Support along the way
Last year, 61 per cent of Yalari graduates went on to study at university. Yalari provides pathways for students to access scholarships for university, as well as career guidance and support for accessing employment, internships and training programs in their chosen field. Yalari staff support the First Nations students attending the 20 partnership schools. For most, it is a very different environment and often their families are thousands of kilometres away.
"Our student support officers work with school leadership, boarding staff, teachers, parents and students," says Davidson. "It might be taking someone to the dentist, helping them with studies or cheering them from the side of the sports field. It's part of our commitment to ensuring wellbeing and success for our students. We make no bones about the fact that we have picked prestigious schools to partner with, although we don't just pick them because they are prestigious. We very much focus on the ethos of the school, the cultural component of that school, and how it will be the right environment to support and foster Indigenous students."
Forging new pathways
With a well-established scholarship program, Yalari's leadership team is looking to develop other ways to support young First Nations people in regional and remote areas. This includes a pilot program to help students who lack the literacy and numeracy skills to qualify for a Yalari scholarship. It would involve working with students who wish to repeat grade six to uplift their skills in order to qualify for a scholarship.
" If successful, the pilot program will enable us to offer even more scholarships," says Davidson.
The benefits of the experience as a Yalari scholar are more than academic. The students form lifelong connections with fellow students and teachers, as well as other Yalari scholarship recipients. As the students are enrolled at schools in Victoria, SA, WA, NSW and Queensland, they meet up each year at Yalari camps and at events over the course of the school year.
"We focus on ensuring that a deep connection and pride exists in being part of the Yalari mob from day one, so that Yalari scholarship holders feel part of a larger group," says Davidson. "They know they belong to a cohort of future Indigenous leaders who together will change Australia for the better."
An ethos of paying it forward is encouraged. Each year the grade 10 Yalari students raise enough funds to pay for a scholarship. This year, the Yalari alumni have joined together to fund two scholarships. Last year, a place was given to the second generation of scholarship recipients.
The 20 partner schools derive huge benefit from being part of the program. "It enriches the schools in so many ways," says Davidson. "It provides a wonderful experience of getting to know Indigenous people and forming friendships. Yalari students change preconceived ideas and mindsets and have already had a positive impact on thousands of people. I can't wait to see what they do over the coming decades."
Board Advance is the AICD's board advisory offering, specialising in equipping boards with the understanding, insight and guidance needed to unlock their performance.  For inquiries, please visit
Developing First Nations future leaders
Jadalyn David De Busch AAICD completed an AICD introductory course in April and is a former chair of the Yalari alumni advisory board.
By Jessica Mudditt
Jadalyn David De Busch AAICD works for the Victorian Aboriginal Community Controlled Health Organisation, the state's peak body for First Nations' health and wellbeing programs. She has also worked for the Koorie Youth Council and was the chair of the Yalari alumni advisory board last year.
David De Busch completed the AICD course on the Gold Coast with 14 other alumni, who are also Yalari alumni advisory board members. Yalari board chair Bruce Davidson MAICD also attended some of the sessions. The Yalari alumni advisory board meets quarterly, and its members are former Yalari scholarship recipients for their secondary education.
"I've always wanted to do the AICD course, but there's been a financial barrier," she says. "I work in the community-controlled sector, so there is usually limited funding and opportunities to access training, and spots would usually be reserved for the executive team."
The 25-year-old was also pleasantly surprised by how enjoyable it was as a learning experience across three days. "I was intimidated by the financial component of the training, but it was a welcoming and supportive environment," she says. "The trainers and facilitators did a really good job of creating space for us to ask questions. They made it really accessible."
David De Busch completed the AICD course in Brisbane with about 20 other young First Nations people, who are also Yalari alumni advisory board members. Yalari board chair Bruce Davidson MAICD also attended some of the sessions. The Yalari alumni advisory board meets quarterly, and its members are former high school scholarship holders who studied across Australia.
"We grew up together, so we know each other well," she says. "Some of us go way back, actually. It's funny to think that the people I used to run around playing tiggy or touch footy with are now the people I'm sitting around with and, hopefully, working towards making organisations safe spaces for young people. It's amazing."
Supporting the next generation
David De Busch believes that the knowledge she gained will help her support the next generation of young First Nations leaders as they complete their education with Yalari scholarships. She hopes one day to join the Yalari board, and to find opportunities to become a youth adviser on local community boards such as Aboriginal Medical Services.
As well as being the chair of the Yalari alumni advisory board last year, David De Busch previously served as an independent board director for UN Youth Australia. "It was an amazing experience, although I probably wasn't positioned well enough to participate as I could now," she says. "If I could wind back the clock and step into that space now with the training I've just had, I know that my experience would be entirely different."
From cattle station to university
David De Busch grew up on a cattle station in the remote Coen region of Cape York. There was no high school and the closest town was a five-hour drive away, so she and her twin sister went to primary school in Toowoomba, where they were boarders. In 2011 they began high school at St Margaret's Anglican Girls School in Brisbane on scholarships with Yalari. David De Busch studied geography and environmental science while her sister, Jazleen, studied fine arts.
"I hope I can help to create a space whereby the next round of young First Nations people perhaps have it a little bit easier in terms of stepping into these spaces," she says. "If young people feel confident to contribute to making decisions at a high level across different organisations, it will place our future in a really good position, in whatever sector we choose to be a part of."
This is of of your complimentary pieces of content
Already a member?
Login to view this content