A new survey service will help directors compare levels of remuneration with current market benchmarks. Zilla Efrat reports.
Are boards paying directors market rates? A new survey will help directors independently evaluate how their remuneration compares with that of other organisations of a similar size and type in Australia.
The 2013 Australian Board Remuneration Survey, conducted by McGuirk Management Consultants (MMC) in association with the Australian Institute of Company Directors, examines how the boards of 609 entities (including 64 listed, 329 unlisted and 37 government organisations) structured their director and executive pay in the last financial year. It found the average fee received by chairmen (across all sectors) was $79,771 a year before any committee work, while that for directors was $38,243.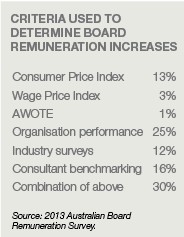 MMC director Terry McGuirk says the survey confirms that the larger the organisation (whether by revenue, assets or number of employees), the more it will pay.
He adds: "NFPs typically don't pay their boards, but of the 122 that supplied data to the survey, 56 did pay their directors. These tended to be material businesses and in sectors where for-profits also operate, such as healthcare. But they did pay well below what I would call market rates.
"Some of the NFPs that didn't remunerate their directors said they were considering paying them in the future. So I suspect the number of NFPs paying remuneration will increase, especially among the larger organisations."
The survey shows that last year, only 40 per cent of participants increased board remuneration. The April-June quarter was when almost half of boards decided whether to increase board pay for the following year.
The survey also reveals that only 37 per cent of boards paid additional fees for committee work. However, McGuirk says: "I suspect that over time this number will increase because, in my experience, as governance challenges increase, boards start delegating more to committees, increasing their workloads. Often the workload is the greatest for the chairman of the audit committee as there is a statutory requirement to have an audit committee. The bigger the organisation, the more it pays committee members."
The average fee was $10,098 a year for audit committee chairmen and $7,531 for audit committee directors.
In addition, 21 per cent of directors received a professional development allowance, with the average amount being $3,786 a director. And, if you thought your colleagues were living it up in style, think again! Half of all organisations flew their directors on the cheapest class of air travel available and only 20 per cent used business class.
This is of of your complimentary pieces of content
Already a member?
Login to view this content