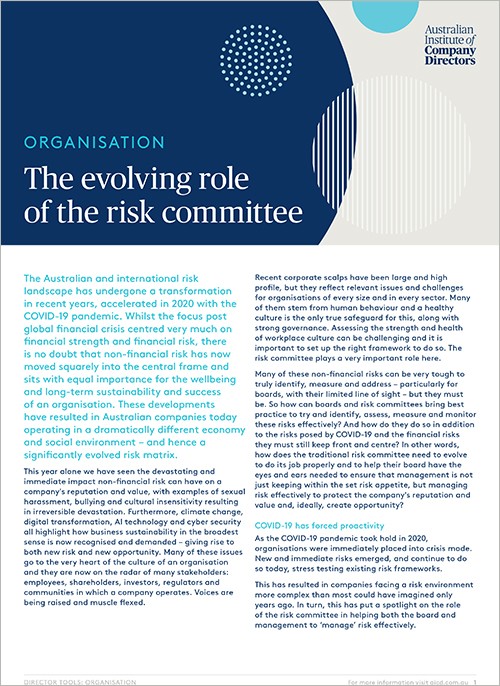 The Australian and international risk landscape has undergone a transformation in recent years, accelerated in 2020 with the COVID-19 pandemic. Whilst the focus post global financial crisis centred very much on financial strength and financial risk, there is no doubt that non-financial risk has now moved squarely into the central frame and sits with equal importance for the wellbeing and long-term sustainability and success of an organisation. These developments have resulted in Australian companies today operating in a dramatically different economy and social environment – and hence a significantly evolved risk matrix.
This year alone we have seen the devastating and immediate impact non-financial risk can have on a company's reputation and value, with examples of sexual harassment, bullying and cultural insensitivity resulting in irreversible devastation. Furthermore, climate change, digital transformation, AI technology and cyber security all highlight how business sustainability in the broadest sense is now recognised and demanded – giving rise to both new risk and new opportunity. Many of these issues go to the very heart of the culture of an organisation and they are now on the radar of many stakeholders: employees, shareholders, investors, regulators and communities in which a company operates. Voices are being raised and muscle flexed. 
Downlaod the tool to read more. 
This is of of your complimentary pieces of content
Already a member?
Login to view this content