This month's newsletter focuses on the highlights from the sold out AICD Climate Governance Forum held last Friday, 11 August.
Key speaker insights from:

Atlassian Co-Founder, Mike Cannon-Brookes - on the energy transition,
Xero Chair, David Thodey AO FAICD - on how boards should be getting ready for mandatory climate reporting, and
Assistant Minister for Climate Change and Energy, the Hon Jenny McAllister - on the role of Australian business in the climate transition.
We will also highlight further key AICD climate governance developments this month including:

the launch of the 2023 Climate Governance survey on climate governance, risks and opportunities. The survey presents a great opportunity for directors across sectors to share their views, and actions at the board-level to address climate change. The survey will close on Friday, 25 August.
the release of the latest CGI Australia resource, Biodiversity as a material financial risk: What board directors need to know, developed with MinterEllison.
AICD Climate Governance Survey

This year's AICD climate governance survey seeks insights on how directors and boards are addressing climate governance, risks and opportunities. The survey follows from the first-of-its-kind study undertaken by the AICD in 2021. The survey will assess the current attitudes of the director community on climate governance and track how directors and boards are responding to climate change over time.

A report on the survey will be released by the end of 2023. We highly encourage members to participate in the short survey which takes approximately 5 minutes and all answers are anonymous. The survey findings will greatly assist us to continue to develop tailored climate governance resources. We thank you in advance for your participation.

To complete the survey, please refer to the unique survey link in the AICD email from Monday, 14 August 2023 titled AICD Climate Governance Survey.

Climate Governance Forum 2023 highlights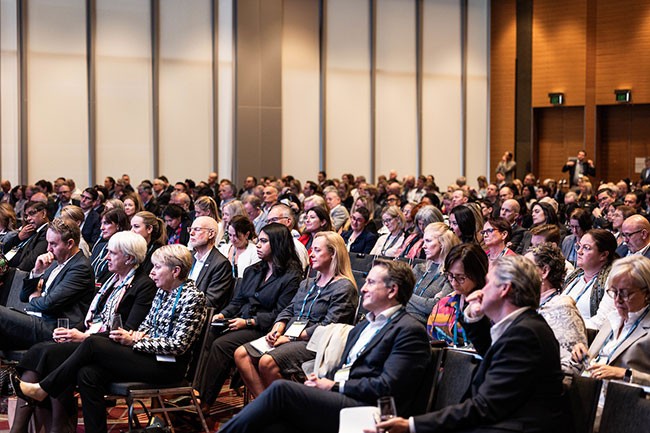 The 2023 Climate Governance Forum program covered a range of climate-related issues impacting boards including mandatory climate reporting and stakeholder expectations on climate. A brief recap of the event's highlights are covered below. For those interested in more in-depth coverage of the event, please make sure to read the forthcoming issue of Company Director magazine.

Mandatory climate reporting

Panel moderator, Chris Gergis, Head of Policy, AICD, informed attendees of the proposed mandatory climate reporting requirements under the Government's consultation paper released in June, noting "these disclosures are complex and will require far more granular detail than current reports." The Panel comprised of Xero Chair, David Thodey AO FAICD, Joanne Gorton MAICD, managing partner Audit and Assurance at Deloitte and Julia Hoare, Chair, Port of Tauranga covered the importance of a proactive and engaged board to addressing forthcoming compliance requirements.

David Thodey AO FAICD emphasised "this level of reporting can't be delegated to the climate team", further stating "It's really important that the board actively engages with management and that you make sure you have people who are accountable." The Panel also discussed the importance of sourcing data, with the most significant challenges for scope 3, or indirect, greenhouse gas emissions. "The more reliable and accurate the data you can get, the better processes and controls you'll have around that information," said Joanne Gorton MAICD. For those interested in learning more about the proposed mandatory climate reporting framework, please register here to access the free AICD webinar recording: Mandatory climate reporting standards – What directors need to know.

Energy transition

Mike Cannon-Brookes, co-founder and co-CEO of Atlassian and an advocate of green energy, provided several insights from both an executive and shareholder perspective.

He informed attendees of the magnitude of work ahead for Australian business and society, "decarbonisation means that, over the next 10 to 20 years, we will change the technology of every source of heat, light and motion to being electrified. This is a huge economic opportunity because we've got the three ingredients that every country is looking for." Firstly, there are the physical resources in the ground (silver, nickel, copper and lithium) and the air (sun and wind). Secondly, the fifth-largest capital pool in the world and a very sophisticated financial system. Thirdly, a huge talent base and a highly educated workforce.

Mr Cannon-Brookes urged directors to act now before they are forced to. "When changes are forced, they're usually far more expensive," he said.

Address by Assistant Minister for Climate Change and Energy, Jenny McAllister

Assistant Minister for Climate Change and Energy, the Hon Jenny McAllister, highlighted that the next big climate challenge for directors is responding to the evolving understanding of physical risk in what is a critical decade for action. "Good climate governance is a shifting target in a complex and changing economic and environmental landscape". More complicated climate decisions are coming as decision-makers analyse how climate risk manifests in supply chains, business operations and assets.

Minister McAllister told directors that the Government will be working with industry, experts, advocates, and the community to develop sectoral decarbonisation plans. She said plans for decarbonisation at an enterprise level will provide Government with important information – about what industry's ambition is, what is possible now, and what may be possible in the future. She closed her address with a call to action for Australian directors to continue their commitment to good climate governance, assessing risks and disclosing them, investing in clean energy and adaptation, and working in partnership with Government to confront the challenges of climate change.

The Assistant Minister's full speech can be accessed here.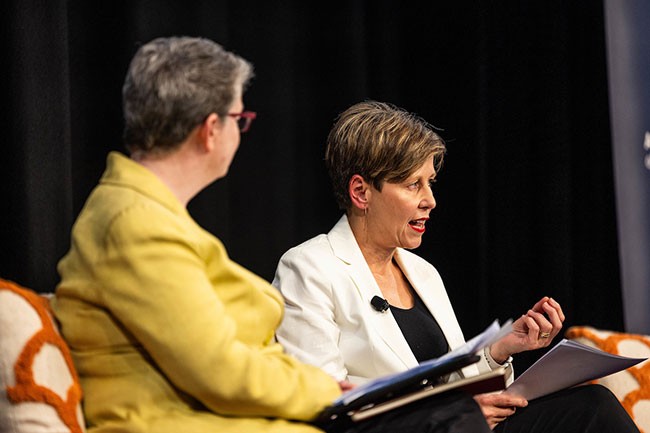 Session moderator, Louise Petschler GAICD, General Manager, Education and Policy Leadership, AICD, with Assistant Minister for Climate Change and Energy, Jenny McAllister
Latest CGI Australia resources:
Biodiversity as a material financial risk: What board directors need to know
At the Climate Governance Forum 2023, moderator Sarah Barker, MAICD, Head of Climate and Sustainability Risk Governance, MinterEllison, told attendees that similar to mandatory climate reporting, directors would be ill-advised to wait for prescriptive legislation on nature disclosure requirements as market and stakeholder expectations are running ahead of current practices.
In recognition of the need to provide guidance to support proactive board action in addressing biodiversity risk, this July, AICD and MinterEllison, as part of the Climate Governance Initiative Australia, released the Biodiversity as a material financial risk: What board directors need to know resource.
The guide aims to assist directors understand the implications of biodiversity loss for their business, with most businesses having direct impacts from nature. The guide covers:
Companies' dependencies and impact on biodiversity
Assessment and disclosure of biodiversity risks and opportunities
Market, social, regulatory and legal contexts
To access free director-focused Climate Governance Initiative Australia webinars, videos, and resources, click here.
This is of of your complimentary pieces of content
Already a member?
Login to view this content