AICD's head of Advocacy Louise Petschler calls for member feedback ahead of our forward governance agenda.
Shaping our forward governance agenda
As Angus Armour FAICD has outlined in this edition of Company Director, the AICD has launched a consultation on its proposed Forward Agenda — our response to the ongoing focus on governance standards and practice.
In a post-Hayne environment of rising expectations of directors, we believe it is critical the AICD takes a lead role on community concerns about board effectiveness and accountability.
While many of the governance findings from recent inquiries are already reflected in the AICD's education curriculum, the AICD believes we must do more to support our members in practice, and lead informed and measured debate on relevant policy issues.
Our Forward Agenda consultation paper sets out four key themes on which the AICD will focus, and asks for member feedback on our suggested actions. The table (below) sets these out in more detail.
Importantly, our consultation paper isn't a detailed work plan. We want to test our areas of focus with members. Your feedback and that of stakeholders will inform our priorities and plans from this point.
Your input is vitally important as engaged members of the AICD. Our goal is to help directors navigate through this complex environment and to help equip them with the right tools and guidance to support their directorship.
Directors' duties and engagement with stakeholders is one of the four themes we have identified. On this, it's important to note the AICD is not seeking a change to the framing of directors' duties in the law. We remain confident the current framing of duties, including the best interests duty, is fit-for-purpose, including its enabling of consideration of stakeholder interests by boards. But we acknowledge that corporate misconduct — including that examined by the Hayne Royal Commission — has raised concerns about how well boards are taking stock of stakeholder voices and impacts. We propose to test this and support directors in practice.
While the AICD doesn't see the need for wholesale changes to our core regulatory framework, we must remain open-minded.
It's not just big-picture issues such as the practical application of directors' duties that we are addressing. We are looking at issues that affect you as AICD members on an ongoing basis, such as strengthening our member Code of Conduct, and requiring a focus on ethics in director professional development. These are important components of our own governance and mission as an institute. It is therefore critical we hear directly from members.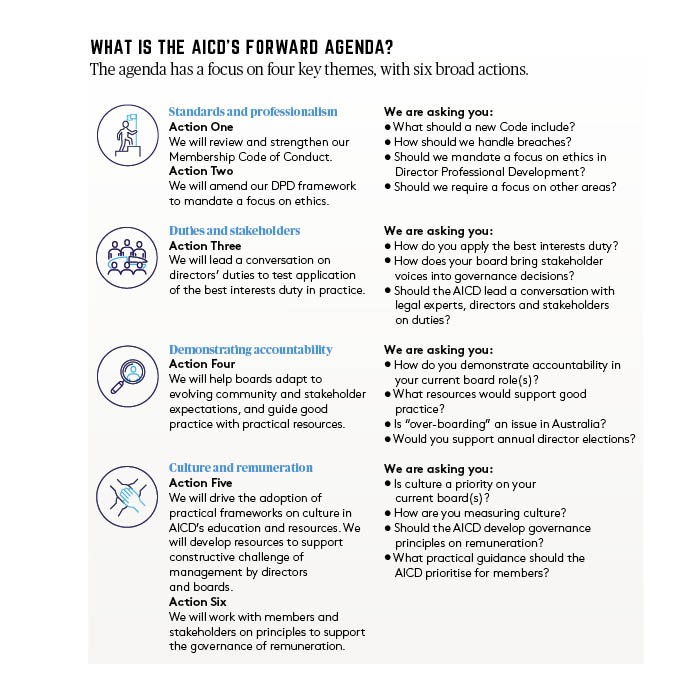 We also break new ground on issues such as annual director elections, asking for your views. While the AICD doesn't see the need for wholesale changes to our core regulatory framework, we must remain open-minded and contribute to debate, drawing on the views of members and stakeholders.
How well are the voices of the customer and the stakeholder being heard in the boardroom?
We should not assume the status quo will continue — or that there are not ways to lift governance practice — in light of recent inquiries highlighting systemic failures. Recent Commonwealth parliamentary hearings have also seen representatives of the big four banks appear to give evidence. Some lines of questioning pursued employee representation on boards and broader diversity of background and experience. It is important for boards of all organisations to ask: "Do we have the right mix of people around the boardroom table? How well are the voices of the customer and stakeholder being heard in the boardroom?"
Board oversight of culture has also been a prominent feature of recent inquiries, including the Australian Prudential Regulation Authority's report on the Prudential Inquiry into the Commonwealth Bank of Australia.
The Final Report of the Royal Commission into Misconduct in the Banking, Superannuation and Financial Services Industry states that "failings of organisational culture, governance arrangements and remunerations systems lie at the heart of much of the misconduct examined in the Commission". It suggests that improvements in each of these areas should reduce the risk of misconduct in the future, and improvements in one area will reinforce improvements in others. It also emphasises that the regulators have an important role to play in the supervision of culture.
The AICD is seeking member insights on current approaches by directors, and priorities to guide new resources to support members in the governance of organisational culture. We will also engage with key stakeholders including regulators, peak bodies, parliamentarians, academics and legal experts on priorities and plans.
The consultation paper is available as an interactive paper at the link below, allowing members to answer questions easily online. We are asking for member views by 17 May and are hoping for a strong response.
If you would like to discuss the paper, or provide informal feedback, please do so by emailing our policy team here.
This is of of your complimentary pieces of content
Already a member?
Login to view this content