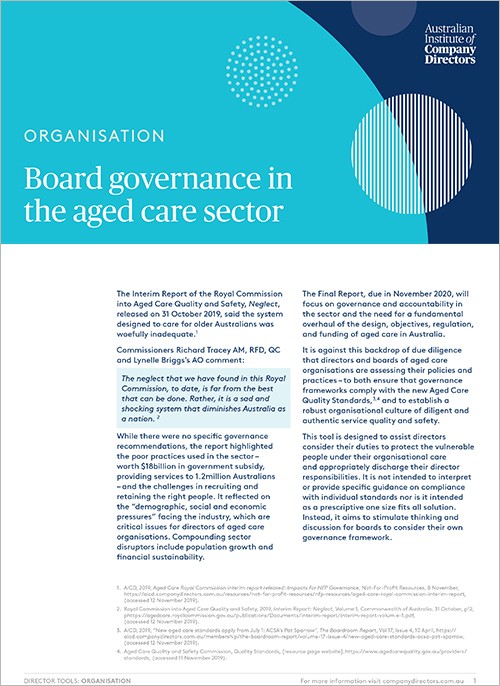 The Interim Report of the Royal Commission into Aged Care Quality and Safety, Neglect, released on 31 October 2019, said the system designed to care for older Australians was woefully inadequate.
Commissioners Richard Tracey AM, RFD, QC and Lynelle Briggs's AO comment:The neglect that we have found in this Royal Commission, to date, is far from the best that can be done. Rather, it is a sad and shocking system that diminishes Australia as a nation. 2
While there were no specific governance recommendations, the report highlighted the poor practices used in the sector – worth $18billion in government subsidy, providing services to 1.2million Australians – and the challenges in recruiting and retaining the right people. It reflected on the "demographic, social and economic pressures" facing the industry, which are critical issues for directors of aged care organisations. Compounding sector disruptors include population growth and financial sustainability. 
The Final Report, due in November 2020, will focus on governance and accountability in the sector and the need for a fundamental overhaul of the design, objectives, regulation, and funding of aged care in Australia.
It is against this backdrop of due diligence that directors and boards of aged care organisations are assessing their policies and practices – to both ensure that governance frameworks comply with the new Aged Care Quality Standards,3,4 and to establish a robust organisational culture of diligent and authentic service quality and safety.
This tool is designed to assist directors consider their duties to protect the vulnerable people under their organisational care and appropriately discharge their director responsibilities. It is not intended to interpret or provide specific guidance on compliance with individual standards nor is it intended as a prescriptive one size fits all solution. Instead, it aims to stimulate thinking and discussion for boards to consider their own governance framework. 
This is of of your complimentary pieces of content
Already a member?
Login to view this content