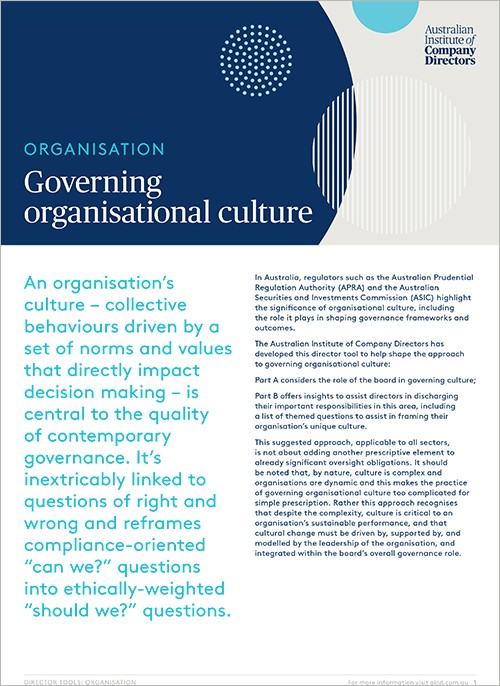 An organisation's culture – collective behaviours driven by a set of norms and values that directly impact decision making – is central to the quality of contemporary governance. It's inextricably linked to questions of right and wrong and reframes compliance-oriented "can we?" questions into ethically-weighted "should we?" questions.
In Australia, regulators such as the Australian Prudential Regulation Authority (APRA) and the Australian Securities and Investments Commission (ASIC) highlight the significance of organisational culture, including the role it plays in shaping governance frameworks and outcomes.
The Australian Institute of Company Directors has developed this director tool to help shape the approach to governing organisational culture:
Part A considers the role of the board in governing culture;
Part B offers insights to assist directors in discharging their important responsibilities in this area, including a list of themed questions to assist in framing their organisation's unique culture.
This suggested approach, applicable to all sectors, is not about adding another prescriptive element to already significant oversight obligations. It should be noted that, by nature, culture is complex and organisations are dynamic and this makes the practice of governing organisational culture too complicated for simple prescription. Rather this approach recognises that despite the complexity, culture is critical to an organisation's sustainable performance, and that cultural change must be driven by, supported by, and modelled by the leadership of the organisation, and integrated within the board's overall governance role.
Downlaod the tool to read more. 
This is of of your complimentary pieces of content
Already a member?
Login to view this content