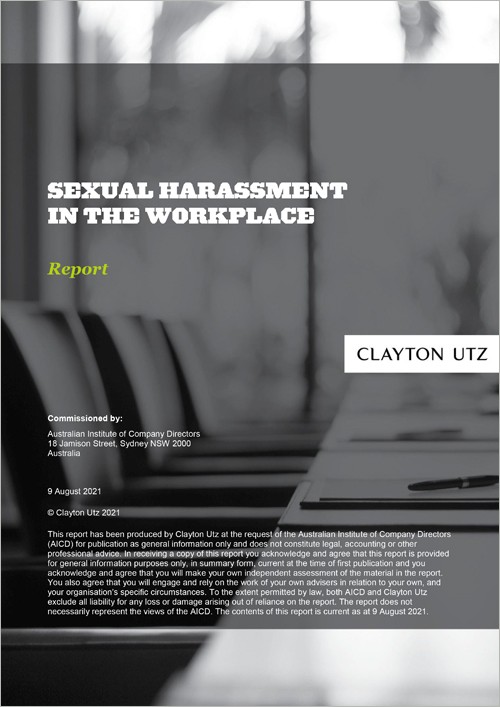 As part of the AICD's program of work on the board's role in effectively addressing workplace sexual harassment, the AICD has commissioned a report by Clayton Utz to provide a practical roadmap of the relevant board-level and legal considerations for effectively responding to workplace sexual harassment.
The AICD commissioned this Report to support directors in driving real and substantial change in how sexual harassment complaints are addressed. See the AICD's Governance Snapshot for further detail.
The Report explores considerations and common challenges that can arise when an organisation considers its response to sexual harassment allegations, offers case studies, and outlines steps that organisations can take to effectively prevent and respond to sexual harassment misconduct.
The Report endorses the Australian Human Rights Commission's (AHRC) Respect@Work Report's recommendation to adopt a 'complainant-centric' approach to responding to sexual harassment in the workplace. This approach is guided principally by a complainant's safety, wellbeing and wishes in determining what actions are taken, and how.
By downloading or accessing a copy of this Report you agree that:
You will not publish a copy of this Report on any other website;
You will not make the Report available to the public; and
You will not edit, alter or distribute the Report other than in the form issued by the AICD.
© Clayton Utz 2021. This report has been produced by Clayton Utz at the request of the Australian Institute of Company Directors (AICD) for publication as general information only and does not constitute legal, accounting or other professional advice.   In receiving a copy of this report you acknowledge and agree that this report is provided for general information purposes only, in summary form, current at the time of first publication and you acknowledge and agree that you will make your own independent assessment of the material in the report. You also agree that you will engage and rely on the work of your own advisers in relation to your own, and your organisation's specific circumstances.   To the extent permitted by law, both AICD and Clayton Utz exclude all liability for any loss or damage arising out of reliance on the report. The report does not necessarily represent the views of the AICD.

This is of of your complimentary pieces of content
Already a member?
Login to view this content