In 2014, a string of public scandals resulted in a loss of trust and a sacked board. Now, a new chair and CEO are working to revive Ambulance Victoria.
When former Victoria Police Chief Commissioner Ken Lay AO FAICD was approached to chair Ambulance Victoria in 2015, the organisation was in crisis. The state government had sacked the board six months earlier amid a bitter pay dispute with paramedics, deteriorating ambulance response times, damaging media leaks and a politically charged environment. However, Lay was thrilled to be asked.
"I sought wise counsel from lots of people and reactions ranged from, 'You're absolutely mad,' to 'What a challenge,'" he recalls, adding he had not previously chaired a public sector organisation. "I'd come from a background where Victoria Police had been in a pretty bad space. But behind that was an organisation that was fundamentally good and deeply committed to the community. I had no doubt Ambulance Victoria was similar. I was resilient to the media stuff and political pressures, and understood how unions worked. I felt like I had seen and done it before."
Four years on, the turnaround in Ambulance Victoria is remarkable. The pay dispute was quickly settled, response times and employee engagement have improved substantially, and the relationship with the Victorian Government is strong, as evidenced by the current $500m funding package over five years.
The juicy media headlines have mostly vanished.
Lay's blueprint for the turnaround has lessons for all boards, especially in large public sector organisations. It started with getting the right board and CEO, then improving staff morale and response times, and turning Ambulance Victoria's focus outwards to build stronger government and community relationships.
Getting the right board
"The board was a greenfield site, which is quite unusual for a public sector organisation," says Lay, who chose directors based on skills and diversity. "I wanted to build the team to cover off on my weaknesses. It was the first time I'd been in the health sector and I had no real understanding of how it worked."
Appointments, in December 2015, included a doctor, a health lawyer, an industrial relations specialist, audit, risk and finance experts and a cross-cultural consultant. In July 2019, Ambulance Victoria announced its first board change, with Anna Leibel, UniSuper's technology executive manager, replacing finance specialist Suzanne Evans.
Lay, who now spends one day a week on Ambulance Victoria work — down from three days a week in his first year — says another three positions are up for renewal in the next 12 months and it's likely there will be more board regeneration. "I don't want a board where the directors have all been there for years and are feeling very comfortable," he says. "You've got to keep the tension, the pressure, the change. The age profile is also not as young as it should be."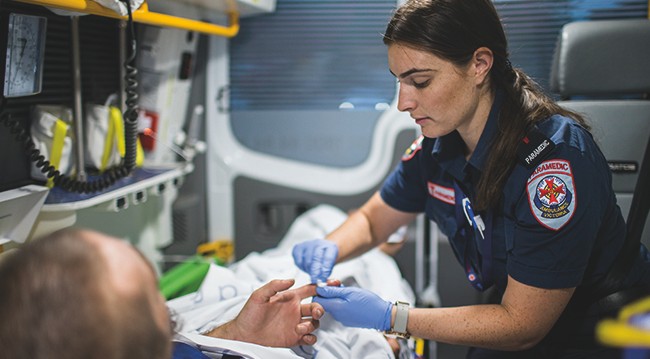 The right CEO
Lay is blunt when discussing what he thought of the initial prospects of CEO Tony Walker — who had acted in the role for 18 months before being appointed in 2016 — getting the top job full-time. Walker had worked for Ambulance Victoria for more than 30 years, most recently as general manager regional services, before being appointed acting CEO by the administrator in December 2014. However, as Lay and Walker confirm, the board pretty much viewed him as a stand-in while they recruited new blood externally.
"To be honest, in the early stages [appointing an outsider] was a very attractive proposition," says Lay.
It wasn't only the board that felt that way. "Many of our staff felt I shouldn't be appointed to the role," says Walker. "I was part of the problem. I'm very upfront about that."
However, gradually Lay realised how suitable Walker was for the job. "The first six months I worked with Tony, I got to know the organisation better," he says. "Many of its ills were the result of a lack of communication and good relationships. Tony displayed time and time again that he had those skills. And the union had enormous respect for him."
Walker, who was appointed CEO in July 2016, says being acting CEO was difficult. After six months, only one of his six direct reports remained.
"For me, it was about new people and new ways of thinking, otherwise you get groupthink. But I had worked with some of them for years."
People first
One of Lay's priorities when he joined the board was improving workforce engagement and reducing injury rates. He was relentless in demanding data.
"The first issue for any board is people data," he says. "It has to be the leader from day one. It creates an accountability cascade."
Ambulance Victoria had high workplace injury rates, both mental and physical, with injuries including assaults by the public. Lay says assault had become normalised as part of the risk of being a paramedic. Now, WorkCover claims have halved and workplace assaults have dropped by 38 per cent in the past two years. Lay is alerted within 24 hours if a paramedic is injured from violence at work, which he believes sends a powerful message to the workforce that safety is important. It also means the issue is front of mind for the board, with employee safety one of the first issues on the agenda.
"At times, the board is a very long way from the men and women who are delivering the service. When the message comes through from Tony late at night that a paramedic has been injured — often assaulted — it is a salutary reminder that, as a board, we have a responsibility to do whatever we can to provide the support, investment and training to protect them as best we can."
Mental health has been tougher to manage. Suicide rates for Ambulance Victoria paramedics are four times greater than in the community and three times greater than other emergency services organisations. Post-traumatic stress disorder is also a big issue for paramedics and Ambulance Victoria's new wellbeing policy includes using peer-support dogs to comfort paramedics following difficult cases.
"We're trying to understand why and break down the stigma," says Walker. "I want my legacy to be a healthy workforce." Subsequently, Ambulance Victoria developed the AV Mental Health and Wellbeing Strategy 2016–19, a plan to reduce workplace psychological injury. This was enacted through extensive consultation with stakeholders and not-for-profit mental health organisation Beyond Blue.
While Walker nominates mental health as his toughest issue, he says improving workforce engagement — which is now 70 per cent, up from 48 per cent in 2014–15 — has been easier than he expected.
"The workforce was screaming out for change," he says. "They knew the place could be better. My style is about owning the issues, being honest, doing what I say I'll do and building a sense of trust from the workforce. I knew that if this was going to work, I had to be myself."
Each fortnight, Walker writes a Sunday night email directly to his staff, sharing anecdotes about Ambulance Victoria as well as about himself and his family, including stories such as his three-year-old daughter bringing all sorts of illnesses home from day care. "Corporate comms don't get near it," he says.
An ongoing issue for the organisation is gender and cultural diversity. While the nine-member board has four female directors, and 50 per cent of the staff and executives are women, only 20 per cent of the operations executives are female.
"The board will ask me, 'What about cultural diversity?'" says Walker. "There's a constant sense of improving. We will never be comfortable with where we are. The burr in the saddle is the board, constantly."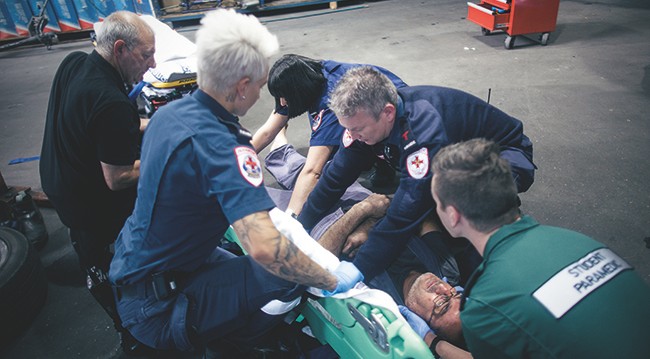 Paramedic response times
Lay says there are many reasons why ambulance response times are not the best measure to judge Ambulance Victoria. However, it is a major issue for government, the media and the community so therefore it is a high priority for the board.
Very early on, Walker proposed alterations to Ambulance Victoria's service model, which had largely been unchanged for a century. "People rang for an ambulance, we prioritised the call and the less-sick waited," says Lay of the old model. "Lying in the street for two hours with a fractured hip is not a quality service."
Walker's new model included a second level of triage to move about 15 per cent of cases away from ambulances to telephone advice, or dispatch alternative services such as mental health nurses and general practitioners. "This was risky, it turned the service model on its head," says Lay. "The new board had to get its head around this and in the early stages we were sceptical, probably through ignorance. This was a difficult journey for Tony while he was trying to build the confidence of the board."
The new model was immediately successful. By 2016–17, Ambulance Victoria reported its best response times in seven years. Response times — measured by "lights and sirens" ambulance arrival within 15 minutes — are now 84 per cent (against a target of 85 per cent), compared to 73.7 per cent when the new board started.
Outward focus
For Lay, the hardest task was to get Ambulance Victoria to focus outward. "The organisation was very inward-looking and risk-averse," he says. "It had a poor understanding of how to communicate to the broader community and share good stories. It did not have a good understanding of the importance of government relations."
Like Walker, Lay heard many explanations of why new things couldn't be done. "So we started bringing outward-looking people into the organisation. They were not part of the Ambulance Victoria culture and were willing to challenge things."
A key innovation was the Paramedics television series, broadcast by the Nine Network in 2018, with a second season in the pipeline. The reality show follows several crews as they treat victims of car crashes, drug overdoses, strokes and other life-threatening conditions. "It gives an insight into what paramedics face every day — including being abused by members of the public — and also helps the community understand that you don't ring 000 for everything," says Walker.
Another organisational goal was to improve relationships with government and bureaucrats, not just with the Department of Health and Human Services Victoria, which oversees Ambulance Victoria, but also Treasury and the Department of Premier and Cabinet.
Lay, who has a strong background in government, implemented a "no surprises" policy. "Under no circumstances would they first hear about something in the media, and we would never tell the minister anything that wasn't 100 per cent right," he says, noting that the annual $1.3b cost of running Ambulance Victoria means the government has a right to expect the service to deliver. "That drives me and the board to drive accountability with Tony. The relationship with government is strong, supportive and trusting when you deliver."
In 2016, the Victorian government announced a $500m investment in Ambulance Victoria, over five years, to hire more paramedics and build new ambulance stations. For Lay, fixing the relationship with government has been the "least problematic" of his many tasks as chair.
More work to be done
In 2017, Ambulance Victoria launched a new five-year strategic plan, the first in 10 years (a plan had been developed by the previous board, but not approved by government). The new board formulated an action plan for the first 12 months to set the initial agenda, then developed its own strategic plan, focusing on exceptional patient experience, working closely with partners, and making the organisation high-performing and a good place to work.
"Some would argue you develop the plan then recruit to deliver," says Lay. "I was really comfortable recruiting smart people and having the confidence they would deliver on the strategy."
Technology is a key aspect. "We are a sophisticated health service with a state-wide role," says Lay. "It's not just about delivering people to hospital. For example, last year Ambulance Victoria launched a Good Samaritan app [GoodSAM] to alert medically trained members of the community of any health crisis within 400m of them. Their early intervention, before an ambulance arrived, has saved at least 22 lives in the past year. Ambulance Victoria has a new mobile stroke unit, fitted with a CT scanner, and paramedics are accessing more information about patients before they arrive.
Billing is a focus. A Victorian Ombudsman's report, in May 2019, criticised Ambulance Victoria charging $532 when paramedics treated patients at the scene, but didn't transport them to hospital. Lay acknowledges the report raised "a number of issues", especially when a bystander calls an ambulance. But, he points out, most people never actually pay a bill — they have ambulance membership or are covered through their health fund.
There is still plenty to be done, but Lay says the big picture is straightforward. "We will continue to deliver the government's policy; it doesn't sound sexy but that's our role. It's about saving lives, reducing harm and getting people to a safe place quickly."
Trust and respect between chair and CEO
Ken Lay says the past four years as chair of Ambulance Victoria has reinforced the biggest lesson he learned from his four years as Victoria Police Chief Commissioner. "It's the team, not the individual, that delivers," he says. "Nothing works unless there is a group of people to cover the gaps."
One of those people is former paramedic Tony Walker, acting CEO when Lay began in September 2015. He told Lay it was OK if he didn't get the permanent CEO role.
"It was nice to hear from the prospective CEO that the world wasn't going to stop if he missed out," says Lay. "From a chair's perspective, he's a blessing. He's frank, open and willing to challenge or listen respectfully. When I hear something from Tony, I'm confident there's no fluff around it. He's never defensive, never hides from critics, is always willing to face the music, and is good at celebrating the organisation's successes."
Despite his fulsome praise, Lay emphasises their relationship is not about being best friends, but about respect, trust and the willingness to challenge each other. "If Tony fails, I fail and the board fails.
We are very dependent on each other." Walker, who speaks to Lay by phone twice a week and meets with him fortnightly, says he and Lay had a sense of trust and honesty right from the start. "There are no punches pulled. Ken will talk about issues openly and I'm the same," he says, adding Lay has been very generous in mentoring him in his first CEO role.
"I'll test things with Ken, especially in the political space. He won't give me an answer, but he will test my thinking."
Walker's biggest lesson as CEO is the importance of being yourself. "You have to be honest, upfront, vulnerable and open to people. If your values are right and aligned to the organisation, you don't need a rule book."
This is of of your complimentary pieces of content
Already a member?
Login to view this content