As organisations are forced to confront unprecedented rises in energy costs, an emerging group of Australian innovators in the energy sector is finding new opportunities and scaling for growth.
Climate tech is arguably the hottest business sector in Australia right now, with hundreds of companies at varying stages of maturity racing to fast-track decarbonisation with their new products and services.
It is a vibrant emerging and potentially global market, and Australian companies are facing into a massive opportunity — in part due to our widespread early adoption of solar energy. Australia's recent energy crisis has only further driven consumer demand and investors' voracious appetites for viable solutions.
Company Director spoke to several local climate tech scale- ups, each with — so far — unique offerings. Many are striving to build their businesses while reconfiguring their products as prospective customers call the shots. Some are tackling more than environmental issues in the environmental, social and governance (ESG) spectrum. And all of them now have proven products as they reshape conventional approaches and forge ahead into evolving markets.
Wattwatchers
Wattwatchers has built a platform that helps integrate small- scale renewables into the electricity grid. It brings together hardware — including behind-the-meter devices that allow energy usage data to be monitored in real time, datasets, analytics, software and Internet of Things (IoT) connectivity applications across residential, community, commercial and industrial, and utilities.
Wattwatchers chair Justine Jarvinen GAICD, is a chemical engineer and former equity analyst. She is also a director of the NSW Port Authority and Climate-KIC Australia, and recently ended five years as COO then CEO of the UNSW Energy Institute. She first encountered the business-to-business (B2B) enterprise in 2013, when heading the emerging technologies function in AGL's now-disbanded New Energy Division.
"Wattwatchers was one of the few things that made the hairs on the back of my neck stand up," recalls Jarvinen.
Her first impressions were confirmed in 2017, when she was approached by the company's Series A investors — the Clean Energy Finance Corporation (CEFC) and Southern Cross Venture Partners — to become Wattwatchers' independent chair.
Wattwatchers' offering is "the Swiss Army knife of climate- tech solutions", she says. "I'd never seen anything like the accuracy, interoperability, speed, scalability, flexibility — and that combination of hardware, software, data and back end."
Australia is recognised worldwide for its uptake of rooftop solar photovoltaics (PV) with more than three million installations.
"As global leaders in distributed energy, we have this fantastic opportunity to create a smart, stable electricity grid that's balanced, renewable and affordable, if we can appropriately incorporate those solar installations into the grid," says Jarvinen.
And now batteries and electric vehicles are being added to the mix. "But we don't have much ability to see or understand what those resources are doing at any given point in time."
Managing supply
Accurate real-time data and communications on energy supply and demand are required — and that's where Wattwatchers comes in. It enables monitoring and control via hardware devices, and then Wattwatchers — or its software-as-a-service (SaaS) and energy services partners — turn real-time data into "actionable insights" for customers through analytical tools and an app.
"Wattwatchers is deeply beneficially disruptive and we want to knock the status quo to be a much better paradigm," says Jarvinen. "The ubiquity of what it can do for customers across sectors and across different types of assets makes it unique."
Its focus started with the energy sector, in particular with home solar PV installers putting Wattwatcher devices into home meter boxes. These days, with over 60,000 in the field, property companies use them for sustainability measurement and verification, and to help solve specific issues such as electric vehicle charging in stratas. Installers of huge heating, ventilation and air-conditioning systems fit the devices before craning them on to commercial centres, and the devices are helping data centres to optimise energy usage. Wattwatchers has also been approved in South Australia, where the state government has mandated that new or substantially changed solar systems need an agent to manage the installations' behaviour with the broader electricity grid.
Opportunities are abundant, but the energy market has shown itself to be traditional and quite slow to change and digitalise, notes Jarvinen, so Wattwatchers' sights have shifted beyond the energy transition to the broader net-zero space as regulators ramp up their focus on companies' aspirations and goals. Sectors such as property technology (proptech), agricultural technology (agtech) and financial technology (fintech) — "anyone thinking of deploying suites of renewable energy assets or electric vehicles" — are all in view.
Governance decisions
As it wrangled strategic direction and product fit in the early days, Wattwatchers was almost in danger of having more board members (five) than staff, but today there's a workforce of 16 in sales, engineering and administration across the eastern states, with manufacturing outsourced to a close partner.
The board added tech executive and venture capitalist Mark Gill in April after a successful Series B $5.3m capital raise led by impact investor Kilara Capital, with the CEFC backing up, ahead of plans to scale the company internationally.
Robust, proven product, sales in the tens of thousands a year, and sensible management were major attractions for Gill to join the board. "They've built a business on good financial fundamentals," he says. "This is a company that can manage its cash flow and live off it — and doesn't need to raise further money. You don't often see that in the VC world."
The board has freed up time for strategy rather than compliance. "We're quite protective about our collective time together," says Jarvinen. "In the early days, we met more often than the executive team, but now it's about six to eight times a year, with deeper dives in between. We send out our management accounts in between, so that we can spend valuable meeting time not on the 'what', but on the 'so what' and the 'what next'."
Evolving in an emerging and now fast-growing market takes extreme agility. "We created a high-end product before the energy market knew it needed it, so we were building a market while building our business, says Jarvinen. "We were trying to educate energy companies that their customers were going to want something different — and to educate energy distribution companies that the quality of energy across the poles-and-wires network needs more data and orchestration.
"You're having those conversations at the same time as trying to figure out what your own product suite is, then investing for growth and trying to manage working capital in a growing environment," she says.
Organic growth now sees Wattwatchers selling to customers in more than a dozen countries, with Gill expected to bring his experience as a global tech executive and investor to bear as the company prioritises international expansion, likely starting in the UK and EU. Time is of the essence.
"In climate-focused businesses, you don't want your competitor eating your lunch before you get there," says Gill. "We will be up against global competitors and some are well advanced. We have to build our market presence and lock down market share."
Calix
Sydney-based, ASX-listed Calix Limited deploys one core technology to rise to its wide-ranging planet-saving mission with the tagline: "Because Mars is for quitters".
Across five disparate business units, Calix is tackling a range of major environmental challenges — carbon dioxide (CO2) mitigation using carbon capture and storage for the world's heavy-emitting lime and cement industries; advanced batteries to address the twelvefold increase in capacity needed to meet demand for electric vehicles and renewable energy storage by 2025; biotech to replace agricultural pollutants; more sustainable industrial processing of minerals and chemicals; and clean water for aquaculture and minimising the environmental impact of wastewater.
At the heart of Calix's solutions is its patented technology for heating minerals for a process called "calcination" — and a kiln located in Victoria's Bacchus Marsh that enables new applications and materials to be developed for the range of purposes listed above. Its process allows pure CO2 to be captured as heating gases are kept separate and no additional chemicals are used. Renewables can be used to turn up the temperature.
Calix's proprietary technology has caught the attention of some of the world's biggest industrial companies and governments, with large-scale pilots addressing current transition black spots across sectors playing to markets that will only grow faster with looming net-zero goals.
The company's overnight success has been a very long time coming, jokes Peter Turnbull AM FAICD who has chaired Calix, which was founded in 2005, for almost a decade. "We've spent $120m to date trying to find the right pathways," he says.
In the early days, capital constraints prevented the company from moving ahead quickly, but a $30m investment from Washington H Soul Pattinson and global hedge fund Och-Ziff — which enabled the Bacchus Marsh plant to be built in 2013 — helped it to turn a corner.
Scaling up
Getting the right people in key roles, not least managing director Phil Hodgson, also spurred progress, while an employee share scheme has managed the bugbear of hard-to-attract-and-retain engineering talent. The team now totals 82. "We've been able to give people experience they never would have [had] in a big organisation," says Turnbull.
The decision to list in 2018 was also pivotal for Calix, along with a series of vital partnerships, notably through its low emissions intensity lime and cement technology (LEILAC) which has been given the green light by the EU for a pilot and follow- up project with some of the world's largest cement and lime companies. With lime a major input for steel and aluminium production, potential benefits for hard-to-abate heavy industries are keenly awaited.
In Australia, the company is working on the world's first commercial-scale process for the manufacture of low- emissions lime with construction materials company Adbri, and collaborating with Boral on the feasibility of a carbon capture, use and a storage plant in the NSW Southern Highlands. Plus, it's exploring more sustainable ways to mine lithium for electric vehicle (EV) batteries with Pilbara Minerals.
The biggest challenge for the Calix board in a fast-moving, decarbonising world remains the scaling-up of its various businesses. "We'll be a very different company in three to five years' time," says Turnbull. "Each of the business lines will need a CEO and move at a different speed. People keep asking if we can keep picking the right pathways and managing multiple challenges at the same time."
The appropriate board composition is also up for discussion, says Turnbull, a member of ASIC's Corporate Governance Consultative Panel. Calix adopted governance befitting a much bigger company early on. "Having a well-qualified board working with the management team... and a proper risk management structure where all the risks are identified, rated and managed, has helped us make disciplined, well-reasoned decisions," he says.
Licensing of the technology is the way forward. "The world is moving really quickly on many of the areas we're involved with," says Turnbull, but it's hard to tell, particularly with batteries, where it's all going to end up. "That's one reason we never take our eye off research and development. What are the scientific risks that come with doing something four or 10 times the size you just did it?" Support for carbon capture and storage also varies from country to country.
Calix is a company with the potential to play a part in the 2050 endgame for many. LEILAC has a 2050 strategy, but Turnbull admits it's hard to see past a decade.
"It depends on a whole lot of things that haven't happened yet in the world — how this pathway is going to unfold, what governments do, how well the world works together, what capital is available to accelerate what people want to do. But we are seeing more and more of that all the time."
Brighte
Australian credit technology platform Brighte is intent on making solar, battery and home sustainability affordable for everyday Australians, with its easy buy now/pay later (BNPL) finance and a 2000-strong network of trusted tradies. Founder, CEO and chair Katherine McConnell launched Brighte as a "profit for purpose" company in 2015, after 14 years at Macquarie Bank, where she developed new finance products and transaction structures for the emerging energy asset market.
She saw obtaining finance as the biggest obstacle to purchasing clean energy products. Brighte developed a practical way to make an impact, with a zero per cent interest product among its offerings. The company has already helped more than 100,000 Australians get solar sooner. "You can't put a price on that," says McConnell.
Brighte has attracted substantial funds, including more than $145m in equity, with a $100m round in late 2020; and $500m in debt, including Australia's first all-green asset-backed security deal in the public debt market.
Grok Ventures, the private investment company of Atlassian co-founder Mike Cannon-Brookes FAICD, is well represented on Brighte's five-member board, with its CEO and CIO Jeremy Kwong-Law and operator in residence Bryan Rollins as directors. They were joined last year by Gillian Findlay GAICD, COO of international NFT (non-fungible token) technology and gaming company Immutable and an operating partner at AirTree Ventures, another major Brighte backer. She met McConnell four years ago when she was COO at SafetyCulture.
"Katherine was keen for me to join the board and bring some operational experience," says Findlay who points out there aren't too many other women leading tech scale-ups.
Getting Brighte through the COVID-19 era has been the board's major preoccupation. After more than doubling in size in 2021, in mid-June, Brighte cut 32 staff members — 15 per cent of its workforce — in anticipation of an up to two-year market downturn. Rising interest rates are not helping, plus the BNPL industry is under scrutiny for bad debts. It is also a crowded marketplace and regulation is looming. However, expectations are that Brighte will be relatively unscathed.
Findlay insists that Brighte is fundamentally different to the rest of the BNPL industry, servicing a completely different segment to the retail market. "Its customers are typically homeowners with strong credit scores who are looking to make upgrades to their homes," she says. "They are making considered purchases, not impulse buys. And they get savings on their energy bills, so there's a benefit built into the purchases, which is again different to consumer discretionary buys."
Despite market conditions, less than one per cent of Brighte's revenue is from late-payment fees.
Decarbonisation is an unstoppable global megatrend, says Findlay, and Brighte is in a prime position to both support and accelerate the transition for households and solar businesses. "We're actually in a position where we can plan fairly far out on the basis that we believe people will only be more interested in our products over time."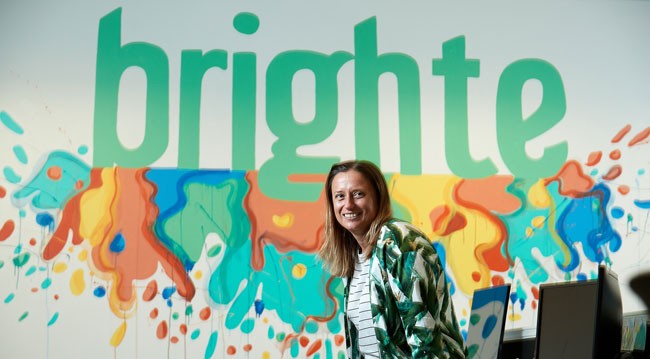 Allume Energy
Closing the "renewable energy disparity gap" is the mission of Cameron Knox and Andrew Justo, creators of SolShare, a proprietary, behind-the-meter solar-sharing technology that allows energy from a single solar PV system to be optimally shared by residents and businesses in multi-metered buildings such as apartments and shopping centres. As university students, they noticed rooftop solar installations were essentially the preserve of single-dwelling homeowners, and set out to solve multiple ESG issues for the social housing market.
"Australia is the perfect storm for rooftop solar — we wanted to extend that to the people who needed the savings most, but were missing out," says Knox who, with Justo, landed a spot in the Melbourne University accelerator program in 2016.
In the bin room, they built their prototype device to provide cheaper, cleaner energy to social housing residents in low-rise apartments. However, the pair discovered they had actually delivered a solution for a much bigger market than intended — apartment dwellers worldwide. To their knowledge, SolShare remains the only product that splits solar energy in a way that maximises everyone's savings within a building.
Investors and property groups also saw SolShare's potential, with early interest from a range of community and social housing developments, and a series of pre-seed capital raising rounds. Their first larger capital raising in 2017 — $2.2m from property giant Mirvac Ventures, venture capital fund Artesian and the Victorian Clean Technology Fund — enabled manufacturing to be outsourced. At the same time, they focused on building a partnership network of solar installers and other companies that now traverses six Australian states, several American states, and the United Kingdom.
The manufacturer
Allume Energy manufactures SolShare. It used the pandemic period to design a new version of SolShare for the US market where electrical structuring is different. "In the US, the biggest challenge we face is connection applications with thousands of utilities," explains Allume CEO Knox. In the UK and Europe, the social housing policy environment is more encouraging.
The company has an impressive growth story — currently running at 500 per cent year on year — and patient investors, with a Series A capital round raising $6m, led by technology and innovation investor Taronga Ventures and including US investors, the family office of long-time Google CEO Eric and Wendy Schmidt. Further springboard financing is expected to be finalised in coming weeks. But Allume is at a critical stage.
"It's exciting to see an Australian clean tech business leading the world, but they won't hold that first-mover advantage forever," says Katerina Kimmorley, founder of Pollinate Energy, the business established to provide solar lighting to slum communities in India and Nepal. Values aligned when she joined the Allume board in early 2020.
Kimmorley is drawing on her international experience to provide input and sees risks in going both too fast and too slow. "We need to go fast enough to get the dominant position and brand recognition in those key markets — to get enough sales and to drive down the cost of our product," she says. "If we don't, we could have difficulty with fast followers. While it's a unique technology, the market is potentially huge."
Developers of commercial buildings and private apartment blocks are lining up for SolShare, so will social housing remain its core market? Allume is not exclusive, but the cost of living is soaring.
"In the UK, where the Social Housing Decarbonisation Fund operates, tenants have seen electricity prices double this year, and the urgency to shelter them from being unable to scrape by is really high. We are committed to helping drive that solution," says Knox, also noting that community and social housing have substantial portfolios.
This is of of your complimentary pieces of content
Already a member?
Login to view this content