From secure remote working to virtual meetings and digital transformation strategies, the global workforce is facing a new future online.
What's been the biggest driver of digital transformation in your organisation: a) The CEO b) The CTO or c) COVID-19? The answer, marked bright red, is of course c). This was a widely shared Twitter meme in recent weeks.
In May, Twitter became the first major tech company to allow employees who can work remotely to do so indefinitely. The company will not reopen most offices before September and employees can decide whether or not to work at the facilities.
For flexible work campaigners, COVID-19 has been a gift, with millions of workers demonstrating they can do their job from home, saving hours of time and resources commuting — even for working parents with children in the house. For the long-urged digital transformation of Australia and its mooted socio-economic benefits, it has been an urgent, galvanising driver.
In a recent Brookings Institution blog, Katherine Guyot and Isabel Sawhill wrote that the pandemic has been "a massive experiment in telecommuting", overcoming the inertia of sticky work cultures, a lack of interest from employers in investing in the technology and management practices necessary to operate a tele-workforce.
So how much of the new world of work is likely to stick? More than 200 Australian business leaders were surveyed in April about their organisational response to COVID-19 and what they felt would be the next normal. The ADAPT survey included responses from 197 organisations, including 47 companies in the ASX 200 and 11 from the ASX 25. It is providing early pointers to how well business continuity plans worked, what impact this period may have on an organisation's ongoing strategies, and which technologies are now deemed most important for success. "This is a time for a real renaissance for technology leaders," says Matt Boon, ADAPT strategic research director.
The survey asked technology leaders how well their organisation's business continuity plans worked in response to COVID-19. It received a thumbs-up from three out of five. The same question posed to CFOs and COOs scored a more muted two out of five response.
Even so, many enterprises were able to use technology to get at least a sizeable proportion of their workforce to work from home and stay productive. ADAPT believes this success could lead to a "renaissance for the IT role".
Acceptance
COVID-19 proved Australian organisations' ability to innovate. Over a period of 10 days, most employees and students shifted to online work and study. One of the barriers to innovation regularly cited is employee resistance to change. COVID-19 showed conclusively that workers can be highly adaptive and accepting of change when it's demonstrated to be in their best interest.
Almost four out of five organisations said their move to a digital workplace was successful, so much so that ADAPT predicted managers would be allowed more discretion in the future to allow employees in their team to work from home.
Recent research by Gartner Group reveals six key future-work trends
Employer as social safety net. Bosses will provide greater support for their employees' mental, physical and financial health during and after the pandemic.
Expanded data collection. Organisations have increased tracking of employees as their workforce has become remote. Employers are likely to have significantly more access to the employee health data.
Increase in remote work. Gartner analysis shows 48 per cent of employees will likely work remotely at least part of the time after the COVID-19 pandemic, compared to 30 per cent pre-pandemic. This impacts everything from office real estate and public transport to technology use and work-life balance.
Expansion of contingent workers. Organisations replace full-time employees with gig workers as a cost-saving measure, outside well-known examples such as delivery and driving.
Humanisation (and dehumanisation) of workers. Some employees have formed more connected relationships, while others have moved into increasingly more task-oriented roles.
New top-tier employers emerge based on how companies treated their workforce during the pandemic.
Source: Gartner Group
Keeping connected
Monica Watt, chief human resources officer at listed cloud HR and payroll software company ELMO, warns that companies that don't learn to manage a remote workforce will lose valuable employees. She points to US software company GitLab's 2020 Remote Work Report. In a survey of 3000 staff, it found 86 per cent believed remote work is the future of the workplace, while 84 per cent said they could complete their work remotely using current tools. The study also reported that 38 per cent saw lack of commute as a top benefit; 52 per cent found themselves more productive overall; and 62 per cent indicated they would consider leaving a co-located company for a remote role.
"This is testing the boundaries of business," says Watt. "For managers, being able to manage a remote workforce is no longer a nice-to-have, it's a must-have. This trend will continue well after COVID-19. Businesses that don't embrace remote working will lose talent."
Among virtual rituals that ELMO has introduced to keep its workforce of 400 feeling connected are daily standing Zoom meetings, whole-of-business morning tea/lunch meetings for its Australasian staff, and online fitness classes such as jiu jitsu and yoga. Watt says consistent communication, especially about expectations, is vital.
Dr Marianne Broadbent FAICD, managing partner of NGS Global, says many organisations had developed sophisticated business continuity plans, including how they might respond to a pandemic. "Except I don't think they really believed it," she says.
Broadbent also notes a two-speed response by business. "Those that had significant parts of their staff working remotely in any form, or were highly distributed, with people used to working from different locations, tended to have good cloud-based services already in place, good workspace approaches, and their people were much more accustomed to working in different modes."
Similarly, organisations that had adopted agile ways of working were able to pivot to a different purpose pretty quickly, says Broadbent.
"Any organisation that had business, particularly in the UK and Western Europe, those people were alert to it quickly because they had seen what was happening in other parts of the business. It was astonishing how quickly some organisations were able to shift people to remote working — serious roles in industries such as infrastructure, engineering and retail. Organisations moved thousands of people offsite in seven to 10 days and their business has not suffered from any kind of dislocation. One CIO said to me the other day that what they had tried to do over quite a few years they had managed to do in 10 days."
This is being achieved globally. Microsoft CEO Satya Nadella, in his third-quarter video earnings call noted, "We have seen two years of digital transformation in two months."
Shelf life
Jean-Paul Drake, director of South Australia's Drakes Supermarkets, never envisaged customers fighting in the aisles over toilet paper. "I'm not sure anyone could have planned for this. As an essential service, it was always going to be business as usual, albeit with emptier shelves. We're a family-owned business, which enables us to act nimbly. Being vertically integrated, we could distribute stock more evenly to our stores, and our strong relationships with our suppliers meant we were in a better position than most.
"We put our systems under a considerable amount of stress, but they were able to keep up, despite having double the amount of transactions going through. The biggest issue was stock availability, not our tech. Our online shopping orders tripled almost immediately, exacerbated by the major chains temporarily suspending their online services for almost five weeks. Online shopping makes up less than one per cent of our overall business and is quite labour-intensive — the hardest part was purchasing more assets and training staff. We were at maximum capacity for almost five weeks in our online service."
Security
In April 2020, the Australian Competition and Consumer Commission warned of more than 1000 COVID-related scams. These ranged from sophisticated phishing attempts launched against people working from home to relatively crude online shopping scams where goods were paid for but never received.
Moving thousands of workers to home and allowing them to access corporate computer systems over a virtual private network — or even their home wifi connection — was the approach taken by many businesses pivoting to remote work. The ADAPT survey found that provisioning secure ID and authentication was deemed successful for 73 per cent of organisations — although a worrying 15 per cent described this as problematic.
Looking ahead, only 47 per cent of respondents said that investing in security information and events management technology was a priority for the future, suggesting that a blindspot persists around cybersecurity.
Engagement with the tech
Working remotely during a crisis may be isolating and it raises other issues around productivity, employee burnout and juggling children while working at home. But the survey shows, in these first weeks, that as management worked, collaboration and engagement actually improved. And a new appreciation for the value of IT emerged. Engagement with the IT team rose for 68 per cent of respondents.
"We have seen, in the past 12 months, the CIO (chief information officer) and CISO (chief information security officer) struggling to get a seat at the board," notes Boon. "But as we see the impact of technology at this time, we will see more engagement. We have previously seen IT brought late to the discussion; now we will see it involved early. They have been able to demonstrate the value of IT as the enabler when the chips are down."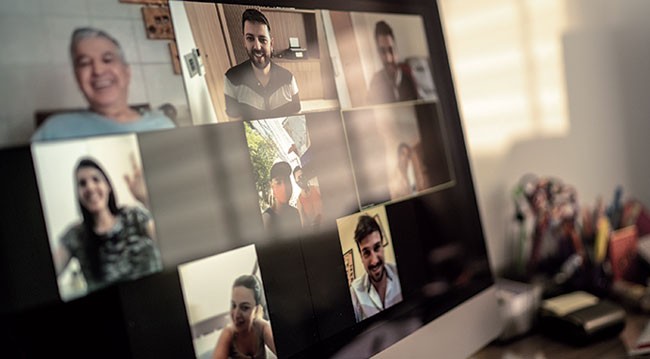 Projects on hold
There may well be an IT renaissance, but given the abrupt shock to revenues for many, organisations say their number-one technology priority is to help rein in costs. When ADAPT previously surveyed the market, in February, reining in costs was the number-seven technology priority. By April, it had catapulted into the top slot, with 71 per cent of respondents saying this was their primary task.
Artificial intelligence (AI), robotic processing automation and IoT (internet of things) have been consigned to the backburner, with 70 per cent or more saying these were non-critical or neutral emerging technologies. Only 36 per cent of respondents said creating new products was a high priority for their organisation; and 24 per cent saw entering new markets as critical. While the operational context has been changing fast, the question must be: is this a missed opportunity?
Investment
Just under half (47 per cent) of the respondents expected their technology budgets to increase following COVID-19. "Business will focus much more heavily on proven technologies to help manage the current crisis and business as usual," says Boon. "COVID-19 enabled cloud to make its own business case and it was another nail in the coffin of IT capex."
Nine out of 10 respondents said that their cloud use would increase because of COVID; 47 per cent expected cloud workloads to increase by more than 50 per cent; and 25 per cent expected them to go up by more than 70 per cent.
As business manages a wind-back of some restrictions, enterprises should also ask whether now is the time to seize a once-in-a-generation opportunity to invest in innovation and new ways of working — to build a competitive edge over more cautious rivals craving a return to the status quo.
Questions for Directors
What steps are being taken to keep workers informed about COVID-19 and minimising health risks?
What steps are being taken to ensure the health and safety of those who can't work from home?
Do you have a policy for workers who are more vulnerable to COVID-19?
How are you ensuring the health and safety of those working from home?
What measures are being taken to minimise physical and psychosocial risks when working from home? Are workers being provided with the right equipment, checklists for how to set up a work station, and access to employee assistance programs?
What steps are being taken to ensure workers feel supported during this challenging time?
Have more at-risk workers been identified and is the team ensuring they receive adequate support?
Fine tuning
Andrew Monk GAICD, chair of Xerion, Murray River Organics and Enervest, says there are seismic changes afoot in the economy. "The major upside has been how quickly it has become socially acceptable for our suppliers and clients, as well as our own people, to use these digital technologies as a core focus of the day, when in the past it may have been viewed sometimes as a cheap or rude [alternative to] a physical meeting," he says.
The next step will be finessing the new ways of working. "It is one thing for the social acceptance, though, and another for these to be harnessed effectively by management to extract maximum and lasting value," says Monk. "I'm enjoying seeing the auditing, verification and certification world realise that more and smarter use of remote, robotic drones (for example, Ericsson used drone-mounted scanners to verify 5G network performance) and other digital means of verification can lead not only to cost savings for clients, but also more precise and documented verification. This could be game-changing for this sector in the decade ahead. It may have socially taken a lot longer to establish as a business norm without this jolt from COVID-19."
Lee Hatton, non-executive director of Xero and chair of its risk and audit committee, agrees with the Brookings Institution that COVID-19 has driven the world's biggest work-from-home experiment.
"For Xero, as a technology business, being digital is native to us," says Hatton. "Our teams have been able to stay well-connected, working collaboratively using cloud-based tools and technology that was already embedded in the way that the business operated globally."
Hatton acknowledges that working from home brings its own unique set of personal and work challenges to be addressed.
"On the upside, many people now have more time to spend with family, to exercise and focus on what's important in their lives. We're also seeing many businesses leverage technology and discover new ways of working that will help in the long term. Under social distancing rules, many businesses have had to initiate new ways of interacting with customers, which may open up future opportunities. Nonetheless, it's undeniable that we enjoy human interaction. Whether it's having a daily standup with colleagues, trying to measure productivity in a workforce unaccustomed to remote working or not being able to spend time with our customers in person, there are challenges to our lives under COVID and what our 'next normal' will be."
Remote recruitment
There has also been a willingness to suspend usual practices, even with hiring new people. A Gartner poll of HR executives conducted in April 2020 found 86 per cent of organisations are now incorporating virtual technology to interview candidates.
"We are in the process of completing a number of senior appointments at CEO and C-level, where board members are meeting everybody through webinars, Skype or Zoom," says Broadbent. "People are much more open to things."
She believes these changes will be sustained. "You end up with a new perspective on trust from this. I can't see people denying the opportunity to work in flexible ways where that makes sense in the future. We will have the two-speed thing and some who just want it the way it was, but I hope businesspeople who have seen the ingenuity applied to the situation will be more demanding and have different expectations. It won't be the case for every organisation, but it will be for those where they are really comfortable with things being dislocated and willing to take a few educated
The New Safe
Work health and safety protocols have been introduced to guide organisations through the crisis. Christie McGrath summarises the key issues for directors.
As Australia returns to work, health and safety takes primacy. The policy of social distancing will require many adjustments to how we interact, socialise and work together. It will bring new norms, require new equipment, workplace procedures, protocols and risk management assessments.
Recent infection hotspots — a Victorian abattoir, hospitals in Tasmania, and the Newmarch House aged care home in western Sydney — reinforce the vital importance of directors, company officers, employees and contractors understanding and enforcing the new work health and safety (WHS) disciplines.
COVID-19 presents many WHS issues for organisations — from how to protect workers from contracting the virus and what risks should be considered working from home, to workers returning to the office, social distancing and hygiene. Rituals of temperature checks, hand sanitiser, masks, cleaning and infection control will become the norm. Hot desking will be a thing of the past and more workers will work from home. Workplaces will operate on a very different tempo and employers will have to rethink how they organise and structure the work environment.
In April, the federal government introduced new WHS protocols to guide businesses out of the pandemic. The Safe Work Australia guidelines cover 23 specific sectors, ranging from aged care and agriculture to construction, delivery, food processing, manufacturing, healthcare, hospitality, public transport, trades, in-home services, retail, road and rail freight, offices and warehousing. The protocols include physical distancing for employees and customers, strict hygiene and cleaning standards. There are also recommendations for staggered start/finish work times to avoid congestion on public transport and in the office, plus individual meal breaks.
Directors' duties
Organisations must have measures in place to manage the risks arising from COVID-19, but it won't be possible to eliminate the risk of workers contracting the disease while at work. While the Safe Work Australia advice is largely for management, directors have a legal duty to implement and monitor systems to ensure safe working conditions in their workplaces as far as reasonably practicable. In nearly all Australian jurisdictions, there is a positive obligation on directors to exercise due diligence in relation to WHS.
To comply with the model WHS laws, organisations must identify risks at the workplace and do what is reasonably practicable to eliminate those risks, or where this is not reasonably practicable, to minimise them. To ensure directors can satisfy their due diligence obligations, boards must ensure they have a compliance/risk management regime to monitor how management is ensuring compliance with the advice and eliminating risks related to COVID-19 so far as practicable.
Christie McGrath is AICD senior policy adviser, Advocacy.
This is of of your complimentary pieces of content
Already a member?
Login to view this content