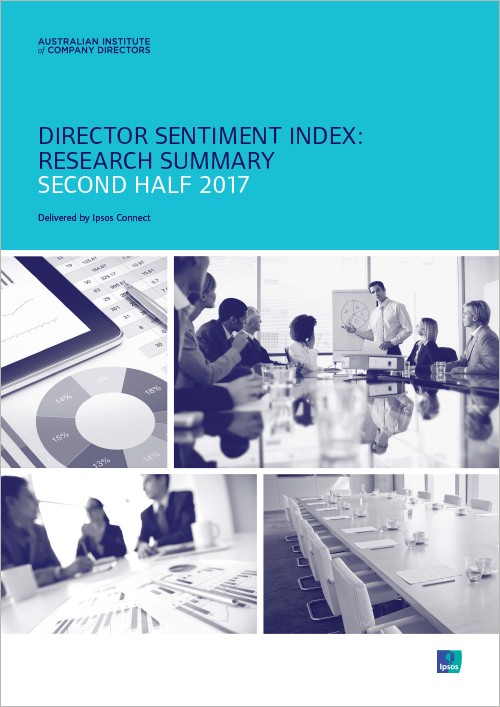 The results from the Australian Institute of Company Directors' latest Director Sentiment Index show that Australian directors are buoyant about what the future holds, with director sentiment rising to its highest point on record.
Now in its seventh year, the Director Sentiment Index (DSI) is a key indicator of the issues that are important to our members and the wider director community. It is a driver for discussions on the economy, policy reform and corporate governance and is one way we consult and engage with members on advocacy issues.
The latest survey conducted in between 21 September and 4 October 2017, shows that directors are more confident than at any time since the Index started.
Directors are more optimistic about the outlook for the Australian economy than they've been since 2011, and optimism has also increased in regards to the outlook for the US and European economies.
In addition, 57% of directors expect their business to expand over the coming year, continuing an upward trend over the past two years. Optimism around wages growth and decreasing unemployment was also strongly evident.
AICD Chairman Elizabeth Proust AO said the Index showed that directors were significantly more optimistic about the general business outlook as well as the outlook for their own sector and organisations over the coming 12 months.
"We've recently seen the strongest employment results since 1994. So the fact that directors are so confident about employment and wages growth over the coming 12 months suggests the economy may be turning a corner after a sustained period of flat wage growth and investment," she said.
Over 90% of directors also reported that Australian business needs to make improvements in relation to corporate culture.
"Corporate culture is an important topic for the board table. It is positive to see the vast majority of directors are actively working to improve corporate culture in their own organisations," the AICD chairman said.
"A focus on culture over the long-term is critical for management and boards of all organisations. This is a complex task that requires sustained effort.
Directors nominated infrastructure, energy policy and international competitiveness as the top three issues the federal government should address in the long term.
Other key findings form the AICD's Director Sentiment Index Second Half 2017 include:
Renewable energy sources topped the list of priority areas for infrastructure investment (53%), followed by regional infrastructure (41%) and roads (33%).
53% of directors reported their boards were actively seeking to increase gender diversity while 77% reported they were actively looking to increase diversity of skills.
42% of directors reported strong expectations around the availability of credit for working capital purposes.
Directors nominated a greater focus on the long-term in planning and reporting, accountability for corporate misconduct and corporate culture as areas needing improvement in relation to business standards and social licence.
Personal income tax topped the list of priorities for taxation reform (50%), followed by company tax (47%), multinational tax arrangements (43%) and state-based taxes such as payroll tax (43%).
This is of of your complimentary pieces of content
Already a member?
Login to view this content