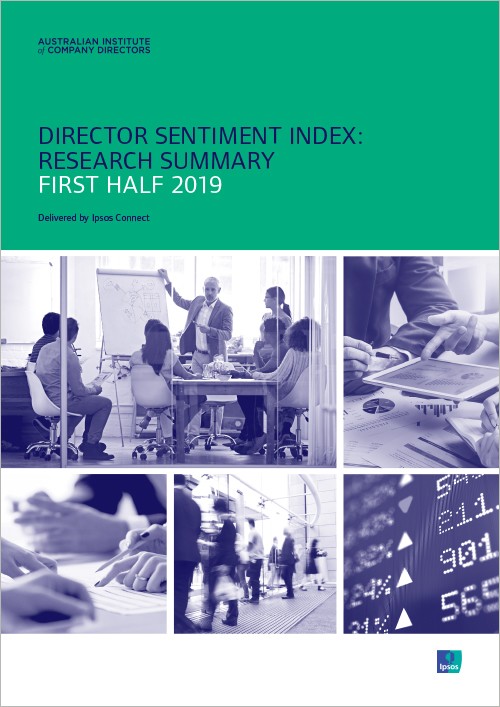 The confidence of Australia's company directors is at its lowest point in over two years according to the latest Australian Institute of Company Directors (AICD) Director Sentiment Index (DSI).
Key findings from the AICD Director Sentiment Index 1st Half 2019 include:
45 per cent of directors expect interest rates to fall in the next 12 months.
Directors nominate personal income tax, corporate tax and State-based taxes such as stamp duty as the priorities for any comprehensive reform of the tax system
83 per cent of directors rate the current quality of public policy debate in Australia as poor
70 per cent of directors think there is a risk-averse culture on Australian boards with a focus on compliance over performance being the primary driver
91 per cent of directors say their board is making efforts to change the culture in their organisation
Demonstrating respect for customers/clients and communities is identified as the number one step boards need to take to rebuild public trust
Directors' expectations regarding the future availability of credit have become more pessimistic, with 40 per cent or more expecting constraints on credit availability for working capital, investment and asset purchases
Overall director sentiment has fallen over 21 points to minus 16.9 over the last six months. The pessimism is largely driven by a fall in confidence about the health of the Australian, Asian, US and European economies over the next 12 months.
AICD CEO and Managing Director Angus Armour said directors are bracing for weaker economic conditions both at home and abroad over the next 12 months."Directors have nominated global economic uncertainty as the main economic challenge facing Australian business," said Mr Armour."Unsurprisingly, this has an impact on the decisions directors are making for their own organisations and they expect investment and new jobs to fall over the coming year.""A majority of directors now also expect unemployment to increase which points to a deterioration in the labour market," he said.Directors participating in the survey nominated climate change policy as the number one priority for the Federal Government to address in the long term, followed by increased infrastructure investment. In the short term, climate policy ranked second to energy policy. Directors continue to prioritise renewable energy for any future infrastructure spend ahead of regional infrastructure and water supply.The results reflect the diversity of the Australian director community with directors from not-for-profits, government bodies, private business and listed companies taking part."Directors are likely frustrated by a lack of bi-partisan support for initiatives to address climate change" said Mr Armour."Boards are hearing from investors, regulators and the broader community that they expect closer attention to be paid to this issue."
This is of of your complimentary pieces of content
Already a member?
Login to view this content