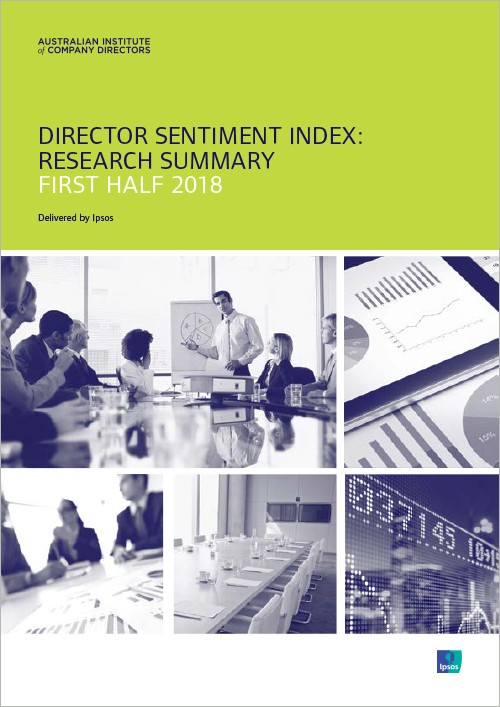 For the third survey in a row director sentiment has reached its highest point since 2011, largely off the back of increased confidence about the strength of the Australian economy, as well as other major economies around the world.
The latest Director Sentiment Index (DSI) has showed directors are more optimistic about the Australian economy both now and for the next 12 months than they were in the second half of 2017. Almost half of directors are optimistic about the general business outlook over the coming year, and 51% are optimistic about the outlook for their own sector.
AICD Chief Economist Stephen Walters said the strong optimism was being driven by directors' confidence in the outlook for the Australian and global economies, despite geopolitical concerns.
"We can clearly see that nationally, directors are increasingly optimistic about the economic outlook, both for their own sector and the broader economy. They're also more confident in the outlook for the US, Asian and European economies," he said.
"However, there's a divergence between NSW and Victorian directors and those in other states, particularly in regards to their own state economies. What we're still seeing is evidence of a two-speed economy where the powerhouses of NSW and Victoria are driving the optimism in the national economy."
Infrastructure continues to be a top long-term priority for directors, followed by issues associated with our ageing population, tackling climate change and reforming the tax system.
AICD Managing Director & CEO Angus Armour said the results showed that while directors were confident about Australia's economic outlook, under-investment in infrastructure was clearly a concern.
"Directors want a national focus on infrastructure, including a needs-based forward pipeline of projects and reforms to encourage innovative and expanded funding options. It's notable that directors nominate renewable energy sources and regional infrastructure as the top priorities – it sends a clear message of where they believe the infrastructure investment needs to be.
Key Results from the latest DSI included:
NSW directors were the most optimistic about their own state's economic health, with 56% of respondents rating the NSW economy over the next 12 months as strong. This was the most favourable result for any state/territory economy, ahead of the ACT and Victoria (both 44%), Western Australia (19%), and Queensland and South Australia (both 17%).
In order to rebuild public trust, 46% believe improvement is required in demonstrating respect for customers, clients & communities.
42% of respondents said infrastructure investment needed to be prioritised in the May budget, ahead of controlling government debt and tax reform.
44% of respondents expect to see wages growth over the coming 12 months, with 48% expecting wages to remain stable.
32% of respondents expect the unemployment rate to fall over the coming 12 months, with 53% expecting it to remain stable.
This is of of your complimentary pieces of content
Already a member?
Login to view this content