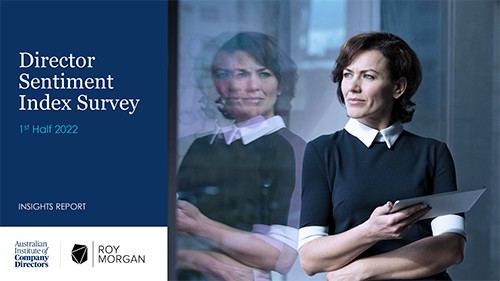 Director sentiment has fallen amid global economic uncertainty. Labour shortages top the economic challenges for directors, while economic management and climate change are the top concerns for directors ahead of the May federal election.
The first Director Sentiment Index of 2022, which surveyed more than 1700 directors and was compiled by research firm Roy Morgan, reveals that directors, while still generally positive, are anxious about global uncertainty.
The overall Director Sentiment Index for the first half of 2022 fell 7.1 points from 17.9 to 10.8 since the last survey in December.
Labour shortages have increased again as a top economic challenge facing Australian businesses with 60 per cent of directors nominating it, followed by global economic uncertainty and climate change.
 The Index reveals that 57 per cent of directors believe Australia's economic health is strong now and will remain strong in 12 months' time.
AICD Chief Economist Mark Thirlwell said, "The drop in director sentiment was expected, given the significant amount of uncertainty facing Australian business now, largely driven by global circumstances, including the impacts of the invasion of Ukraine.
 "Still, it's also important to note that the DSI remains in positive territory, suggesting that directors, even after taking all these risks into account, are still relatively optimistic about Australia's overall economic and business prospects."
Directors were asked, in the context of their organisation, what is most important issue that their vote will be based on in the upcoming federal election. The economy and economic management took top spot, just above climate change.
AICD Managing Director and CEO, Angus Armour, said, "As we have seen already, both sides of politics have centred their campaigns around the economy, as most Australians feel the impact of the rising cost of living. Directors, too, have indicated that economic management is top of mind, as they call for policy certainty to ensure prosperity.
 "The results also reflect what we have known for some time, directors are seeking a clearer pathway and stronger commitments on climate change, which is almost of equal importance to directors as strong economic management.
Other key findings from the Director Sentiment Index 1H22 include:
Directors identified cyber-crime and data security as the number one issue keeping them awake at night.
Skills shortages was again chosen as the second most important short-term priority for the Government to address, but when taking a long-term perspective, directors chose an ageing population as the second biggest issue over the next 10 years.
58 per cent of directors do not think the current level of diversity on Australian boards is satisfactory.
Western Australian directors remain the most bullish about their state's business prospects, with 78 per cent certain conditions will remain strong next year.
NSW had the biggest shift in sentiment, with confidence about business conditions over the next 12 months dropping 19 per cent this survey.
63 per cent of directors surveyed believe China's economy is strong, up from 47 per cent last DSI survey.
Less than one in five directors perceive the European economy as being in a strong position now, or in 12 months' time.
This is of of your complimentary pieces of content
Already a member?
Login to view this content