Home building tycoon Dennis Family Corporation swear having non-executive directors on the family board was the best decision they made. Here's why your family business should consider it too.
The best thing we've ever done is appoint non-executive directors (NEDs) to the family council and the main operating business, Dennis Family Holdings," emphasises executive chairman Grant Dennis. He is one of four siblings who, with parents Bert and Dawn Dennis, are equal shareholders in Dennis Family Corporation, a successful home building, land development and shopping centre business with interests in Victoria, southern NSW and South East Queensland.
The businesses, started by civil engineer Bert in the 1960s and focusing on affordable homes, have doubled every five years on average, with the company currently employing 450 people. It's a growth story that Grant — Bert's eldest son — attributes to having "smart, intelligent and experienced" outsiders with diverse experience in the boardroom.
Until the turn of the century, the Dennis businesses ran along traditional family lines, with a collegiate leadership style. In the mid-1980s, Bert was joined by Grant, who had just returned from the US, where he'd started university on a baseball scholarship and finished studying business management.
Governance plans for the business arose in the 1990s, after Dawn and Bert asked their four children what they'd like to do with it and if they wanted to go their separate ways. They chose to stay together to "have 25 per cent of 100 per cent, and a bigger stronger business".
"We had no board, and when we put on our first external CEO in 1999, a formal separation of family issues away from the business was triggered because someone needed to know the boundaries of their role," recalls Grant. "What capital was available to invest? What sort of return do shareholders want?"
A family council was created and formal governance structures soon followed, with guidance from Noel Waite AO FAICD, founder of board consultancy the Waite Group, who helped second-generation family members sort roles and responsibilities. Following the appointment of one NED in August 2000, a further three had been enlisted by the end of 2001. As the business has evolved, the board has been refreshed several times, with one of the originals, Michael Johnstone, still in place.
In 2019, all four second-generation family members are directors at the Dennis Family Corporation. Grant's older sister, Adele, is CEO of the family office (staff of two, plus three advisors). She oversees the family's wealth with investments in funds and a focus on different asset classes to the largely property-based main operating business. Younger brother Marshall is deputy chair of the shopping centre business and oversees several farming interests, while sister Natalie is the company secretary. Two of a potential 11 third-generation family members are also employed, working within the same parameters as other employees. To avoid nepotism, they cannot report to a family member.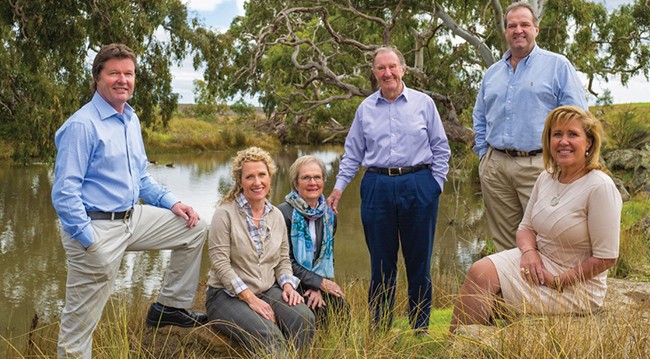 In addition to the family and Michael Johnstone on the Holdings board sit four other NEDs with relevant executive career backgrounds: Keith James, formerly of law firm Hall & Wilcox; Brendan Crotty, ex-Australand/Frasers Property Australia; and Jeremy Nestel, ex-Citibank. Chairing the family council, the operating business and its audit and risk committee is Bill Stevens, ex-KPMG, who brings strengths in governance, compliance and audit.
Having a non-family chair for these business components is "fabulous", says Grant. "If you can find the right person who understands the dynamics of the family and the family business, it strips the emotion out of issues so they're dealt with pragmatically." It also gives comfort to senior management and executives in the operating business, knowing "there's no potential for a family member to ride roughshod over the organisation. We don't let our egos get in the way."
Now in his 80s, Bert's input continues. He sits on the holdings board and a subsidiary board of Dennis Family Homes, chaired by Michael Johnstone. "Bert recently announced he's learned more in the past 10 years than the previous 50," says Grant. "He can't wait to get to the office every day. You can't imagine the value [the directors] bring in governance, oversight, compliance and expertise. If you want the business to prosper and achieve its goals, don't be afraid to pay for advice and put people on your board."
Grant admits there's an adjustment phase. "We had a while when it was challenging to insist family members abide by the rules. It was hard breaking previous behaviours." When the first CEO came on board, "if Bert wanted to ask something he'd just go straight to the senior executive and make a decision".
There's been continuous evolution of the governance and a maturing process for shareholders. And while there's no obligation for third-generation family members to join the business, Grant believes robust structures and processes should ensure it keeps working for that generation and beyond.
This is of of your complimentary pieces of content
Already a member?
Login to view this content