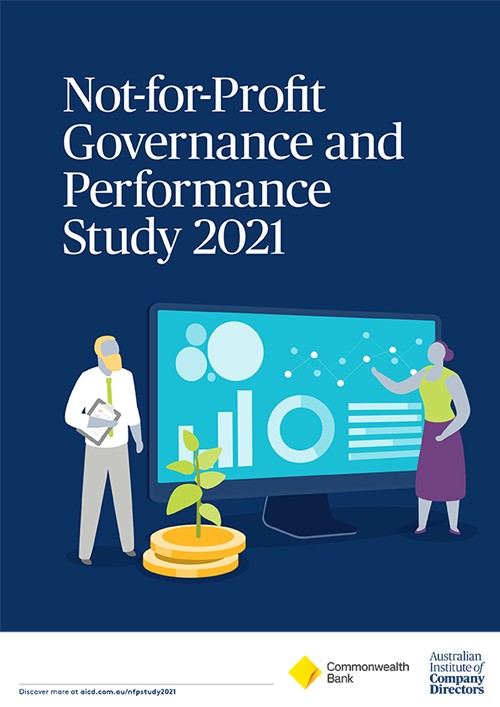 The 12th edition of the Not-for-Profit Governance and Performance Study, tells a predominantly optimistic story. For most organisations the financial outlook is relatively positive over the medium-term, but it will take some years to recover the ground lost through COVID-19. The effectiveness of organisations is well-rated and survey respondents also reflected on the continuing improvement in the quality of governance.
For more than a decade, the AICD's Not- for-Profit Governance and Performance Study (NFP Study) has sought to delve behind the headlines and explain the unique challenges facing the boards and directors in this vastly diverse sector.

The 2021 NFP study has again been conducted against a backdrop of organisations being under enormous pressure and immense disruption. Many of the organisations caring for our most vulnerable or providing vital services to the community, are being tested like never before.
The 2020 study highlighted that in many sub- sectors, COVID-19 had intensified the financial pressures that existed prior to the pandemic, while other sub-sectors were surprisingly far less impacted. This year, the results of our research continue this theme, with more surprising findings about the role of directors in a crisis. 
Key findings include:
84 per cent of respondents reported making a profit or breaking even.
35 per cent used their financial reserves to fund operations.
77 per cent said their organisation is mostly, or highly effective, at achieving its purpose.
95 per cent of respondents reported service delivery had changed post-pandemic.
81 per cent reported they were more cautious with client safety than required by governments.
81 per cent of respondents are concerned about the strength of the Australian economy.
82 per cent said the sector need more financial help from government.
The AICD has launched a valuable new data tool – an interactive dashboard which contains insights into the not-for-profit sector that can be searched according to geographical region, subsector and other variables such as profit. The data is based on findings from the NFP Governance and Performance Study 2021 and users can now take a deeper dive into the results. View the dashboard here.
This is of of your complimentary pieces of content
Already a member?
Login to view this content