Sydney's construction product manufacturer Makinex has its sights set on becoming a $100m global business. It outlines its gameplan.
In 2015, Makinex opened an office in Los Angeles, and its revenue in the US has eclipsed its other markets in Australia and Europe. Co-founder and managing director Paul Weaver says the sheer size of the consumer population in the US drove the growth, as Makinex's customers there include Home Depot and United Rentals, two of the world's biggest hire companies. However, the company's success in the US didn't come immediately. It took some time for Makinex to refine its approach to selling the company's generators, pressure washers, mini loaders, dumpers and powered hand trucks.
"We started out with a distributor and dealership model, which just didn't work," says Weaver. "We took baby steps after that — joined associations and started exhibiting at trade shows to get to know the market players."
Weaver travelled to the US six times in that first year, and continues to visit at least twice a year. However, he has found locals tend to prefer dealing with their fellow Americans. "It's because they understand the intricacies of doing business there," he says. "There are some synergies with how we do business in Australia, but I'd say Australians are more direct. It's not like the UK where things tend to be very conservative, but there is a certain way of doing business that's unique. I definitely learned a lot from some of the direct approaches I took. I had to take a step back and use my partnerships."
Today, Makinex's LA office (in Torrance, in LA County) has 12 people, including a six-member sales team with a global product manager, plus there are sales representatives across the US.
Makinex recently set up an office and warehouse in Birmingham, UK, and has distributors in countries including New Zealand and the Netherlands. Weaver says the company's annual turnover from selling the products it designs and manufactures in-house is in the range of $10m–$20m.
Going global
The company has come a long way since it started as Work Smart Equipment in 2004. "Rory Kennard designed a product for the family business, Kennards Hire. That was the embryo, I suppose, of this business and it evolved from there," says Weaver, who handles the day to day operations while Kennard focuses on new product development and the overall running of the business.
Makinex co-founder and CEO Kennard is a mechanical engineer who began designing and selling construction products under his industrial and architectural design business, Kennovations, after graduating from university. He heads up a four-person research and development department, which builds its prototypes in a Sydney factory and manufactures mostly (60 per cent) in Sydney, but also in China, Spain and the US.
"In the early days, we used to outsource manufacturing to a company in China, but the consistency wasn't to the standard we needed it to be," says Kennard. "We have a contractor in China who does all our quality control and he's literally in at least one of the four factories every day."
Many of the design ideas come from its customers such as Kennards Hire, via feedback from its sales team, but Weaver stresses that Kennards Hire and Makinex are completely separate businesses. "A lot of people assume there is some overlap, but that's not correct," he says. "Kennards Hire is a great customer of ours, but there is no control or interest."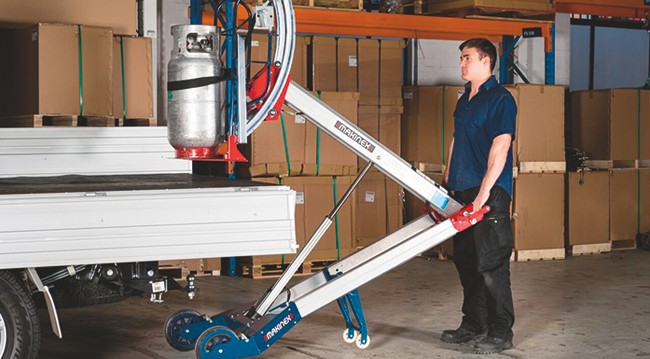 Powering hand trucks
When staff at hire companies cited a recurring issue with back injuries caused by lifting heavy equipment, the Makinex design team came up with a solution: the powered hand truck, an easy-to-use alternative to a forklift.
Makinex hopes the product, which won the Safe Work Australia Award for Good Design, as well as several international awards, will eventually replace the forklift as a means of lifting smaller but still dangerously heavy items.
"Typically, a hire company purchases products that have a return on investment, whereas this product improved health and safety," says Weaver. "It's a significant change of mindset for the industry and we're very proud of that."
In the early years, Makinex simply imported products it was licensed to distribute in Australia.
It used the margins from selling licensed products to scale the business and slowly started introducing its own products to the market in 2005.
We have a contractor in China who does all our quality control and he's literally in at least one of the four factories every day.
Planning ahead
Six years ago, Makinex took on business coach Anthony Moss GAICD, who now chairs the advisory board. Moss facilitated the creation of a 10-year plan — broken into three and four-year chunks, with goals to be reviewed regularly and reset as needed. Its initial goal — to have a range of 20 world-first products in 20 countries within 10 years, and a $40m turnover — was abandoned last year.
"Selling our products into the Middle East and Asia wasn't possible, because they weren't prepared to pay for premium products," says Weaver. "Our products are about safety and efficiency, and the cost of labour there is low. We weren't prepared to drop the price, which made us rethink whether we really wanted to be in 20 countries."
Makinex is "dipping its toe in the waters" in China, but taking a "steady as she goes" approach. In the meantime, the company's new goal is to create 20 product ranges, each with a turnover of $5m, says Weaver. "We haven't put any timing on it, but you could read into it that we want to be a $100m business."
Makinex posted a record US growth rate of 43 per cent by revenue in 2018 — its average over the past six years has been 31 per cent. Weaver attributes this to the release of new products and a booming construction industry in the US and Australia.
The company currently has 12 product ranges and is about to finish year seven of the 10. Weaver thinks Makinex is on track to achieve its goal.
"Our growth is directly linked to new product development. When we add a new product, it gives an instant 15 per cent boost, because we have traction in the markets. But you can't force it; you can't pluck products out of the sky. Last year, we had six to eight potential new products fail because we couldn't commercialise them. That's OK. When we design a new product, it must be better than what's currently available in the market."
This is of of your complimentary pieces of content
Already a member?
Login to view this content