Carpenter turned Lendlease executive Cath Brokenborough GAICD is facilitating a program to bring the NSW community of Bourke together and build Indigenous engagement.
Five years ago, Bourke, 800km north-west of Sydney, was tagged by media, police, statisticians and government departments as the most dangerous town in New South Wales. Its high crime rate — mostly involving socially disadvantaged Aboriginal people, many of whom had been removed from families or relocated when the missions closed — was out of control. The cost of jailing young people exceeded $4 million annually.
Today, car thefts are down, domestic violence has almost halved and assaults have decreased, thanks in no small part to the Maranguka Justice Reinvestment initiative. The program was the result of a meeting — convened by Just Reinvest NSW, former Aboriginal and Torres Strait Islander Social Justice and Native Title Commissioner Mick Gooda, and Bourke Aboriginal leader Alistair Ferguson, executive director of Maranguka — at the Australian Human Rights Commission. A number of organisations were invited to participate. Lendlease, Dusseldorp Forum and the Vincent Fairfax Family Foundation emerged as the main partners. Others have since joined.
Regular meetings, led by facilitator Cath Brokenborough GAICD, focus on bringing the community together and listening to their problems. "We learned so much about the whole service industry," says Brokenborough, Lendlease's executive lead for Indigenous engagement and reconciliation. "[We learned] how one hand doesn't know what the other is doing — how when the government gives $10m to a project and only $3m hits the spot. People coming from outside are not properly supervised, they cut corners, then they leave town. We started to get the big picture."
Murdi Paaki Regional Assembly (MPRA), representing the interests of Indigenous people in 16 communities across western NSW, sent a working party to Sydney to talk to corporate organisations. They discussed issues such as housing, which was limited and inappropriate for the harsh environment, where temperatures could reach more than 50 degrees Celsius. "Lendlease sent our principal architect out to the communities," says Brokenborough. "We asked, what makes a home as opposed to a house? What do we wrap around the house for support?"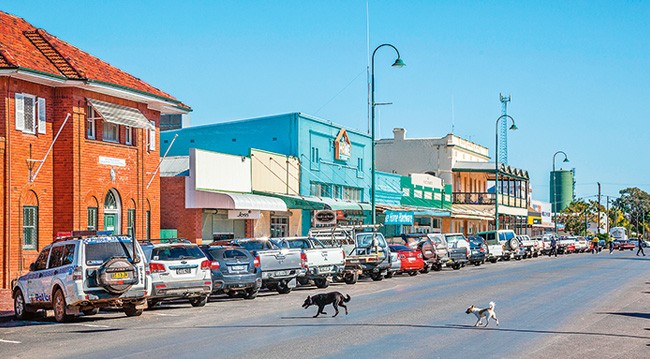 Also high on the agenda was youth crime. Too many Indigenous people were in jail because they couldn't afford to pay fines.
"There were 60 services, from Mission Australia to CentaCare, all doing different things in Bourke," says Brokenborough, who played a pivotal role in facilitating outcomes from the community's self-determination strategy. "The people they were supposed to be helping didn't know what they were for and didn't use them — [it was] a huge wastage."
The initiative mapped all the service providers and brought them together to discuss their objectives so they could combine resources and goals to be more effective.
You have a coffee with the local traditional owners and you might cop an earful, but you have to be in it for the long run to build that trust.
"Those forums were eye-opening stuff. As an Aboriginal from outside Bourke, I could support the Aboriginal community and have some of the harder conversations. Mentoring, following through and coordinating the steering committee — it's all relationships-driven. You have a coffee with the local traditional owners and you might cop an earful, but you have to be in it for the long run to build that trust."
Building a career
Now Brisbane-based, Brokenborough is a Wiradjuri woman from central-western NSW. The youngest of nine children, she was brought up in Penrith in western Sydney, by a great-aunt who ingrained in her a deep sense of social justice. She started a teaching degree at Macquarie University and worked part-time in retail and as a paralegal. On graduation, she joined the then Maritime Services as an apprentice. Moving to Lendlease in the early 1990s, she began working on construction sites as an apprentice carpenter.
"Lendlease scratched their heads," she recalls. "They said, 'what do we do with a woman on site? We'll need a toilet.' They called me a 'civilising influence' [at a time when] there were Page 3 girls and nudie photos on site. I'd heard all the men were tough and rugged, but I found them so kind. They looked after each other [and had] a great sense of camaraderie and family. The biggest problem was that the men would say, 'You're a woman — I've got this problem with my wife'. I'd say, 'I'm not going there!'"
Back then it was difficult for women to break through to management positions and being Aboriginal could be a double disadvantage. "It was not something you advertised. I was born when Aboriginal people were not counted in the census. You were told by your parents and grandparents to keep quiet because otherwise your opportunities would be limited."
Brokenborough worked in construction (including the Sydney Olympic site) into her forties. In 2005, she became health, safety and environment manager on Lendlease projects around Australia. Four years later, she started the company's diversity council, which interacts with staff in such key areas as age differential, Indigenous engagement, LGBT and gender issues and flexibility in the workforce.
"There are racial biases in the workplace," she says. "Lendlease employees are 100 per cent trained in cultural awareness — one hour online and five hours face-to-face training by an Aboriginal company. It shocks many people when they look at a young Indigenous person today and hear that their parents or grandparents were on a mission and never considered to have a job. That trauma still impacts Aboriginal workers."
Indigenous leadership
Few corporate organisations have an Aboriginal person leading the Indigenous engagement and Reconciliation Action Plan (RAP) agenda at the group level. Brokenborough is admired for the cultural integrity she brings to her role. Lendlease promotes her as an ambassador, governments regularly seek her views on policy outcomes, and peer and client organisations often request her advice and assistance on their own RAPs.
Brokenborough wears many hats and recently became the first female chair of the Australian Indigenous Leadership Centre (AILC), an NGO offering courses to help Indigenous people pursue their careers and hone their leadership skills. AILC goals involve increasing the number of qualifications delivered by its registered training organisation (RTO) and extending the scope of qualifications, including a diploma in Indigenous leadership. More than 3000 Indigenous alumni will be encouraged to be role models in the delivery of courses and interaction with students. The board has been restructured with a new CEO, Robyn Forester, to increase expertise and connections to new markets. "We have undertaken a strategic review, formed additional board committees to embed the new strategies and are looking at alternative sources of income through partnerships," says Brokenborough.
Communication and good governance
Brokenborough's experience, knowledge and networking skills gathered over 30 years in a wide variety of disciplines have made her a popular mentor to young people. She credits the Company Directors Course she did in 2016 with making her a broader strategic and big-picture thinker. "When you spend a lot of time as a manager you really need to be taught to think outside the box and focus much more on the legal obligations you have as a director."
She rates effective communication and interpersonal skills, a solid understanding of their own accountabilities and the legal and compliance framework in which they will operate as among the most important attributes a person can take to a board. Add to that: "skills, knowledge and experience, which are diverse and will benefit the organisation, an ability to assess opportunities as well as risks, an understanding of the market, shareholder, community, government and other stakeholder expectations and aspirations, resilience and the ability to learn and grow in response to setbacks as well as successes."
Governance, she says, extends beyond legal compliance and should include establishing and monitoring the culture and health of the organisation. "The governance model established by the board should be operationalised throughout the organisation, and that strategy should continually challenge the status quo and the operating environment." Brokenborough says business needs to understand and consider issues that are common to Indigenous people. They can be as basic as not being able to afford a birth certificate, which, even if they could access a car, means no driver's licence; or their customers paying bills within 14 days so small Indigenous businesses can keep afloat.
She is adamant that leadership ought not be just about technical skills. "If you've been a leader in a community, that should be recognised. Those skills are valid and inspirational leadership is needed, particularly on boards. Shareholders and investors want to see social change and are looking for companies that [practise it]. Boards need to wake up."
Nicola Wakefield Evans FAICD and Elizabeth Proust AO FAICD are members of the Lendlease board and also AICD's national board. 
Starting Dialogue with Indigenous partners
Sit down over a cup of tea and listen; it's a two-way learning process
Understand community aspirations so you can establish how best to work together
Avoid a paternalistic approach; don't presume you know best
Be patient; build a relationship of trust and remember that takes time
Partner with Indigenous-owned and managed organisations when it comes to social issues and social justice
Understand Indigenous culture and heritage; there is a wealth of knowledge to be utilised
Recognise there are many different urban, rural and remote Aboriginal and Torres Strait Island groups speaking more than 150 languages
Work hand-in-hand with traditional owners and Indigenous businesses even before tendering for a project.
This is of of your complimentary pieces of content
Already a member?
Login to view this content