A global professional services provider in the energy, chemicals and resources sector, Worley has undergone a quiet strategic pivot, repositioning itself for the massive sustainability challenges ahead. It's the culmination of a life's work for co-founder and chair John Grill AO.
As economic transformations go, the change in how the world gets its energy and uses resources in the next 20 to 30 years will be nothing less than a new industrial revolution. It's certainly the most dramatic change Worley Ltd chair John Grill AO has seen in more than 50 years in the business. And for an engineer, a person of few words, he says it's exciting. "The world doesn't yet understand the scope of the work required if any country is going to get emissions-free by 2050," Grill tells Company Director in a rare interview.
Worley — the Australian-grown global provider of professional project and asset services in the energy, chemicals and resources sectors — is in the middle of a strategic transition for the decades ahead. Independent of the science, which Grill accepts, he says the transition to a lower carbon is likely to be a positive.
"There's no argument we are going to have a much cleaner society to go down the zero emissions route," says Grill. "It's an evolution that is helping mankind in many different ways and we'll end up with a better result."
The push to net zero is gathering momentum, with some of the world's most influential economies naming explicit targets to achieve net zero carbon emissions, according to the UK's Energy and Climate Intelligence Unit. Many companies across major listed markets are now doing likewise.
The scope and cost will run into trillions over decades. It will require rebuilding and retooling the entire national energy infrastructure, creating new industries and change across multiple economic sectors and unprecedented rates of deployment of significant scale and complexity, says Grill, citing researchers at Princeton's Net Zero America project who are mapping how the targets become reality.
It's energy — and more
The company is responding to four forces reshaping business and society — climate change, the energy transition, circular economy principles and rapidly rising data utilisation and automation. "We think we know in what direction the industries we're involved with are heading so we're doing our best to stay ahead of that direction," says Grill. "We're singing to the choir. It's what our people want to be doing and investors are putting pressure on also."
In April 2019, Worley completed the US$3.2b acquisition of the energy, chemicals and resources division of Jacobs Engineering Group Inc, subsequently rebranding to Worley Ltd. For a company that has long grown as a serial acquirer, this was its biggest merger. The company now has more than 48,000 employees in 49 countries with 21,000 current projects.
Aside from its geographic market benefits, the deal made by Worley was an opex versus capex play. It increased revenue derived from customers' operating expenditures (now around 45 per cent of total revenue), which tend to be less variable during industry downturn, while lowering its exposure to upstream and midstream oil and gas capital expenditure sectors (now around 20 per cent) and boosted its business in the less cyclical chemicals sector. Five years ago, the company made most of its money from working with big oil and gas companies.
It's the culmination of a life's work for Grill and a time of operational and organisational renewal for CEO Chris Ashton MAICD, who, in February 2020, succeeded CEO of seven years Andrew Wood.
Born in 1945, in the Sydney suburb of Bondi Junction, Grill started his career at Esso Australia before becoming CEO of engineering services firm Wholohan Grill and Partners in 1971. This company acquired US-based Worley Engineering in 1987, listed in 2002 and then acquired US services company Parsons E&C Corporation in 2004, becoming WorleyParsons.
Ashton joined Parsons E&C in 1998, which was acquired by WorleyParsons in 2004. He grew up in the northern English city of Sunderland and left school at 16. "My background is not linear," he reflects. Ashton worked his way from shipyard to a degree in electrical and electronics engineering. Later, he studied an MBA at Cranfield School of Management and in the executive management program at Harvard Business School.
Temperamentally, chair and CEO are very different. Grill is a classic under-the-radar person of few words. Ashton, who has been working from his home in Houston, is more outgoing. He loves a chat and is passionate about leadership.
Unknown to the chair, his early recognition of Ashton's work made a big impact. "I remember in 2006 getting a call," recalls Ashton. "'Hey Chris, it's John Grill.' He had called to give me some recognition." Grill doesn't remember the call, but Ashton does. "I've carried with me that he had time to call and still remember how that made me feel."
Integration essentials
By Grill's count, Worley has conducted around 30 to 40 (mostly smaller) acquisitions, strategically building the global business.
"I'm always surprised when people say they have this grand plan," he says. "It happened in multiple little steps, when we brought the pieces together." Grill notes the key to a successful merger is disciplined project management. "We've made all the mistakes we needed to make to get to the structure we've got."
This will be an extraordinarily difficult challenge, but we are giving it our best shot.
Board matters
After stepping down as CEO in 2012, Grill had a few months break, (during which he and his wife studied French in France) before coming in as chair.
"I had enough time as CEO to realise the difference between being CEO and chair. And I've learned a lot from [previous chairs] John Schubert and Ron McNeilly." Worley's board of 12 has undergone recent renewal. It includes former Dow Chemical global chair and CEO Andrew Liveris AO who is deputy chair and lead independent director; Martin Parkinson AC, former Secretary to the Department of Prime Minister and Cabinet; Emma Stein, non-executive director of Alumina, ADBRI and Cleanaway; Sharon Warburton FAICD, director of Wesfarmers and Blackmores; and Roger Higgins, a non-executive director of Newcrest Mining and Ok Tedi Mining. Other directors include Hong Kong-based Wang Xiao Bin, CFO of China Resources Power Holdings; Juan Suárez Coppel, former CEO of Petróleos Mexicanos (Pemex); and Anne Templeman-Jones FAICD, a non-executive director of CBA and GUD Holdings.
''We have a large board, but we have a fair number of committees so we can get the compliance work done by the committees and report back to the board," says Grill.
To steward the transformation, the board committee charters were reviewed and updated and it established a special-purpose board transformational strategy subcommittee.
Ashton catches up every Wednesday with Grill. "I download the events of the week and do the helicopter view, what's on my mind, how we are progressing against the key strategic goals," he says. "John creates the environment at board level where people can speak their point of view. He allows the diverse perspective to come into a melting pot.
He occasionally gives it a delicate intervention at the right time, signalling the board coming together at the tail end."
As for the COVID-19- induced shift to virtual meetings, Grill says it has made life much easier, particularly as getting a board together physically is impossible when members are scattered all over the world.
He says, as a chair,it's easier in this time of videoconferencing. "People have to put their hands up to talk, you have more control. It's harder for directors to have chats in the corner — although some might argue that's a disadvantage. It's easier in virtual conferencing to get the path of the discussion moving and to get all the directors who have something important to say. You step through the little hands that are up and make sure people have a good conversation."
As succession planning proceeded for the CEO role, Ashton took on the role of chief operating officer. "I had two primary objectives — to lead the integration and to develop a transformational strategy for the next two decades."
For organisations of their scale and scope, Ashton says the technical integration was complicated, but something that could be planned. "Most M&As don't succeed. It's not because on paper they don't work, it's the cultural clash. Companies tend to focus on systems and processes, but there are a bunch of 'softer' issues required to make an M&A work, which are not 'soft' at all. They are the hard things."
After the announcement in October 2018, regulatory approval took six months. Meanwhile, incumbent CEO Wood and Jacobs Engineering CEO Steven Demetriou made a commitment that there would be a distribution between key people. A steering committee was set up with leaders from both organisations, and each position in the integration team had two people associated with it, one from Worley, one from Jacobs, "so you were bringing both perspectives together," says Ashton.
When the steering committee launched the new organisational structure, it colour-coded the roles (blue for Jacobs, red for Worley) so people could see there was a balance. The colours have been carried through to the company's new logo.
"It wasn't all red, it was red and blue, and we cascaded that through the organisational structures," says Ashton. "It led to an ease that we were leading to integration, not a takeover. Depending on how much of the planning dictated the need for two people, we picked the best person, sometimes Worley, sometimes Jacobs.
Archeological dig
Once the organisations came together, Ashton says it was a question "of what was the one-plus- one-equals-three?" What was the new purpose of this organisation? "I didn't have the answer, but I believed the answer lived in the organisation."
There were two ways the purpose could evolve, he says. Top-down would have been to get 25 of Worley's best into a room for a few days and brainstorm. However, bottom-up was the key.
"I stepped back and thought, if I'd left school at 16 and worked at all these layers of the organisation, what would I want? As an employee, I'd want to be part of the process that delivered the purpose."
An earlier conversation with ANZ CEO Shayne Elliott MAICD had impressed on Ashton the notion of an archaeological dig. "It resonated — going into the business and listening to the heartbeat of the organisation. When you do an archaeological dig, you find a bit here, a prehistoric skeleton there. You understand what's going on in the organisation."
The company ran workshops across the business, facilitated by consultants nowhere and Samurai. Through late 2019, the workshops gathered perspectives and data from a cross- section of more than 1500 employees. When COVID-19 hit, the remainder of the work had to be done by videoconference. But by March 2020, "we saw the purpose we have now — delivering a more sustainable world," says Ashton.
This purpose was underpinned by four new values: Life, Stronger Together, Rise to the Challenge and Unlocking Brilliance. Graphically, the values came to life around the concept of leadership, people and impact on the world. Inspired by a painted handprint from an employee's husband, the powerful images resonated with the 700 graduates a year the company recruits, through to people who had been with the company for many years. "They say it's not about me, it's about my grandchildren... to create a legacy beyond them," says Ashton.
Within three weeks of taking over from Wood, Ashton had to oversee the company as it mobilised 45,000 people to work from home as the pandemic hit. Health and safety was a priority.
Ashton says the rapid shift in community and investor sentiment on climate change and energy became clear, which amplified the new corporate purpose. "We knew we were on the right track. We took it to the board in April, launched internally in June and formally in August with full-year results. It's resonated beyond anything I could've imagined. COVID-19 gave us the opportunity to accelerate the change in the business more quickly. There was a need to transform faster, to emerge stronger."
Worley joined the cohort of companies signalling a revised climate change position statement aligned with the Paris Agreement and UN Sustainable Development Goals. "The company has strengthened its performance evaluation with behaviours and ESG-related targets clearly linked to its incentive programs."
The company is testing and commercialising energy transition technologies — from a renewable energy project to convert a San Francisco oil refinery into a processing plant for reusing cooking oil, to a contract to design the first commercial- scale plant to capture CO2 directly from the atmosphere.
"Chris has brought the structure into the company and it has worked well," says Grill. "We are reinventing ourselves partially because we see it as good business sense and partially because the writing is on the wall for the business. The work is very aligned to our capability."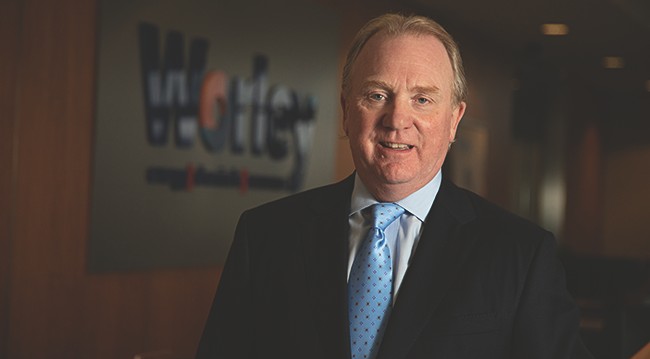 Measure for measure
So much for targets and the talk, but amid rising concerns amongst investors and regulators at greenwashing, board and management are alert to the need for assurance. In three to five years' time, Ashton aims for between 75–80 per cent of the company's revenue to be coming from the sustainability domain.

Current revenue from this area is 30 per cent. Worley has developed a framework to assess and categorise the revenue from its sustainability domain and says assurance of the methodology will be obtained.
Ashton says it is also a process of educating investors. In his experience, the conversation with investors is in two extremes. "One is what's the number in the bottom of the spreadsheet and the other is, tell me how your strategy to pivot is going to change your business. What are your skills gaps? These are really the longer-term investors."
He describes the times as a "gravitational force pulling us to the future... What is the world if we don't address this? We have to believe in the art of the possible, but there is also a decent dose of what sort of leaders are we if we don't embrace this challenge?"
FY20 was the company's first full year operating as the "new" Worley, delivering cost and revenue synergies and performance improvements beyond those identified pre-acquisition. The life span for this "revolution" will be beyond Grill's own.
"This will be an extraordinarily difficult challenge, but we are giving it our best shot and will succeed," he says. "And if I hang around long enough, I'll get to see it, and that's a good feeling."
Most M&As don't succeed. It's not because on paper they don't work, it's the cultural clash.
This is of of your complimentary pieces of content
Already a member?
Login to view this content