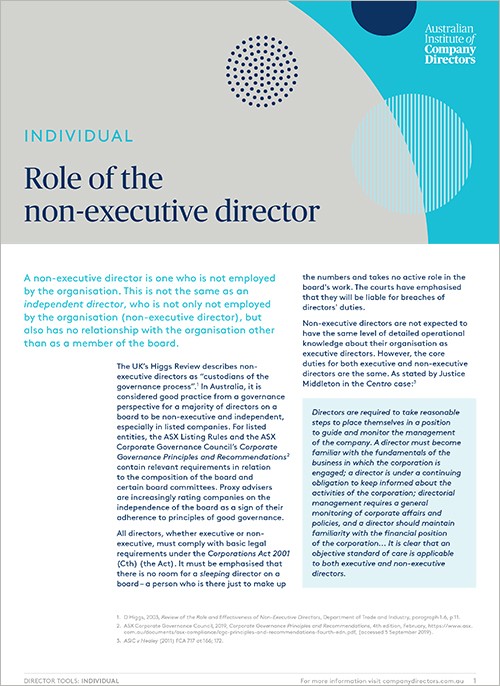 A non-executive director is one who is not employed by the organisation. This is not the same as an independent director, who is not only not employed by the organisation (non-executive director), but also has no relationship with the organisation other than as a member of the board.
The UK's Higgs Review describes nonexecutive directors as "custodians of the governance process".1 In Australia, it is considered good practice from a governance perspective for a majority of directors on a board to be non-executive and independent, especially in listed companies. For listed entities, the ASX Listing Rules and the ASX Corporate Governance Council's Corporate Governance Principles and Recommendations2 contain relevant requirements in relation to the composition of the board and certain board committees. Proxy advisers are increasingly rating companies on the independence of the board as a sign of their adherence to principles of good governance.
All directors, whether executive or nonexecutive, must comply with basic legal requirements under the Corporations Act 2001 (Cth) (the Act). It must be emphasised that there is no room for a sleeping director on a board – a person who is there just to make up the numbers and takes no active role in the board's work. The courts have emphasised that they will be liable for breaches of directors' duties.
Download the tool to read more.
This is of of your complimentary pieces of content
Already a member?
Login to view this content