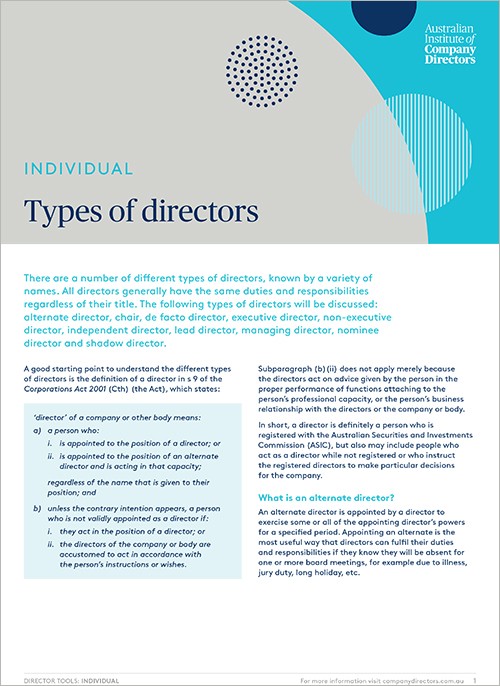 There are a number of different types of directors, known by a variety of names. All directors generally have the same duties and responsibilities regardless of their title. The following types of directors will be discussed: alternate director, chair, de facto director, executive director, non-executive director, independent director, lead director, managing director, nominee director and shadow director.
A good starting point to understand the different types of directors is the definition of a director in s 9 of the Corporations Act 2001 (Cth) (the Act), which states:
'director' of a company or other body means:
a person who:
i. is appointed to the position of a director; or
ii. is appointed to the position of an alternate director and is acting in that capacity;

regardless of the name that is given to their position; and


b) unless the contrary intention appears, a person who is not validly appointed as a director if:
i. they act in the position of a director; or
ii. the directors of the company or body are accustomed to act in accordance with the person's instructions or wishes.

Subparagraph (b)(ii) does not apply merely because the directors act on advice given by the person in the proper performance of functions attaching to the person's professional capacity, or the person's business relationship with the directors or the company or body.
Downlaod the tool to read more.
This is of of your complimentary pieces of content
Already a member?
Login to view this content