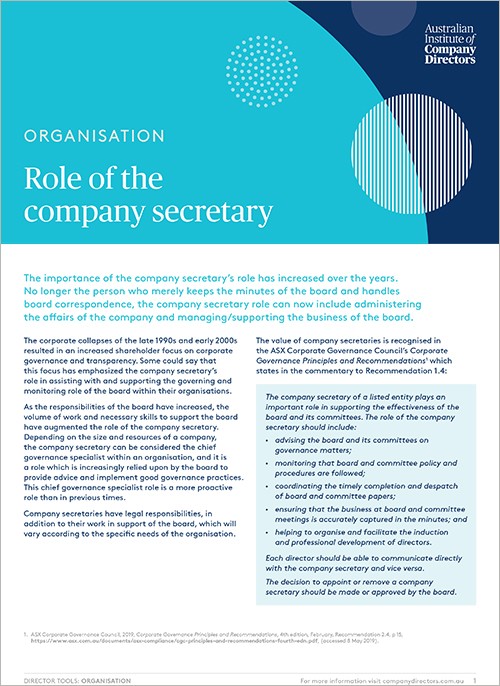 The importance of the company secretary's role has increased over the years. No longer the person who merely keeps the minutes of the board and handles board correspondence, the company secretary role can now include administering the affairs of the company and managing/supporting the business of the board.
The corporate collapses of the late 1990s and early 2000s resulted in an increased shareholder focus on corporate governance and transparency. Some could say that this focus has emphasized the company secretary's role in assisting with and supporting the governing and monitoring role of the board within their organisations.
As the responsibilities of the board have increased, the volume of work and necessary skills to support the board have augmented the role of the company secretary. Depending on the size and resources of a company, the company secretary can be considered the chief governance specialist within an organisation, and it is a role which is increasingly relied upon by the board to provide advice and implement good governance practices. This chief governance specialist role is a more proactive role than in previous times.
Company secretaries have legal responsibilities, in addition to their work in support of the board, which will vary according to the specific needs of the organisation.
Download the tool to read more. 
This is of of your complimentary pieces of content
Already a member?
Login to view this content