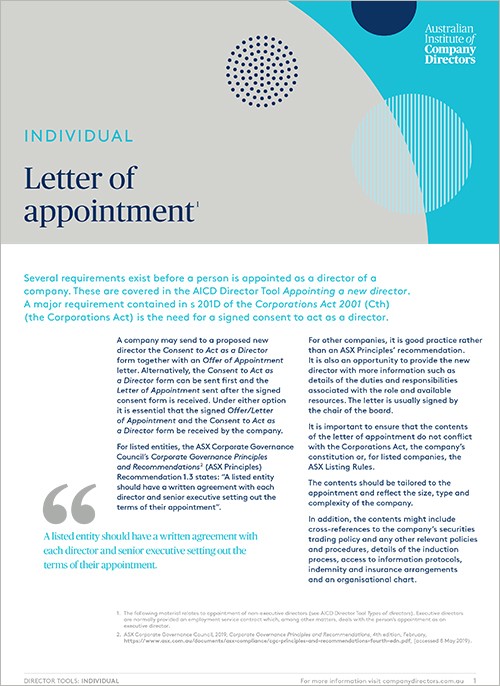 Several requirements exist before a person is appointed as a director of a company. These are covered in the AICD Director Tool Appointing a new director. A major requirement contained in s 201D of the Corporations Act 2001 (Cth) (the Corporations Act) is the need for a signed consent to act as a director.
A company may send to a proposed new director the Consent to Act as a Director form together with an Offer of Appointment letter. Alternatively, the Consent to Act as a Director form can be sent first and the Letter of Appointment sent after the signed consent form is received. Under either option it is essential that the signed Offer/Letter of Appointment and the Consent to Act as a Director form be received by the company.
For listed entities, the ASX Corporate Governance Council's Corporate Governance Principles and Recommendations2 (ASX Principles) Recommendation 1.3 states: "A listed entity should have a written agreement with each director and senior executive setting out the terms of their appointment".
Downlaod the tool to read more.
This is of of your complimentary pieces of content
Already a member?
Login to view this content